Minister of Energy, Commerce and Industry Natasa Pilides on Wednesday said that Cyprus is in favour of exploiting regional gas reserves in a sensible, effective and legal way.
"As we have already stated and proved through actions, on numerous occasions, Cyprus is committed to our collective efforts to responsibly and efficiently monetise the Eastern Mediterranean's offshore gas discoveries, whilst fully respecting the rights of members over their natural resources, in accordance with international law," Pilides said.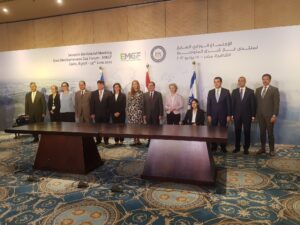 The minister's comments came during her opening remarks at the seventh ministerial meeting of the East Mediterranean Gas Forum (EMGF), which Cyprus is currently presiding.
The meeting, which Pilides attended remotely, was organised and hosted by the Egyptian Minister of Petroleum and Mineral Resources Tarek El Molla.
Moreover, Pilides underlined Cyprus' backing for the Memorandum of Understanding (MoU) that will be signed today between the European Union, Egypt and Israel.
The MoU includes provisions on cooperation related to trade, transport and export of natural gas to the European Union.
In addition, the MoU makes specific references to the participation of EU Member States Cyprus, France, Greece and Italy in the EMGF.
It also touches on the role of the EMGF in supporting and accelerating the establishment of a regional East Med gas market, with efficiency and competitiveness as key objectives.
This includes the gas reserves of regional stakeholders such as Cyprus, Egypt, and Israel.
"Specifically, the MoU refers to natural gas originating from Egypt, Israel or any other source in the region, including the East Med's EU member states," the minister explained.
"As such, Cyprus stands ready to contribute towards the Union's efforts to secure gas, to be delivered to European markets by developing our gas resources in a timely and efficient manner," she added.
Pilides said that the EMGF should take a leading role in the current energy crisis by suggesting practical and suitable solutions.
This would allow the organisation's influence and impact to grow from regional to global.
"Diversifying energy sources and routes in order to achieve a sustainable gas market in the East Mediterranean region, whilst at the same time safeguarding the momentum of our energy transition, must be at the core of our strategy," Pilides said.
The minister once again reiterated that natural gas can act as a bridge fuel in the transition toward renewable energy sources.
Moreover, Pilides said that Cyprus will hold the EMGF Energy Transition Conference, which will take place in Nicosia on October 14 2022.
She explained that the event is part of Cyprus' efforts "to promote the EMGF's decisive role in the transition towards cleaner energy and sustainable growth".