By Prudence Wade
Cooking outdoors might seem like a bit of a chore, when you start thinking about all the elaborate bits of kit you need to bring with you to make your meal shine. But this couldn't be further from the truth for Gill Meller, who's happiest when keeping things simple.
"My whole approach to cooking is the less-is-more, simple approach," says the chef and author. "I work very closely with the seasons, and don't over-complicate the food – let the ingredients speak for themselves, that's always been my philosophy.
"That's what I do when I'm cooking inside, so that follows through to outside – but I think when you're cooking outside, it makes even more sense to strip things back, and get rid of the unnecessary stuff."
Meller – who has worked with Hugh Fearnley-Whittingstall at River Cottage for 11 years – has had a lifelong love affair with cooking and eating al fresco. "Ever since I was a kid, I've enjoyed being outside," he says. "Whether that's just hanging out and playing with mates, being outside has always been something I've longed for.
"If I had a choice, I'd always much rather cook and eat outside than inside, if the weather is favourable" – and his latest cookbook is "a celebration of our connection with being outside, and the food that we eat".
And it's not just about cooking over fire (although there is a lot of that). You'll find plenty of options for enjoying nature, whether that's preparing a picnic indoors and taking it out with you, or foraging for ingredients. Ultimately, Meller says: "It's good for our soul, it's good for our wellbeing, it's good for our mental health. It's good for us to reconnect on a fairly basic level with the environment and the world around us – and being outside enables that to happen more easily than being in an office, or in the four walls of your kitchen."
Campfire Pork and Beans
Serves 4
250g dried haricot beans
1tbsp sea salt
1tbsp extra-virgin olive oil
200g bacon lardons or bacon off-cuts
3 celery sticks, cut in 2–3cm pieces
1 large onion, chopped
4 garlic cloves, thinly sliced
7–8 sage leaves, cut into ribbons
1 rosemary sprig, leaves picked and chopped
1 x 400g can of chopped tomatoes
1tbsp light brown soft sugar
1tbsp red wine vinegar
250g piece of smoked bacon
2–3 bay leaves
6–8 pork sausages
Freshly ground black pepper
Place the dried beans in a large bowl and cover them with water. Add the salt, give the beans a stir and allow them to soak for 10–12 hours or overnight.
Drain the beans and place them in a large pan. Cover with more water and set the pan over a hot fire. Bring the liquid to a simmer and cook until the beans are tender – about 45 minutes should do it.
Set a large, heavy-based saucepan, that has a lid, over a medium-hot fire.
Add the extra-virgin olive oil and, when it's hot, add the bacon lardons and fry them until they take on a bit of colour and begin to render some of their fat. Now, add the celery, onion and garlic. Stir well and continue to cook for five to 10 minutes more. Add the sage and rosemary and some black pepper.
Stir in the canned tomatoes, sugar and red wine vinegar. Add the drained beans and about 500 millilitres of water, so the bacon and beans are covered. Tuck in the piece of smoked bacon and add the bay leaves. Put a lid on the pan and let it cook gently for two hours.
When it's had its time simmering and the beans are meltingly tender, lay the sausages down on the grill over a medium-high heat. Cook them, turning regularly, until they are dark and caramelised, then add them to the stew. If they seem a bit too big, just cut them in half. Continue to cook the stew gently for 15–20 minutes, until the sausages are cooked through, then take it off the fire and let it rest and cool for at least 10–15 minutes before serving.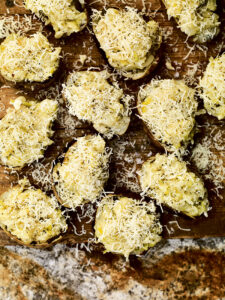 Homity Baked Potatoes
Serves 4 or more
8 baking potatoes
1tbsp extra-virgin olive oil
150g butter
2 leeks, sliced into rounds
2 onions, halved and sliced
1tbsp wholegrain mustard
100g mature cheddar, finely grated
Sea salt and freshly ground black pepper
Give the potatoes a scrub, but only if they need it. Rub them all with extra-virgin olive oil and sprinkle them generously with salt and pepper. Wrap each potato in a double layer of foil. Use a pair of tongs to clear some potato-shaped hollows in the embers and nestle the spuds down into these gaps. Make sure they have a significant amount of heat surrounding them. Turn the potatoes every 10–15 minutes using your tongs, until they feel soft – about one hour.
Meanwhile, set a large pot over the fire and add one third of the butter. When it's bubbling away, add the leeks and onions and season with some salt and pepper. Sizzle them, stirring regularly until they are soft and they smell lovely and sweet.
Unwrap the soft potatoes and cut them in half. Use a spoon to scoop out the middle of the flesh into the pot with the leeks and onions. Leave enough potato in the skins so as not to tear them. Add the remaining butter, the mustard, half the cheddar and season with some salt and pepper.
Mix everything together.
Pile back into the jacket halves and scatter over the remaining cheese.
Outside: Recipes For A Wilder Way Of Eating by Gill Meller is available now