An unremarkable car, the Mazda Demio epitomises cheap and cheerful. But in Cyprus, there's something unique about it finds Alix Norman
There's nothing special about the Mazda Demio. This is a car that's been around since 1996; there have been four iterations over the years, and they're all pretty much of a muchness. But, here in Cyprus, there is something unique about the Demio. Well, not the car itself, but the drivers. The drivers of the Demio Gang…
If the word 'gang' conjures up the idea of tattooed teens in souped-up sedans, think again. The Demio Gang Cyprus is a group of eminently upright citizens who are sworn to respect both the rules of the road and the places through which they pass. They're driven by two loves: their cars and the country.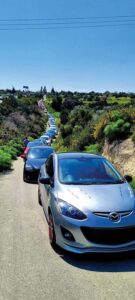 Twice a month, the Gang meet to indulge these two passions. You may have spotted them out and about: a gentle parade of diminutive Demios all heading purposefully for a new island location. But though the cars are the same make, the drivers are very different, says 42-year-old Vasilis Kyriacou, one of the longest-standing members of the group. "We're all ages, nationalities and backgrounds – a whole bunch of people with little in common other than our Demios and our appreciation of the beauty of Cyprus!
"I always say this is a wonderful place to live," he remarks. "There's so much to see, so much to enjoy in this country. And yet many people just don't know how lovely it is – especially the younger people. So it's good to part of a group that has people of different ages, who can suggest new sights and experiences for our little Demio family…"
Founded in November 2019 by Limassolian Alexandra Iona and Stelios Zengas from Kakopetria (both of whom, of course, are proud Demio owners), one of the main aims of the group is to get out and about, introducing drivers to new places. It's a bit of a precise operation, says Vasilis, given that members are drawn from all regions. But with careful planning, designated meeting places, and clear directions, it all comes together.
"Any of our roughly 160 members can make a suggestion for a road trip, which is then reviewed for safety, ease of access, and viability," he reveals. "So before we go anywhere, our team leaders will scout the route and map it all out. A message goes out on Facebook telling people where and when to meet, and groups from each town will drive to a pre-arranged place so we can all set off together."
Before embarking on their trip, there's a talk on the route, on road safety, and on respecting others. "Often, we'll pass through small villages or environmentally protected areas," says Vasilis. "We always make sure we're not disturbing the peace, upsetting the residents, or impacting the flora and fauna. And also, there's a general check on our vehicles – not just to admire each other's cars, but also to ensure tyres are properly inflated and so forth!"
Once on the road, it's all fun – albeit careful fun. "There's no racing, no silliness," says Vasilis. "Just a long line of Demios with the trip leader at the front, all driving slowly and carefully to their destination. Many of us bring our families along, and it's important that we set a good example for our kids. These will be the future drivers of Cyprus; we want them to know how important it is to respect the road."
Members of the group are split equally between male and female; young and old. "We have members who have just passed their driving test, and are being introduced to new places around Cyprus; and members who are well into their 60s. We have members from Cyprus, and members from the UK, from Syria, and Romania. There are members who have older cars, and members who have the latest model…"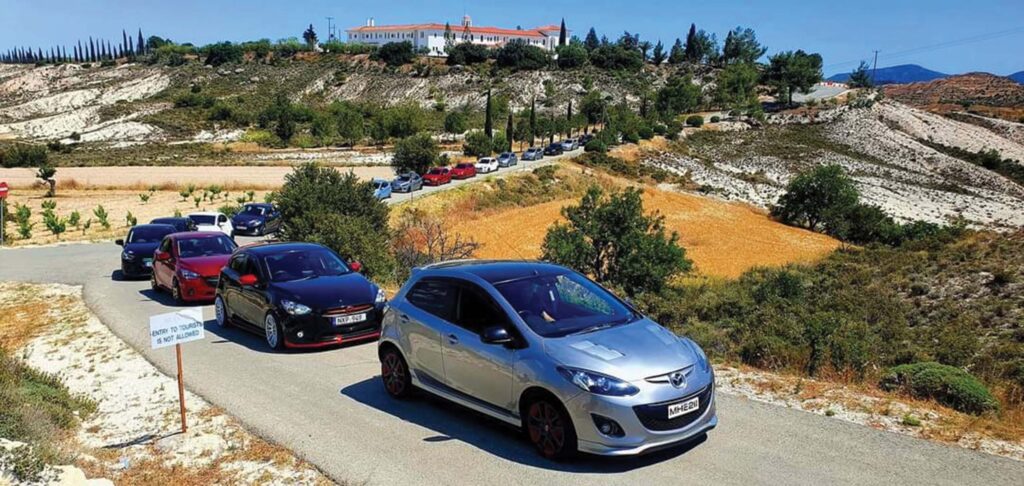 Vasilis has both: a modern grey model, as well as an older orange Demio from 2003, which he calls 'Juicy'. "Many of the group have named their cars," he smiles. "I know of a 'Black Mamba', a 'Lili Boo', and a 'La Bête'. And most of us have customised our vehicles to reflect our unique personalities, changing rims or adding spoilers, or tuning the electronics a little.
"The basic Demio is pretty much the same," he adds. "It's an everyday car: cheap and easy. But we all want our cars to be as different as their drivers; we like to change things up a little so no two Demios are the same. Being addicted to your car," he suggests, "is healthier than being addicted to drugs or alcohol or gambling! Plus, it helps you get out into the open air and discover the wonders of Cyprus…"
In early May, the group went on a road trip from Kornos to Kampia, which ended at the Russian Church at Episkopeio. "It was very relaxing!" says Vasilis. "A whole line of Demios driving carefully through gorgeous scenery, culminating in a visit to the Russian Church at Episkopeio." At the start of June, the destination was scenic Alambra, where the Gang partnered with other car enthusiasts – including those who drive the IQ, and a group who prefer the Yaris. In the past, they've participated in Carnival parties; completed road-trips from Limassol to Kladia along the old highway; and revelled in a bracing a winter journey up to Kykkos – always enjoying the drive as much as the destination!
"Before now, we've had 37 cars on one road trip," says Vasilis. "We still often have 20 cars or more, and we're always looking for new enthusiasts: if you drive a Demio, you might find a little flyer on your windscreen introducing our group and inviting you to check out our Facebook page. It honestly doesn't matter what model you have, or the age of your car – as long as it's a Demio, you're welcome. We're like a big family," he grins. "A family who are turning a cheap, cheerful, everyday car into a special experience!"
For more information on the Demio Gang Cyprus, visit the Facebook page 'Demio_Gang_Cyprus' or the Instagram account @demiogang_cy