The island could have played a major role in this had its own LNG project at Vasilikos been allowed to proceed
The Memorandum of Understanding between the EU, Egypt and Israel "on cooperation related to trade, transport and export of natural gas to the EU" was signed by the three parties on 15 June. It is an important milestone as it formalises an already-existing gas trading arrangement between Israel and Egypt and Egypt's exports of LNG to Europe. But given the exaggerated coverage in the media, it is important to put this, and what it could mean for the East Med, in context.
The MoU is limited to a maximum duration of nine years, to 2030, in line with EU's energy plans. This is clearly stated in the MoU: "Acknowledging that natural gas shall continue to play an important role in terms of energy consumption and electricity generation in the European Union until 2030, after which its use in the European Union will decline in line with its climate neutrality commitment by 2050."
Clearly it does not open the way for East Med gas projects that do not comply with these timelines. The 2030 timeline will not support new projects that require 5-7 years to construct and 20+ years of operation to produce the expected returns. This includes development of new gasfields, pipelines or new gas export facilities.
The MoU favours existing facilities, such as Israel's Leviathan gasfield, and installations, such as Egypt's two liquefaction plants at Idku and Damietta. It encourages Israel and the Leviathan consortium to maximise gas exports to Egypt from 5 billion cubic metres (bcm) last year to 10 bcm by the end of the year or early next year.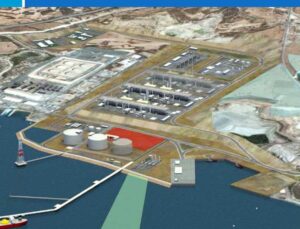 This will help increase LNG exports from Egypt to Europe from 2 bcm last year to 5 bcm this year and possibly more next year. But these numbers do not constitute a lifeline for Europe, nor do they make the East Med a key supplier of gas to the EU, as is often claimed. They are quite small in comparison to the amounts of Russian gas the EU is trying to replace, about 155 bcm/yr, but they can certainly help.
The only other East Med gas project that can possibly conform to this timeline is Energean's proposal to transport gas from its Israeli gasfields by pipeline to Cyprus, liquify it using an existing FLNG it plans to lease, and export 3,3bcm/yr to Europe. But this requires Energean to discover more gas from the two wells it plans to drill this year at its Olympus prospect and complete the project by early 2026.
At a meeting I attended recently in Germany, it was made clear that these deals sum-up all that EU expects East Med to offer to Europe in terms of gas. Too much is being made about the importance of this MoU by East Med politicians, way beyond its importance to the EU. Summing it up, it ratifies the export of relatively small quantities of LNG to Europe, that will nevertheless contribute to Europe's aims. But not much more. Where there are serious future opportunities is in green energy and hydrogen.
What about Cyprus?
Cyprus could have played a major role in this had its own LNG project at Vasilikos been allowed to proceed.
Following the discovery of Leviathan in 2010 and Aphrodite in 2011, Delek – now NewMed – proposed combining gas from the two fields for liquefaction at a new LNG plant to be built at Vasilikos for export. Serious negotiations started with Noble Energy and Delek and their US-lawyers last quarter 2012, but were stopped in February 2013 with the change of government.
By the time negotiations resumed in August 2013, Delek had already lost confidence due to the continuous delays. It approached the Australian oil company Woodside and started negotiations to export Leviathan gas through an FLNG in Israel. Eventually this idea collapsed, with Woodside disillusioned with the Israeli government.
With Leviathan gas no longer available, the negotiations for an LNG plant at Vasilikos were also eventually abandoned, as gas from Aphrodite alone was not sufficient to support such a project. The rest is history – another major opportunity squandered by Cyprus.
It should be noted that at that time there were no serious geopolitical challenges to such a project. These appeared after the debacle of Crans-Montana.
So, what are the prospects now, especially after EU's clear target to reduce use of gas beyond 2030, and its time-limiting MoU with Egypt and Israel that excludes long-term projects?
A glimmer of hope has been presented by Chevron's MoU, signed with Egyptian EGAS last week, to "explore sending natural gas from offshore Mediterranean fields to Egypt for processing and export." This could enable gas exports to Egypt for liquefaction and export to global markets, predominantly in Asia. But so far Chevron's focus has been on Israel and Leviathan and more recently on exploration in Egypt – not much on Cyprus.
Egypt may also need to expand its LNG plants through the addition of new trains to accommodate such gas.
But the MoU with the EU makes all these opportunities time-limited. With Fit-for-55 just approved, it does not leave much room for gas utilization in the longer-term.
Blockers
There are a number of blockers that need to be removed if Cyprus gas is to become part of this or any other deal or if it is to be developed at all.
The first is solution of the Cyprus problem. Without it – as Foreign Minister Ioannis Kasoulides acknowledged this week – geopolitical risks, due to Turkey's continuous threats, deter oil companies and financial institutions from investing in such projects.
In a world committed to rapid transition to green energy, the second is readiness by Chevron and its partners, as well as ExxonMobil, Eni and Total, to invest the billions of dollars required to make gas projects in Cyprus reality, especially with the Cyprus problem remaining unresolved.
It is not just a case of small quantities as often claimed. Between Aphrodite and Glafkos, Cyprus has over 300bcm gas – about half of Leviathan. Energean has done wonders in Israel with less than a third of these gas reserves.
It is a case of serious blockers that, unless they are removed, Cyprus' gas is likely to remain undeveloped – except perhaps for regional use. And as time goes by, this becomes more difficult.
The future for the East Med, and Cyprus, is in what Ursula von der Leyen and President El Sisi agreed in Cairo on 15 June: "Fostering sustainable development, combatting climate change and environmental degradation, ensuring energy security and a balanced and just green transition," and determination to accelerate this. The EU and Egypt agreed to step-up cooperation with a particular focus on renewables, hydrogen, and energy efficiency. That's what Cyprus should prioritise.
Dr Charles Ellinas is a Senior Fellow at the Global Energy Centre, Atlantic Council
@CharlesEllinas