Finance Minister Constantinos Petrides on Wednesday said that the government's long-term economic strategy Vision 2035 is based on tangible actions and is designed to tackle the challenges that Cyprus will face in the coming years.
Petrides' comments came after the Economy and Competitiveness Council presented the national strategy for sustainable development to President Nicos Anastasiades.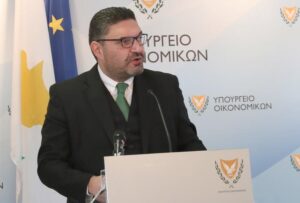 "Green development policies and the weaning off of fossil fuels have an important and primary role in this strategy," the Finance Minister said.
The event was introduced by council president Takis Clerides, while council vice president and president of the steering committee for this project Andreas Assiotis presented the strategy.
Clerides stressed that Vision 2035 charts the development path of Cyprus for the next 15 years with the aim of transitioning to a new, modern economic model.
He said that a lot of importance has been placed on the green and digital transition, as well as on modernising and increasing the competitiveness of the economy.
The strategy was also designed in such a way that it is linked with the Recovery and Resilience Plan, something which has already begun to be implemented.
On his part, Assiotis said that the new strategy includes more than 240 horizontal and sectoral practical proposals.
Their primary aim, he explained, is to promote the sustainable development of the country and to ensure the well-being of all citizens.
He added that these interventions should be promoted and implemented by the competent Ministries and Deputy Ministries, as well as other competent bodies, stressing the importance of ownership of the strategy by its implementing bodies.
Moreover, Assiotis noted that the strategy also includes key performance indicators (KPIs) in order to monitor the progress of the implementation. In addition, it also includes an integrated governance mechanism for its implementation.
The council stated that the strategy belongs to the whole of society and for this reason, Vision 2035 has been formed through intensive dialogue with a wide range of public and private sector bodies.
However, it was emphasised that its vision must be transformed into action, and to achieve this, political consensus and commitment are required from all actors, including parties, the civil service, social partners and businesses.
"In recent years, a lot of hard work has been done so that today we can present to the Cabinet of Ministers a concrete, long-term strategy, which is not based on theories or wishful thinking, something which we have seen in previous instances," Finance Minister Petrides said.
"Based on this strategy, we will also face all future challenges", he added.