In an adults-only hotel in Ayia Napa PAUL LAMBIS loses himself in the lap of luxury
Since making its debut in July last year, Amarande has established itself as an upscale landmark in Ayia Napa, hosting domestic and international guests at its adults-only hotel.
Amarande's minimalistic elegance is apparent throughout the resort, starting with the refreshing welcome drink and the rose water scented face towel provided on arrival. Guests are invited to indulge in tailor-made experiences that include tasting menus, rejuvenating spa treatments, sunset cocktails, and onsite entertainment – all thoughtfully created to enhance the Ayia Napa experience.
Located on the site of the former Bella Napa Bay Hotel, which was founded by his father Takis in 1984, CEO Adam Pavlou identified with the emerging needs of today's travellers and their increasing desire for something unique. "I wanted to escape the ordinary and reinvent the hotel guest experience," Pavlou told Living. "Similar to other industries, the hotel sector is undergoing changes as a result of social media and shifting guest expectations, and I felt it was time to adapt in these fast-evolving times."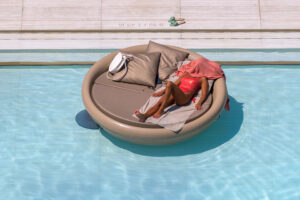 While retaining the pioneering ethos of his late father, Pavlou has worked hard to create new standards with the help of his team. "The spirit of innovation is part of our DNA, and we have also attached special importance to digitisation to meet customer expectations."
Aside from Amarande's comfortable room interiors, a modern, interactive entertainment and innovation solution that provides access to everything the hotel can offer, including an international entertainment menu on one platform for easy access.
With an extensive background in hospitality and hotel management, hotel manager Harry Georgiou understands the importance of customer service, especially when it comes to hotels. "We rely heavily on loyal customers and good word-of-mouth marketing. Our hotel customer training is an integral part of Amarande's customer service strategy."
And the staff quickly ascertained our ongoing requirements during our stay. It was not long before we were addressing one another by first names and feeling as though we were a part of Amarande's extended family.
"We make it a point of asking our guests to complete a questionnaire during their stay, and not after departure, as we are constantly looking for ways to enhance our service," Georgiou said. "We prefer to handle any issues or areas of concern while the guest is with us, so that the experience continues to be delightful."
At Amarande, a typical day commences with a lavish buffet feast in the Aleria restaurant with sea views from the open terrace. Takis Bar and Cigar Terrace sits next to the lobby where a soothing atmosphere is present both day and night. Mixology is taken to new heights judging by the scrumptious cocktails we experienced, making it more challenging to select only one.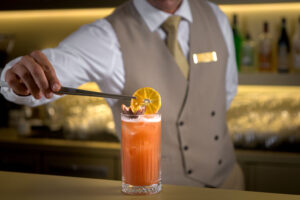 At the heart of the resort, Amarande's expansive outdoor pool is a gem. There is no better place to take in the spectacular and inspiring views of the coast than from this serene, Instagram-worthy corner of the hotel, complemented by the scent of its jasmine garden wall.
Circular floating beds, loungers that give the impression you are floating on clouds, paging systems so you can order a beverage without leaving the comfort of your luxurious lounge bed and Mediterranean-inspired flavours to please every palate at the al fresco Azure 47 restaurant complete the poolside experience.
From the pool to the spa, there is an intuitiveness that makes everything unfold with a sense of ease. A meet-and-greet area, indoor heated pool with fresh salt water and integrated hydrotherapy, state-of-the-art gymnasium that exudes style, serene and luxurious treatment rooms that also accommodate room for couples' massages, sauna, ice therapy, as well as a manicure and pedicure salon are all included as part of the Amira Spa experience. Additionally, a flood-lit tennis court is available to guests.
As the night descends, the difficult choice is where to eat. At Aleria, exquisite buffets are flawlessly presented and complemented by live cooking, and an attentive and prompt detail to service. Those watching their weight should stay clear from the sweets and patisserie part of it.
Alternatively, local and international flavours combine at Ezra, the hotel's upscale fine dining restaurant. "Our internationally skilled chefs are committed to elevating the gastronomic experience," Georgiou said. "We want to make Ezra the best fine-dining restaurant in Ayia Napa, and based on the reviews, I am delighted to say we are headed in the right direction."
The hotel's prime position makes it convenient for those who want to explore the surrounding area, including the sculpture park, Thalassa Municipal Museum, Cape Greco National Park, Ayia Napa's bustling city centre, vibrant nightlife, and the medieval monastery. For those unsure of their way around, the hotel will also organise excursions.
Amarande's meticulously crafted accommodation gives full expression to the region's legacy, one that certainly encourages its local and international guests to immerse themselves in an oasis of opulence and tranquillity.