Summertime and the living is easy with these cooling and hydrating herbs says MIRANDA TRINGIS
Once the summer solstice passes, in Cyprus we are into the hot season, and as in every season, nature provides for our needs. There are herbal allies for hot days and nights, which we can use in multiple ways. Herbs are not only amazing to restore and maintain our health in the form of hot herbal teas, they can also lower our body temperature and keep us cool and hydrated in the heat of summer.
Some of the most cooling herbs can be drank as iced teas. These make a healthy alternative to fizzy and sugary drinks and truly cool down the body and provide hydration.
Hibiscus flower is one of the top herbs for summer. This plant, which many of us have in our garden as a brightly coloured ornamental, has a sweet and slightly sour taste, giving a bright red colour to drinks and contributing to health and wellbeing in many ways. It is packed with antioxidants, therefore fighting free radicals, protecting the heart and inner organs. Apart from lowering body temperature, it also helps to lower cholesterol, blood pressure, blood sugar levels and fights inflammation, making it useful in arthritis and rheumatism.
You can pick the red fresh flowers from a bush or use dried flowers. This is a summer drink you'll want to make by the litre and have it handy in the fridge. Simply make an infusion by adding boiling water to a tablespoon of hibiscus in a teapot, leave to infuse for 15 minutes, strain the liquid into a large jar or jug and then let it cool down to room temperature before placing it in the fridge, where it will keep for two days.
Lavender is another ideal herb for summer nights, and not just as a drink. Lavender iced tea is cooling and super relaxing, and you can combine it with other cooling herbs such as spearmint. Lavender lemonade is a popular drink and is very easy to make, using the same method as your own home made lemonade, bringing lemon juice and sugar to a boil, just add dried lavender. Leave to cool, strain and bottle the syrup. You can use the squash in summer cocktails too!
The essential oil of lavender is a great ally in keeping mosquitoes at bay on a hot summer night in the garden. Simply mix a few drops of the essential oil in a base oil such as almond or grapeseed and rub it on exposed skin. The mozzies will leave you in peace and your body will benefit from its calming and relaxing properties too. The aromatic water of lavender, which is a by-product of essential oil distillation, can be used as a cooling face tonic. It tones and hydrates the skin, and can be used multiple times a day to refresh the skin and combat redness and oiliness.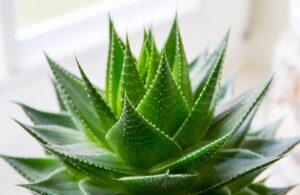 A couple of plants in the same family as lavender which make for great summer drinks, not just as iced teas but also in cocktails, are lemon balm and mint. A tip for using herbs in a cocktail: infuse the herb in gin or any other spirit for just five minutes, then add ice and tonic or soda. The alcohol quickly extracts the herb's aroma and constituents, a process that stops as soon as you add the ice, so give it a few minutes for that wonderful aroma to come out. Lemon balm and mint are great digestive herbs, ideal to have after a meal. They taste lovely in cocktails and in a herbal ice tea blend. Mint combines very well with watermelon too: whizz a slice of watermelon with a few fresh mint leaves in a blender for a refreshing smoothie!
Last but not least, the juice and gel of the well-known aloe vera plant, which grows so well in Cyprus, is the go-to remedy for after sun treatment. This gel soothes the skin immediately, it hydrates deeply and takes out the burn, whether caused by the sun or on topical burns like from the stove or a hot iron. Simply cut one leaf, remove the outer green skin, and apply the clear gel and juice on the burn. Aloe Vera is the number one fist aid remedy for our skin, also on cuts, grazes and wounds.
Nature really provides for all of our needs, all year round. Enjoy your summer!
Miranda Tringis is a Herbalist at Cyherbia botanical park