'This winter in Europe will be very, very difficult'
These will probably be the most important elections Cyprus has had for a long time. And it is not just the Cyprus problem that appears to be rapidly going away from us due to inept handling over the last decade, especially the lamentable debacle of Crans Montana. It is the economic crisis that is fast engulfing Europe, and inevitably Cyprus – food, energy, inflation are all getting out of control. And if it has been bad so far, unfortunately there is much worse to come, with Cyprus sleep-walking into it.
Instead of confronting the issues and taking measures to soften the impact, or even avert it where possible, the government is content collecting more taxes from the now exorbitant energy prices and runaway inflation – making the economy appear better than it is – creating more 'cushions' for a rainy-day. Unfortunately not only is the rainy day here, but it is pouring. Cypriots are buckling under the onslaught of relentlessly rising prices and the crushing cost of living.
The 24 per cent increase in the price of electricity announced this week will not be the last. Unfortunately, there will be more to come before the end of this year.
With not much being done to seriously address the issues, this will become an acute problem for the next government. It even risks becoming a deja-vous of 2013.
An example is the emergency meeting at the presidential palace on July 1 to address the dire electricity prices. It ended as a damp-squib. The meeting adopted seven measures with zero impact on lowering electricity prices in the near-term – nebulous measures with no concrete actions that in any case should have been taken years ago. They will take a long time to produce results. In the meantime the government is collecting more taxes, creating more cushions.
A crisis of European dimensions
A Bloomberg headline this week was Europe 'Preparing for Doomsday,' as member state economies carry on deteriorating and as the threat of total cut-off from Russian gas looms. Another was 'Rising social unrest over energy, food shortages threatens global stability.' The International Energy Agency said "It's the most extreme energy crisis the world has ever witnessed and will get worse… This winter in Europe will be very, very difficult," with markets preparing for doomsday.
European Commission vice-president Frans Timmermans warned that "Europe is in danger of highly damaging very, very strong conflict and strife this winter over high energy prices." He added "people worry most about the immediate crisis and not about the long-term crisis. And if we don't address the immediate crisis, we will certainly [end-up with a] long-term crisis."
The prospect of energy shortages and the increasingly gloomier economic outlook, runaway inflation and higher interest rates are now expected to "impact the fiscal direction of 2023." The probability of recession this year has now increased, with the euro losing so much of its value that it is close to parity with the dollar – there is high risk that it may go even lower.
But the highest risk of recession is in Germany. It is one of the most-vulnerable members of the Eurozone to cuts in Russian energy flows, and it is already seeing its economic output shrink. It is turning back to coal and is considering raising its energy alert level to the most severe level – 'emergency.' After being a powerhouse exporter, this month Germany reported its first monthly trade deficit in 31 years because of the high cost of imported energy – a problem that bedevils most European countries, including Cyprus.
France has had its higher trade deficit ever for three months running. Having lost control of parliament, President Macron is finding it increasingly difficult to govern.
In the UK boiling undercurrents driven by the tanking economy, high prices and inflation contributed to forcing prime minister Boris Johnson to resign. It is not just the scandals and ineptness that surrounded him, but also the deteriorating economy. Fortunately in the UK accountability matters, forcing the prime minister to resign – unlike Cyprus.
Mitigating economic pain from the soaring energy and food prices has become a top priority. People are already taking to the streets to express their frustration. With the crisis and prices becoming more acute, civic unrest will escalate after the summer. Voters are angry – political risk and volatility are on the rise everywhere.
Cyprus is not immune to this. Not only is it exposed but it is also quite vulnerable and susceptible to these developments.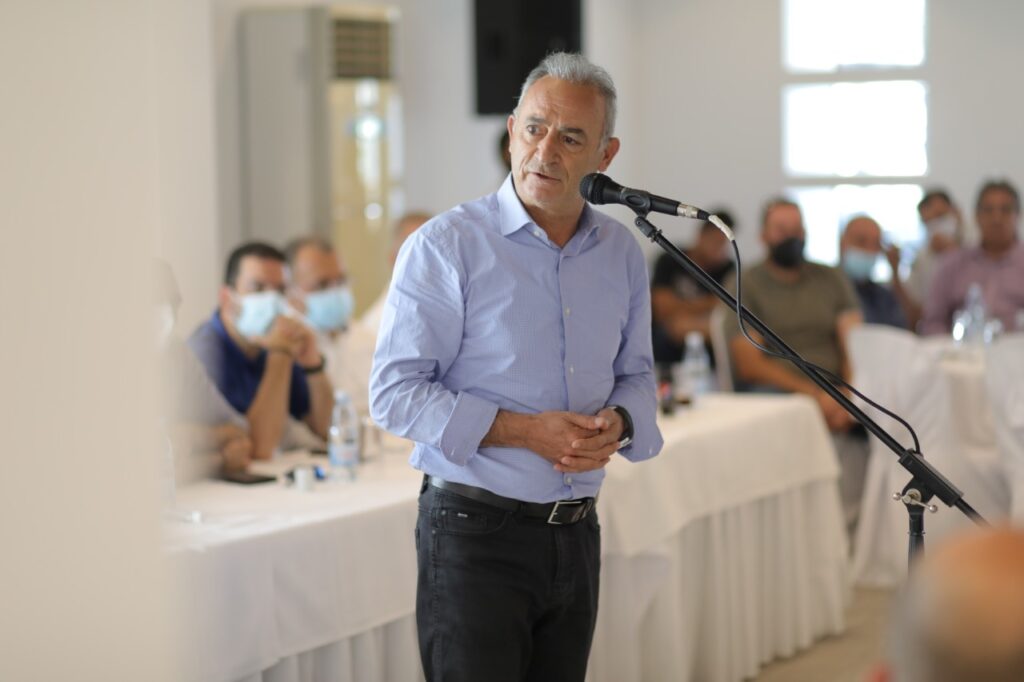 Cyprus elections
Given lack of serious government action so far, these are issues that must be addressed by the presidential candidates. They are issues that the next president will face immediately on taking office. So it is imperative that the candidates tell us how they plan to tackle these serious problems. They should not wait until they take office. The next president must hit the ground running. And even then, I hope it is not too late, as it was in 2013.
The presidential campaign so far has been a 'beauty-parade'. It has not dealt with the serious issues threatening Cyprus' economy. Listening to the candidates, one would not know that spiralling food and energy prices and inflation are causing misery to households. The candidates should be pressed to tell us exactly what they plan to do. How do they propose to deal with these crises?
Another issue that must be addressed by the presidential campaigns is the LNG import project at Vasiliko. Through my contacts I hear that it is in terminal trouble. One of the contractors said the contract "is stuck in a serious legal dispute", paralysing the project, "which may even be cancelled." But complete lack of transparency means that nothing is coming out, despite the fact that this is the most important energy project on the island, and with huge consequences. We are not kept informed.
How did we get into this situation despite many warnings about irregularities and problems, articulated in detail in published reports by the auditor general, but completely ignored by the government? What is the government doing about it? Where has all the money invested in the project so far gone? And if it tanks, will this money be recovered? And how?
Cyprus must exploit the energy revolution and its abundance of natural resources, as well as use its own gas. These should be top priorities.
Dr Charles Ellinas, @CharlesEllinas, is Senior Fellow, Global Energy Center, Atlantic Council