The number of patients seeking care at state hospitals has gone down
By Elias Hazou
While not ditching the general health system (Gesy) per se, people are getting increasingly fed up with delays in public hospitals, and turning to private healthcare facilities instead. And despite barely affording it, many Gesy payees have kept private health insurance as backup.
There's strong anecdotal evidence for this trend but it's also supported by hard data. In a special report on the state health services organisation (Okypy), the Audit Office said that between 2019 and 2021 state-run hospitals lost customers by the boatload – 19 per cent in inpatients, 44 per cent in outpatients.
Okypy itself blames this on the exodus of a couple of hundred doctors, seeking greener pastures in the private sector, as well as the Covid pandemic that disrupted operations and revenue streams.
But the Audit Office was having none of it. During a recent session of the House watchdog committee, auditor-general Odysseas Michaelides said the pandemic cannot not be used as "an alibi for everything."
That exchange happened after Okypy head Marios Panagides said the organisation might seek an extension of anywhere from one to three years for state grants to public hospitals. Under the Gesy law, June of 2024 is the cutoff date for terminating cash injections to public hospitals. By then, public hospitals must balance their budgets and attain financial autonomy.
At one point, Michaelides asserted that more and more patients are turning to private healthcare facilities, adding that "the alarm bells should be going off at Okypy."
Asked about this by the Sunday Mail, Audit Office spokesman Marios Petrides explained the issue isn't precisely that people are abandoning Gesy.
"What we pointed out in the special report, is that they are losing customers. These people are obviously turning towards private hospitals within Gesy. In our previous reports concerning the Health Insurance Organisation, we noted that general healthcare expenditure in Cyprus has increased in the last years despite the pandemic."
Elsewhere the report states that Okypy – the largest healthcare provider in Cyprus – has a reduced share of the case mix when compared to private hospitals.
"With respect to the financial autonomy of public hospitals under Gesy over the past few years, very few (if any) steps have been taken towards that direction," Petrides said.
"On the contrary, Okypy management's main concern was to provide massive salary and benefit increases to doctors (public servants). Our main concern, as clearly stated in the report, is that those salary increases and benefits are not linked with productivity or quality of services provided to patients."
Back to the report which notes: "Despite the serious and constant decline in the number of patients receiving care at state hospitals following the start of Gesy, Okypy's revenues from the Health Insurance Organisation (HIO) went up.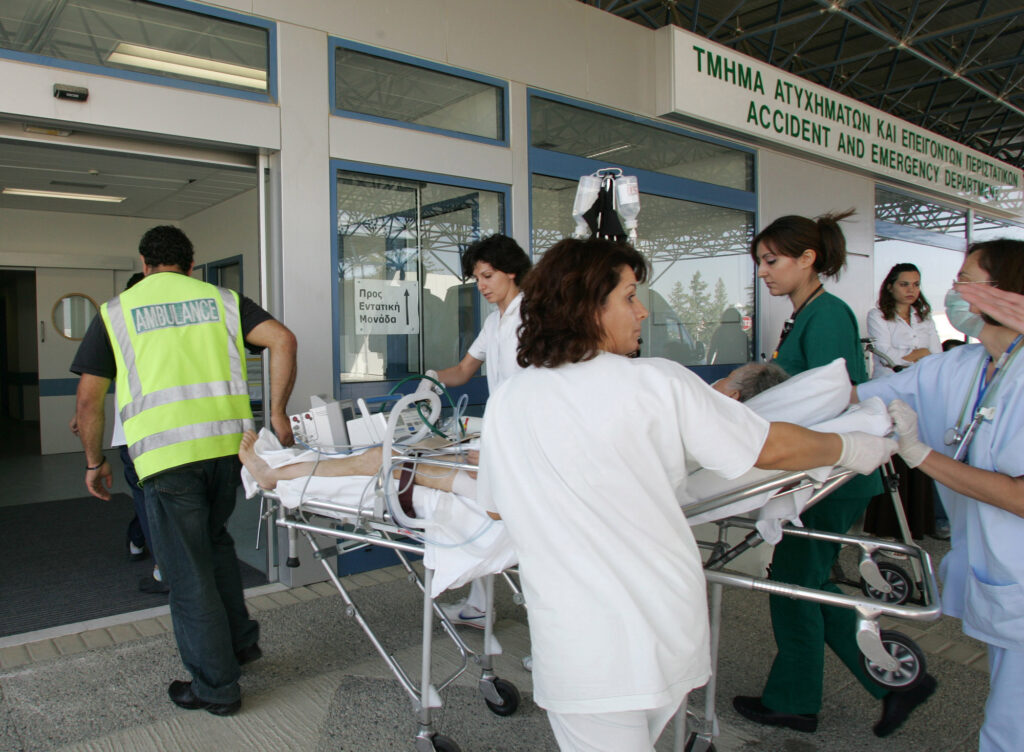 "The reason is that during 2019 the HIO compensated [Okypy] only for outpatient care and only for seven months, in 2020 the compensation covered only outpatient care and inpatient care for four months, while in 2021 the HIO provided full compensation. Therefore, the increase in the amounts collected by Okypy from the HIO, in the 2019-2021 period, merely reflects the fact that this was a transitional period of gradual inclusion of care services receiving compensation from the HIO."
As the same report shows, Okypy is running major deficits. In 2020, its budgeted revenues were €223.8 million, but actual revenues just €80.6 million. Similarly, in 2021 budgeted revenues were €374.9 million, actual revenues: €291.3 million.
Granted, the auditor-general's report came out about a month ago, and a great deal has happened in the meantime – such as the operation of on-duty clinics, providing service on weekends and afternoons, helping decongest traffic at public hospitals. So the situation is still in flux.
In its own remarks, recorded in the same report, Okypy said "the impact of Gesy, and chiefly the unexpected departure of doctors, taking with them a large proportion of their patients, has significantly impacted the organisation's revenues, particularly in relation to the provision of outpatient care."
It added: "The impact of Gesy, and the transition to a fully competitive environment, where the patient can choose his or her physician and healthcare facility for treatment, has had the natural result of falling numbers of patients visiting public hospitals."
Queried via email, Okypy spokesman Pambos Charilaou said "the level of satisfaction among patients visiting public hospitals is very high. Whereas isolated complaints do exist, there's an ongoing effort to eradicate these."
And, by and large people are still sticking with Gesy – for now at least.
Polis Pallikaros, an insurance broker, says he hasn't seen an uptick in people taking out health insurance policies in the private sector.
Rather, people have been amending their current private healthcare policies – cancelling outpatient coverage and leaving in the inpatient coverage.
He confirmed that when Gesy was first rolled out, a drop did occur in private healthcare policies – but that has since stabilised.
Nevertheless, he has been hearing growing complaints about the quality of care in public hospitals. And he recounted an experience close to him:
"My mother needed spine surgery through Gesy. After the diagnosis they scheduled her for one year later. She couldn't wait that long. And, since she couldn't go private for health insurance – she's 80 years old – she had the operation in a private hospital and paid out of pocket."
There are other similar cases. Ioanna Constantinou, 62, said she turned to private healthcare at the end of 2021 after having a bad experience at the A&E in Nicosia that made her terrified of ending up in a public hospital.
Constantinou said she spent seven hours there from 10pm to 5am, and was sent home without a diagnosis even though when she looked at the blood results the next day, it was clear by the white cell count she had an infection.
"They literally told me nothing. If I can read a blood result and I'm not a doctor, can't they?"
Subsequently she could not get hold of her GP, and when she did, four days later, the doctor could only see her another four days hence.
"It was terrifying not knowing what was wrong and being in terrible pain for an entire week," she said. "I knew I wasn't going to last another four days so took matters into my own hands and went private. Turned out I needed immediate hospitalisation as the infection was spreading to my pancreas. They said I could have died".
After that experience, and paying out of pocket to clear the infection, spending four days in a private hospital, Constantinou took the decision to look into private health insurance.
"Can I afford it? No. Not really," she said, adding that she was also paying for Gesy through her job so in total, health care was costing her €120 a month for private inpatient care and close to €100 for Gesy that she had never had to use until then in any case.
"I'll continue using Gesy on an outpatient basis as my policy does not cover tests and medicines, only a private hospital bed should I need it," she said, adding that she feels the cost is worth it for peace of mind. "I will just make cutbacks elsewhere so I can continue to pay," she said, "even when I reach pension age, actually, especially when I reach pension age".
Asked about Gesy more generally, Pallikaros – who used to be in politics with the Solidarity Party – said he recalls the lively discussions about the general health system back in the day.
"At the time some us argued that public hospitals should attain financial autonomy first, and then and only then launch Gesy. But it didn't turn out that way.
"We have machines worth millions, but doctors in public hospitals get off work at 3pm. And then they complain that their counterparts in private hospitals earn far more than they do. So why don't they work afternoons as well? That's just one example of the simple things that can be done to improve public hospitals."