Border collies Dixie and Sofie were once again instrumental in helping save other animals from poisoning after detecting a large number of poison baits.
Both dogs work with officials from the game service as part of an EU-sponsored initiative to protect Cyprus' endangered Griffon vulture population.
In a post on its Facebook page, the game service said the two dogs – which were trained in Greece for 15 months before taking up their duties here — had found a large number of poisoned baits in Kavallopetra in the Louvaras community, and at Vathin Arkatjin in Skarinou.
"Extensive checks were carried out in both locations and a large number of poison baits was removed," the game service said.
Earlier this month, in another Facebook post, the game service said the two border collies and their handlers had found poison baits in the Vounaros area of Alassa, days before it was due to be opened up for training of hunting dogs.
It said the discovery and removal of the poison had averted potentially the poisoning of hunting dogs.
Once a common sight on the island, the Griffon vulture currently faces a high risk of extinction in Cyprus, with poisoning being the number one threat that has caused mass killings in the past and continues to be responsible for Griffon vulture deaths.
Vultures, although not the target, are the most susceptible to falling victim to poisoning due to their scavenging and social feeding behaviour which means that large numbers can be poisoned from a single laced carcass.
Placing poison bait is illegal and punishable with up to three years in prison and/or a fine of up to €20,000 under the law on the protection and management of wild birds and game.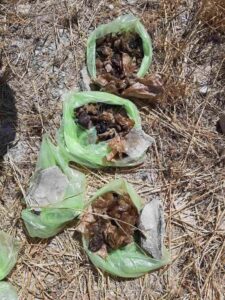 If a protected species such as a vulture is harmed, the penalty is up to 10 years in jail and/or a fine of €500,000 under the law on the protection of the environment.
Launched in 2019, the EU-backed Life with Vultures project aims to minimise the risk of extinction to Griffon vultures.
The four-year project (2019-2023) brings together BirdLife Cyprus, the game service, Terra Cypria-the Cyprus Conservation Foundation and the Vulture Conservation Foundation to tackle the main threats facing the Griffon vulture and prevent Cyprus' most threatened bird of prey from going extinct.
The project includes actions against the use of poison baits, actions to counter collisions with overhead power lines, as well as actions to increase feeding opportunities for the provision of safe supplementary food to the vultures.