There are British, US and Spanish Virgin Islands. And yes, they're all named for a virgin – actually, for 11,000 virgins! This little archipelago in the Lesser Antilles was named by Christopher Columbus for the legend of St Ursula. Most of the island are uninhabited; only the larger ones boasting substantial populations. And in the British Overseas Territories, that's Tortola, Anegada, Virgin Gorda, and Jost Van Dyke.
Don't worry, however, about who owns what. If you're here, you'll be too busy snorkelling pristine reefs, sailing deserted cays, discovering pirate shipwrecks and revelling in the Caribbean culture to concern yourself with politics!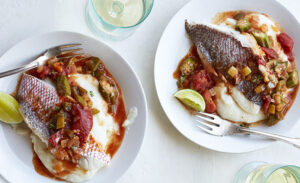 The official island dish is the unappetisingly-named Fish and Fungi. But while the fish is just what you'd expect (usually fresh red snapper, lightly fried with onion, peppers, celery, garlic and thyme), the fungi is actually the local moniker for a widely popular mix of cornmeal, butter and polenta, that's spooned over the meat.
Just as tasty are the local Conch Fritters, made from the flavourful sea snail. A staple on every menu, these fritters are made from the meat of the conch, which is rolled into balls, battered, fried, and served with a spicy creamy sauce or creole remoulade. And, while we're on marine cuisine, there's also Pot Fish (which might include anything from yellowtail, to butterfish and blue runners) – basically fish that are, like lobsters, caught in pots before being cooked over coals, head and all.
Meatier fare includes Callaloo (a gumbo-like concoction with West African roots that's basically a chicken broth laced with spinach, okra, black peppers and thyme) and Cow Heel Soup (a gelatinous cow heel tossed into a mix of okra, potatoes and carrots!). Vegetarians will enjoy the local Rotis (flatbread wraps filled with chickpeas, chili and chuntey) or Pates – deep-fried pastries stuffed with bell peppers and spices. And to end the meal, it's either Red Grout (a decadent confection of guava, tapioca and sugar), Coconut Tarts, or Banana Fritters – all washed down with a glass of the dark rum that's long been the staple drink of the British Virgin Islands.