By Prudence Wade
While most of us tend to get recipe inspiration from Instagram or cookbooks, Ixta Belfrage has another, more unusual outlet: her dreams.
"I dream a lot about recipe development," the 31-year-old chef admits. "It's not about particular dishes, but I'll dream about combinations. I keep a notebook by my bedside, because quite often I'll wake up with an idea and I'll need to write it down, otherwise I'll forget."
Many of these combinations will be found in Mezcla, Belfrage's first solo cookbook.
Belfrage's friend came up with the title, and it immediately felt right. "It's the perfect word," she says of Mezcla. "It means mix, blend or fusion [in Spanish], so it's the perfect word to describe the recipes, and also my background, and me."
Belfrage's background and culinary influences are certainly eclectic. She lived in Tuscany, Italy for four years ("my formative childhood years"), as her father worked in wine.
There are plenty of Italian-inspired dishes in the book – from different types of pastas to ragus – but there are other influences too. Belfrage's mother is Brazilian.
Italian, Brazilian and Mexican flavours run through the book – along with other cuisines from all over the world – and are part of Belfrage's efforts to reclaim the word 'fusion' in cooking. "I think people used to assume that when you say something is fusion, it was confused and lacked in focus, and the flavours were all over the place and didn't make sense," she muses.
"Maybe in the early-2000s or the late-Nineties, that might have been the case with chefs doing fusion cooking" – but she suggests that's changed now.
While Italian, Mexican and Brazilian cuisines might not have lots in common, what they do share, Belfrage indicates, is "big, bold flavours".
Belfrage says: "Most Brazilian cuisine is a fusion of indigenous Brazilian, West African and Portuguese influences."
Porcini Ragu
Serves 4 as a starter
40g dried porcini
4tbsp olive oil, plus extra to serve
3 cloves of garlic, very finely chopped (not crushed!)
½tsp chilli flakes
10g fresh parsley (stalks and leaves), finely chopped, plus extra to serve
⅓tsp fine salt
1½tbsp tomato puree/paste
About 50 twists of freshly ground black pepper
250g dried tagliatelle nests
40g Parmesan, very finely grated, plus extra to serve
3tbsp double cream
In a medium bowl, cover the porcini with boiling water and leave to soak for 10 minutes. Drain, reserving 75g of the soaking liquid. Very finely chop the porcini to mince consistency, then set aside.
Put the oil, garlic, chilli flakes, parsley and fine salt into a cold, large sauté pan on a medium-low heat. Very gently fry for five minutes until soft and lightly golden, turning the heat down if the garlic starts to brown.
Increase the heat to medium-high, then add the chopped porcini, tomato puree/paste and plenty of pepper. Stir-fry for three minutes, then set the pan aside while you boil the pasta.
Cook the pasta in salted boiling water for about six minutes, until al dente. Drain, reserving 350g of the pasta water.
Return the sauté pan with the porcini to a medium-high heat, then add the 350g of pasta water and the reserved 75g of porcini soaking liquid. Stir, and bring to a simmer. Once simmering, leave to bubble away for three minutes. Add half the Parmesan to the pan, stirring until it has melted before adding the rest. Lower the heat to medium, then stir in the cream, followed by the drained tagliatelle. Toss over the heat until the pasta and sauce have emulsified – about one-and-a-half minutes.
Remove from the heat and serve at once, finished with as much extra oil and Parmesan as your heart desires.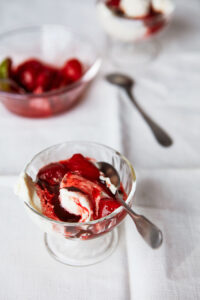 Whipped Yoghurt with Roasted Strawberries and Peanut Fudge Sauce
Serves 4
For the roasted strawberries:
300g frozen strawberries, defrosted
50g caster sugar
½ lime
2 cinnamon sticks, roughly broken
For the whipped yoghurt:
150g mascarpone, fridge-cold
200g yoghurt, fridge-cold
½tsp vanilla bean paste
1tbsp maple syrup
For the peanut fudge sauce:
50g smooth peanut butter
1½tbsp cocoa powder
75g maple syrup
1tsp soy sauce (or tamari)
1½tbsp water
Preheat the oven to 200C fan/220C.
For the roasted strawberries, place all the ingredients in an ovenproof dish just big enough to fit the strawberries in a single layer. They should be snug, but not piled on top of each other. Bake for 20 minutes, stirring halfway. Set aside to cool.
Place the mascarpone, yoghurt, vanilla paste and maple syrup in a large bowl and whisk together until completely smooth. Keep the bowl in the fridge until ready to serve.
For the fudge sauce, whisk all the ingredients together in a small bowl until smooth. You may need to add more water or maple syrup, depending on the thickness of your peanut butter. You're looking for a smooth, thick but pourable consistency.
In individual glasses, layer the chilled yoghurt with the warm strawberries and the fudge sauce and serve.
Mezcla: Recipes To Excite by Ixta Belfrage is available now