Couscous Salad
Serves 6–8
400g couscous
100g dried cranberries
2 red onions, finely chopped
10 spring onions, trimmed and finely sliced
8 preserved lemons, finely sliced
1 Bird's eye chilli, finely chopped
Juice of 3 large lemons
5 tbsp. extra virgin olive oil
5 tbsp. freshly chopped mint leaves plus extra, to garnish
5 tbsp. freshly chopped coriander
5 tbsp. freshly chopped flat-leaf parsley
Tomato and onion salsa, to serve (optional)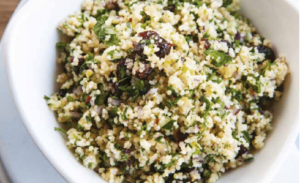 This is a healthy and vibrant salad developed by Tonia and a popular side dish at The Real Greek. Couscous soaks up flavours and this one has plenty going for it. It's delicious with grilled lamb cutlets, and lamb kefte with tzatziki for dolloping.
 Prepare the couscous according to the packet instructions. Tip into a large bowl and stir in the dried cranberries. Leave to cool.
Stir in all the remaining ingredients and combine well. Cover and chill for 1 hour to let the flavours develop.
Serve at room temperature, topped, if liked, with tomato and onion salsa.
Kitchen note: A fresh tomato salsa is a great garnish for this couscous salad. Finely dice and mix together 4 tomatoes, 1 red onion and a Bird's eye chilli (deseeded for a milder heat). Season and spoon on the centre of the couscous, topped with fresh mint leaves.
Chickpea Feta Salad
Serves 4
1 small red onion, finely sliced
1 red chilli, deseeded and finely chopped
4 ripe tomatoes, cut into bite sized chunks
Juice of 1 lime
3 tbsp extra virgin olive oil
410g canned chickpeas, drained
1 tbsp freshly chopped mint
1 tbsp freshly chopped flat-leaf parsley or coriander
100g feta cheese
Sea salt and freshly ground black pepper
Whilst I love the convenience of canned chickpeas, the nutty bite of home-soaked and cooked chickpeas are worth the effort. This is also good made with white cannellini or flageolet beans…
Place the onion, chilli and tomatoes in a large bowl with half the lime juice, the olive oil and some salt and plenty of freshly ground black pepper, to taste.
Heat the chickpeas with a drop of oil in a small pan to just warm through, then add all but a couple of tablespoons to the bowl. Mash the remaining chickpeas and add these too… this will add a creamy consistency.
Stir in the mint and parsley together with the remaining lime juice, if needed.
Crumble on the feta and the salad is ready, best served at room temperature.
Tonia Buxton has written four cookbooks and is a well-known TV celebrity and chef. For more information visit toniabuxton.co.uk