Government rushes to pass bill to prevent takeover of systemic bank
The government is faced with a race against time to ensure it has the legal power to prevent the possible takeover of the Bank of Cyprus Holdings (BoCH) by the US private equity firm Lone Star which it views as "a serious threat".
"This is a private equity firm that wants to buy a systemic bank, with a wealth of assets, on the cheap, for a quick return, and this could pose a serious threat to the economy," a top official at the finance ministry told the Cyprus Mail. BoCH has a whopping 45 per cent share of the Cyprus banking market.
Although three buy-out proposals were unequivocally rejected by the board of BoCH in the previous three months, Lone Star have until the end of September to make more offers, a possibility that cannot be ruled out.
A bill setting up a legal framework for examining direct foreign investment was sent to the attorney-general's office for processing before the summer and is expected to be tabled in the legislature for approval as a matter of utmost urgency. The bill is based on an EU regulation that has been implemented in all but three member-states (Greece and Cyprus are two of them) since 2019.
The law would give the government the authority to decide whether a direct foreign investment could threaten national security or public order and block it. Investment in a 'sensitive' sector such as banking and particularly in a systemic bank could also be blocked under this law.
Whether it will be passed in time to prevent a takeover of the Bank of Cyprus will depend on the political parties. Lone Star has a September 30 deadline for submitting a binding offer. It had submitted three conditional, non-binding proposals to the board so far.
In an announcement issued by the board of BoCH on 19 August, immediately after a report in Bloomberg about Lone Star's proposals which had been kept secret until then, confirmed it had received three proposals. The first, on May 5, offered €1.25 per BoC share, the second on May 25 offered €1.38 and the third, on July 8 raised the price to €1.51.
After the second proposal, the equity firm made an approach on June 16, according to the announcement, seeking a meeting regarding execution considerations relating to the second proposal, but the board "unanimously rejected this further approach and request for engagement".
Despite the board's refusal to meet Lone Star a third proposal was made in July. Sources in Cyprus speculated that the equity firm was behind the Bloomberg report, which forced the bank to go public, because it wanted to make shareholders aware of its offer. Once the possible takeover is made public, both sides are entitled to talk to the shareholders, which is what Lone Star wanted.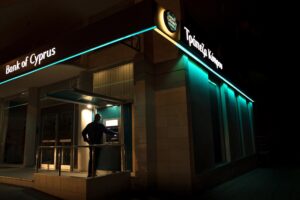 On the day the BoCH issued its announcement its share price closed at €1.175, but by last Wednesday it had moved up to €1.29, although it fell marginally afterwards. The rise in the share price could be partly attributed to the takeover proposal.
One former executive of the bank said: "if they had offered me as a shareholder €1.51 per share, which was at €1 at the time, I would sell, because it is a 50 per cent mark-up on the price, especially as the bank had not paid dividends for years."
He added that the final price offered could be attractive to shareholders, especially investors that held large packages of bank shares. "There is the possibility that shareholders do not agree with the board's stance."
For the BoCH board, aside from Lone Star issuing what it considers a low price, there were other issues at stake.
"In addition to fundamentally undervaluing the company and its future prospects, the board believes that the proposal from Lone Star does not adequately address the complexities of completing a transaction to acquire the Bank of Cyprus, given its strategic importance to Cyprus," it said in its August 19 announcement.
It was confident in the company's future prospects and remained committed to "delivering its strategy of becoming a stronger, safer and more focused institution capable of further supporting the recovery of the Cypriot economy".
This is how the government sees the bank's role and opposes it coming under the control of a private equity fund, that would be looking to make a quick return on its investment, regardless of how this could affect the Cyprus economy.
"If it were the Bank of America or Barclays that were offering to buy the bank, it would be different and no major cause for concern," said the finance ministry official, explaining that "you cannot have the country's economy at the mercy of an individual running a private equity firm."
Lone Star was founded by John Grayken in 1995 and has organised 21 funds with aggregate capital commitments amounting to more than $85 billion. It specialised in buying distressed assets.
Its investment approach, according to its website, is to "seek investment opportunities in markets that have suffered an economic and/or banking crisis, resulting in a dislocation in asset pricing and value opportunities."
It seeks to capitalise on market conditions in which, among other things, "financial institutions' balance sheets are under pressure and there is a need to dispose of high volumes of assets to manage capital, deleverage and build liquidity."
"The short termism of private equity companies is understandably a big worry for the government," said an economics professor at the University of Cyprus. "Banks have a long-term horizon, usually of 10 years, whereas funds, generally, take a shorter-term view of between three and five years."
Evdokimos Xenophontos, a former executive and director of the BoCH, was more scathing about Lone Star. "Systemic banks should not be controlled by single individuals or oligarchs who naturally will promote their own personal interests."
He pointed out that after the invasion of 1974 it was the Bank of Cyprus which helped the recovery of the devastated economy, because it accepted as its moral responsibility to help the country.
These are different times. The professor of economics pointed out that these are not good times for banks, with inflation at 10 per cent and the European Central Bank (ECB) insisting on keeping interest rates close to zero. "How will banks make profits in these conditions," he asked, pointing out that economic conditions could lead to many BoCH shareholders wanting to sell.
Low profitability has been a problem for some time now, said a retired bank executive, who believes Lone Star considers the BoCH price-to-book ratio very attractive. The BoCH capitalisation is at less than 40 per cent of its net asset value, he explained, making it a target for equity firms that see this high price-to-book ratio as an opportunity for a quick return
This explains why the BoCH board, in its announcement, cited its financial advisors (Goldman Sachs and HSBC), who concluded that the Lone Star proposal "fundamentally undervalues the company and its future prospects".
The board reiterated "the guidance given in May 2022, including delivery of a return on tangible equity of greater than 10 per cent in 2024 and, subject to performance and relevant approvals, a return to dividend distributions from 2023 onwards."
What happens in the next month will be of critical importance, as Lone Star has until the end of September to make a binding offer. One source, with long experience in takeover practices, believes Lone Star could make a couple more non-binding offers in September (binding offers are made once due diligence has been carried out) to test the resolve of the board, and to encourage shareholders to support the sale.
"If Lone Start returns with an offer of €2 per share, I suspect the owners of big packages of shares might be ready to sell, because they would not be prepared to wait a few more years in the hope the share price would reach this level," said the same source.
The three biggest shareholders of the Bank of Cyprus, which is incorporated in Ireland and traded on the London Stock Exchange and Cyprus Stock Exchange, are Lamesa Investments (9.27 per cent), Carval Investors (8.75 per cent) and Senvest Management LLC (7.79 per cent) which bought approximately three million shares over the previous three months.
Business analysts expect there will be at least one more offer made by Lone Star before the end of September, now that it is entitled to appeal directly to shareholders. It would not have made the takeover bid public if there were no such plans.
If the bill that would allow the government to block a takeover is not passed, it could still be stopped by the ECB's Single Supervisory Mechanism (SSM), which has the ultimate say on the acquisition of a systemic bank. For any acquisition of 10 per cent or more of a systemic bank's shares, approval of the Frankfurt-based banking supervisor is necessary.
For this approval to be given, first, the buyer is subjected to the ECB's 'fit and proper' assessment which examines a range of issues related to the buyer's activities. Once approved, the buyer would have to submit a three-year business plan to the Central Bank of Cyprus. Although the central bank does not have the final say on this, its recommendation would be conveyed to the to SSM, which takes the decision.
No acquisition can be completed without SSM's approval, so even if Lone Star offers a price that is attractive to shareholders it does not mean the deal would go through. Of course the takeover might not even have to be assessed by the SSM if the parties approve the EU harmonisation bill on time, giving the government the legal power to stop it.