Shadow Boxing is a Limassol club with plenty of champions but is limited by lack of sponsorship
By John Ioannou
On the edge of the Polemidia refugee housing estate in west Limassol, in a low-key basement beneath a clothing store is Shadow Boxing, one of the island's biggest successes on the competitive boxing circuit.
Run by coach Mike Karayiannis, the club has long been a refuge for kids from the estate and the nearby neighbourhoods of Agios Ioannis and Omonia. Fully certified and regulated by the Cyprus Boxing Federation, which in turn is regulated by the International Boxing Association (IBA), the club focuses on pure boxing without diluting into Les Mils type box fit classes.
As a veteran boxer who represented my UK university in regular bouts during my student days, I discovered the club several years ago and started training again after a 20-year layoff to try and keep fit. The atmosphere is always friendly and respectful, and Karayiannis combines energy and cheerfulness with the competence and authority you would expect from one of Cyprus' top coaches.
"We have many kids from the local area come in looking for direction and a place to focus their energy. Boxing teaches them self-control and discipline. They learn to respect others and understand the value of hard work."
The club teaches students of all ages – from four years old to the over 50s – in various groups, and newcomers are taken in hand by Karayiannis to build a solid foundation before moving forward.
"Anyone who is serious about learning to box is welcome," says Karayiannis. "We structure beginner sessions to focus on sound technique and good defence, always with the emphasis on safety. Our experienced boxers work on conditioning, drills and pad work with weekly sparring sessions."
Long in the game, Karayiannis started boxing at the age of 15 at a local club run by Australian Cypriot ex professional boxer George Yianni. Karayiannis had wandered in looking to get into shape and was instantly hooked, training daily and going on to fight in over 50 bouts in Cyprus and abroad before becoming a coach.
"After so many years, boxing is now a way of life," says Karayiannis. "And for me there is no better way to live."
Without doubt, Karayiannis is very much dedicated to his sport and his students. He often spends weekends taking his fighters to other clubs for sparring sessions and Shadow Boxing is a regular presence on the islandwide circuit, producing many local champions including schoolboy and schoolgirl category winners and senior tier fighters across several weight groups.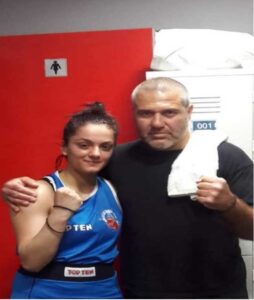 Karayiannis is also recognised as a pioneer of women's boxing in Cyprus, having trained several successful amateur female fighters. The Cyprus Boxing Federation lists only a dozen or so female boxers between the ages of 14 and 21 competing yearly, compared to ten times as many male fighters. Karayiannis' recent standouts include Junior Bantamweight champ Kyriaki Charalambous and his own daughter Eleana, herself a coach and currently the island's Junior Featherweight champ.
"Our women boxers train alongside the men and we don't differentiate. Of course, differences in power and strength must be taken into consideration, but we are one club, one team, one family," says Karayiannis.
An impressive track record that any boxing club would envy. Nevertheless, Karayiannis believes Shadow Boxing is capable of even greater success, given the right backing and support.
"We have had many successes in the Pancyprian boxing championships and in IBA competitions abroad throughout the years, where our fighters have proven to be among the best and most dedicated to come out of Cyprus. But as with many amateur sports clubs we suffer from a lack of resources," Karayiannis says.
"We need to find private sponsorship to take us to the next level, mostly to help with travel costs to IBA competitions abroad. We recently competed in Malta where we had several wins, and we covered flight costs, equipment, and apparel ourselves."
He says there are many such competitions abroad they could attend but the club has to be selective. They have to pay for everything.
"This itself shows the dedication and sacrifice of our fighters," Karayiannis says, adding that with sponsorship the club could really spread its wings and boxers could advance internationally, rather than being restricted to competing on the Pancyprian circuit.
"I feel we are only at the start of what we can achieve. We have accomplished so much with only our commitment and determination. With a sponsor who shares our passion for boxing, we can step out of the shadows and show Cyprus and the world what we can really do."
Shadow Boxing is at 37, 28th Street, Polemidia Refugee Housing Estate, Limassol.
Coach Mike Karayiannis runs two sessions a day Monday to Friday at 5pm and 6.30pm. Beginners welcome. Private lessons also available.
Coach Eleana Karayiannis runs children's classes on Tuesdays and Fridays at 4pm.
Interested sponsors can contact Mike Karayiannis on: 99405202 and email [email protected]
Facebook: Shadow Boxing