As much as almost everything else in our society, food choices are now often a byproduct of the latest trends.
A few years ago, lobster rolls were all the rage, then it was the beef ribs, slow cooked in a Southern American style, that took centre stage. Now it's the turn of bao buns, which seem to have exploded in Cyprus, with more and more restaurants offering them.
Mind you, food trends don't always remain faithful to the original stuff, nor do they always satisfy in terms of quality or mere personal taste. In just a few years' time, avocado and quinoa turned from quirky novelties to everyday choices, regardless of logic or common sense. But I digress.
Bao buns, as far as I am concerned, are a welcome trend. The steamed Asian 'bread' – for lack of a better word – never really overpowers the main ingredients. On the contrary, it complements them and elevates what was originally a street food item to a complex dish.
And no one in Nicosia does bao buns better than Bao Pau!
Relatively new to the capital's food scene, Bao Pau actually boomed during the heyday of the Covid-19 pandemic, when people exhausted by harsh lockdowns and eager to expand their culinary horizons, started ordering more than just souvlakia and pizza.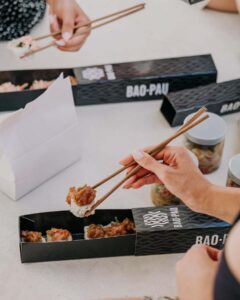 The place remains essentially a takeaway or delivery. Dining on the premises is certainly a possibility, but I find that other establishments such as cutting-edge Akakiko and more traditional China Spice, to me the best Asian restaurants in Nicosia, are better choices in terms of eating out.
The bao buns from Bao Pau deserve to be enjoyed from the comfort of your sofa after a hard day's work. My personal favourites are the ones with glazed pork belly, duck breast, wild salmon or vegetable tempuras. One might reasonably wonder 'well, aren't those all that the place offers?'
Well, not really. On top of many other bao choices, Bao Pau also does sushi. And it actually does so wonderfully!
Creative and original rolls featuring popcorn shrimps, bonito fillets with avocado – it actually works superbly in this case – crab meat marinated in mirin and light, sweet vinegar, are only a fraction of the sushi entries on offer.
I found out that the golden ratio for hungry diners such as yours truly is two bao buns per each sushi roll order, normally consisting of eight to ten pieces.
Just to make it clear, I am not a fan of excessive delivery or takeaway. I honestly believe that food 'from out' is best enjoyed when making an occasion for it, not in your pyjamas. But, alas, I also realised that times are changing and one needs to adapt in order to survive.
And, as far I am concerned, few places in Nicosia are more deserving of a home order than Bao Pau!
VITAL STATISTICS
SPECIALITY Asian – Bao
WHERE Agapinoros 6b, Nicosia
CONTACT 22 443300
WHEN 1am-3pm and 6pm-11pm (Closed on Sunday)
HOW MUCH €7.50 to 9.50 for bao buns