Easy vegan spread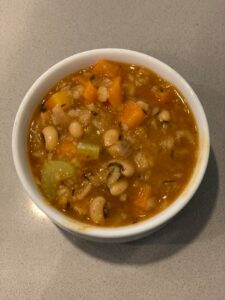 Barley and black eye beans stew
1 stalk of celery
1 medium chopped onion
2 garlic cloves, crushed
2 medium carrots diced
1 large sweet potato diced
1 carton of tomato sauce
Salt and pepper to taste
2 cups of precooked beans
2 cups of cooked barley flakes
1 tablespoon of dried oregano
Sauté onion and garlic in a little olive oil
Add carrots and celery for a further minute
Put all the rest of the ingredients in the pan and stir
Reduce to medium heat and simmer for 10-15 minutes
Serve on its own or on a bed of wild rice or grain of preference.
You can add vegetable stock water the next day to make this into a soup
Walnut banana and apple cake
2 cups wholemeal flour
1/2 cup of brown sugar
3 bananas
2 cups of walnuts
1 teaspoon of baking soda
Pinch of sea salt
1 medium red apple
1/2 cup of vegan butter
2 drops of vanilla extract
1/2 cup of coconut milk
1/2 teaspoon of cinnamon
Mix together, decorate with slices of apple and bake at 190C for 20 minutes
Loaded Vegan Salad
Salad base:
Lettuce leaves, cucumbers, spinach leaves, sesame seeds
2nd layer:
White beans. Soaked before cooking with a spoon of apple cider vinegar in water, cook in vegetable stock with dark green leaves like spinach or Swiss chard.
Final topping:
Boiled (or steamed) mixed vegetables including wild mushrooms, broccoli, carrots, zucchini, sweet potatoes, ginger and anything else you may like (we add a little garlic too)
Dressing: olive oil, lemon, Himalayan salt (optional pinch of oregano)
Asian Salad Dressing
1/3 warm veg stock
1/3 lemon lemon juice
1/3 soya sauce
Dash of agave syrup
Pinch of ground black pepper
Mix well in a jar
Voila! Oil free dressing for your salad that tastes delicious.
Farah Shammas is a Lebanese-British origin and lives in Limassol, Cyprus. She obtained a certification in Plant-based Nutrition from eCornell and T. Colin Campbell Center for Nutrition Studies and is also an active vegan and has the platform Cook Vegan (Facebook, Instagram and YouTube) where she aims to encourage a healthier and more sustainable way of living for all, in addition to publishing two books