A giant piano fountain, bingo, great food, a wedding, and dozens of African migrants daily chanting 'Anna Queen of the Prison' prompted filmmaker Raphael Rowe of Netflix's Inside the World's Toughest Prisons to dub his Cyprus episode The Utopian Prison.
The episode, as part of season six, dropped on Netflix on Wednesday morning.
In December 2021, Rowe, once wrongly jailed for murder in the UK, arrived at the central prisons for a week's stay and was processed as any inmate would be. He was 'handcuffed' by police and went through a regular admission interview.
In his introduction, Rowe said it was well known that the Nicosia Central Prisons "once had a fierce reputation for guard brutality" with prisoners beaten every day and six suicides in less than 10 months before Anna Aristotelous took over in 2014.
Throughout his week, Rowe expressed surprise and puzzlement at the informal way the prison was run, after serving 12 years himself in British jails. He wondered if it could all be too good to be true.
He described it as a prison unlike any he has been to before that used to have the reputation for being one of the most brutal in Europe, "a place where they refused to allow inspectors to go because of what used to take place there".
One of his biggest questions was that since most of the guards were the same people, how Aristotelous had changed their mindset to see the prisoners as human beings and not, in the words of one older guard "as their slaves".
On entry to the prison, his handcuffs are removed and he has to pass a sniffer dog. Two guards present have been there for many years. Rowe asks them about the prison's reputation. "Before we didn't respect people and violence existed in the prison," said one, but he would not be drawn further.
Rowe was then interviewed, given brand-name toiletries and new sheets, no uniform. He said the whole process caught him off guard and the place was very different to what he expected coming through the gate.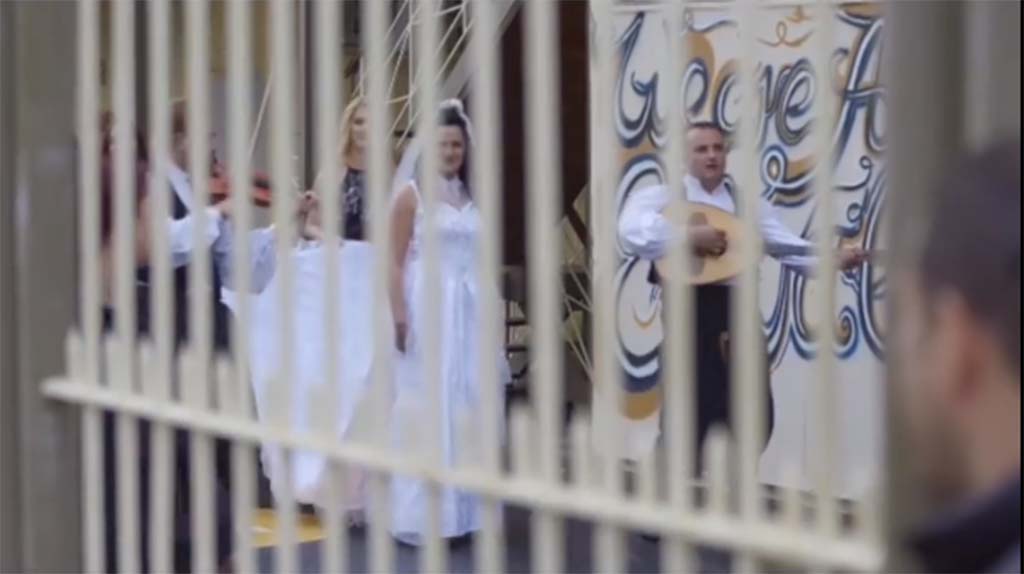 "Then I encounter something I would normally expect to find in a hotel lobby, a music-playing water fountain in the shape of a piano," he says. It was the idea of one of the inmates, he's told. There are 800 at the prison, 300 of whom are irregular migrants and failed asylum seekers.
These are the director's biggest fans, cheering and surrounding her every time she enters the yard and chanting: 'We love you Anna' and 'Anna, Queen of the Prison'.
One asylum seeker tells Rowe it is because on the outside they had nothing and now they have three meals a day, "gym, clothes, shoes. She doesn't treat us as prisoners but as VIPs," the Cameroonian man said.
Aristotelous thinks asylum seekers and irregular migrants should not be in prison at all and has been pushing for a more administrative solution.
Rowe meanwhile wonders what the prison authorities want in return for the adulation. The answer from those in authority in the prison say to see convicts reintegrate into society and not re-offend.
"You make me a better person," Aristotelous tells them when she makes an appearance at the bingo, which includes both male and female inmates, as do the Greek dancing classes. Inmates can win extra blankets, quilts and sweets.
According to Rowe's cell mate, a two-times convict named Phaethon who is now serving eight years for armed robbery and who remembers the bad old days before 2014 when there was "less water, less food, more punishment".
Rowe asks him if everything he is seeing is all for show but Phaethon assures him it is not.
He finds it "surreal and bizarre. It's been easy to forget I'm in a maximum security prison," he adds.
When he does have a conversation with Aristotelous, he tells her she is more like a politician, which she denies. She just wants to help people "change, reform and reintegrate back into society".
Rowe says he didn't come across any drug dealing in the prison and the prisoners he spoke to, a couple of them addicts, say they don't have access to any. One says he tried.
One of the things Rowe did observe was that the prisoners, especially addicts, may have the help and support they need within the prison walls, but there was nothing to compare on the outside.
Rowe asked Aristotelous if the prisoners in Nicosia central might not have it "too good" and what about their victims. "The victims expect them to be punished," he said.
Without really answering the questions, Aristotelous cited the results of the "human approach" and the data on reoffending.
"The reoffending rate has dropped to 15 per cent from over 50 per cent under the punitive system," she said, citing this as a major success.
Rowe remained sceptical as he left the prison on the sixth day but not before attending a wedding of two Greek Cypriot convicts, which was reported back in December. It was the 20th wedding inside the prison since Aristotelous took over.