Set in the forests of Paphos, the village of Panayia has something for everyone: nature trials, churches and wine finds PAUL LAMBIS
Cyprus is home to many spectacular landscapes, and the village of Panayia in Paphos is not only attractive to the eye, but it also offers a few hidden delights offering visitors something completely different.
Panayia is undeniably picturesque. This mountainous location, surrounded by valleys of grape-producing fields, dense forests, nature trails that lead to impressive cliffs and ravines, historic sites, museums, traditional restaurants and wineries, is also heavily engaged in agrotourism.
With a little exploration, it is possible to discover the village's stone-built architecture, where history can be felt through the walls, while the overpowering cedar-pine aroma lingers long after leaving.
"Many people have found inspiration here," head of the community council Savvas Nicolaou said. "Visitors are frequently enamoured with Panayia's ambience and attractiveness, since our village appeals to all senses."
And it most certainly does. Just a few metres from the main square and in one of the many side lanes, I discovered a trendy, traditionally inspired oasis tucked away behind mature trees. Formerly a courtyard where animals and livestock were once housed, the Secret Garden is a distinctive bar-café where patrons are treated to exquisitely presented meals in an unmatched setting.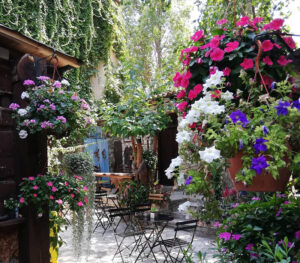 Opening the venue in 2015, owner Giorgos Makris aimed to recreate the feel of bygone outdoor cafés where customers could interact socially without the distraction of social media. "I was delighted to see that people embraced my concept," Makris said. "By including vintage and traditional elements into the establishment's overall design, we have managed to showcase the history and customs of Panayia."
The Secret Garden is renowned for its exceptional desserts such as their own take on cheesecake, macaroons, sesame brittle, orange cake, and chocolate infused biscuit cake, and also offers an impressive brunch. "It's the perfect opportunity for the whole family to spend time in nature and take in the beauty of the surroundings," Makris added.
Perhaps not a well-known fact, former president of Cyprus Archbishop Makarios III (1913-1977) was born and raised in the small mountainous village of Panayia. The museum dedicated to him, which is now a popular tourist destination, is a modest farmworker's home that shows Makarios' childhood, while the objects on display reflect the simplicity of typical bygone Cypriot village life.
In order to see the village from its best angle, follow Panayia's nature trail through the forest to experience the continually expanding view of diverse landscapes covered with native trees.
According to Nicolaou, the village of Panayia is renowned for its distinctive wildlife, including the moufflon, the island's endemic species, which are a deep-rooted part of Cyprus' history. "It is the pride of the Cypriots and the jewel of the Panayia forest," he added.
"The viticultural zone of Vouni Panayias, which is regarded by prominent Cypriot connoisseurs as one of the greatest on the island, is another reason for Panayia's reputation."
The region is home to two of the island's most important wineries, one modern and the other dating back to the late eleventh century, whose wine qualities have rapidly gained reputation and awards beyond Cyprus' shores. "The vineyards are delighted to show off their wines and offer tastings and tours. Oenophiles will love the feeling of discovery as they explore these wineries that are tucked away within Panayia's countryside," Nicolaou said.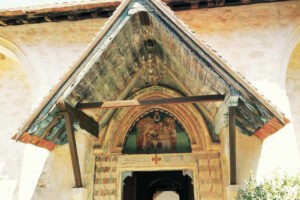 Like most villages in Cyprus, Panayia is not short of churches. In fact, the village boasts seven significant religious sanctuaries that are testament to the region's Byzantine heritage, with Panayia Chrysorroyiatissa monastery being the most well-known and frequently visited.
The monastery, whose present-day buildings date from 1770, is home to an important collection of icons and treasures, as well as frescoes that span more than three centuries, including a depiction of Christ and the Virgin Mary that was painted by Saint Luke the Evangelist. "The Ecclesiastical Treasury, which is situated on the monastery grounds, contains priceless artefacts and sacred treasures, and is open to the public all year round," Nicolaou told Living.
With views that offer more greenery than concrete, natural sounds that make one feel grounded and relaxed, scents of nature improving wellbeing, connecting with history, and savouring traditional flavours, Panayia village will undoubtedly awaken all the senses.