Police in a Twitter post on Tuesday said 70 arrest warrants were issued on Monday in connection to the incidents at Pournara migrant reception centre last Friday (October 28).
Clashes broke out and fires were lit at the overcrowded reception centre for migrants on Friday, police and witnesses said, necessitating authorities to break up the fighting with tear gas.
Twenty people were injured, CyBC reported.
One person has so far been arrested to facilitate police with their investigations, while another four arrest warrants are also pending.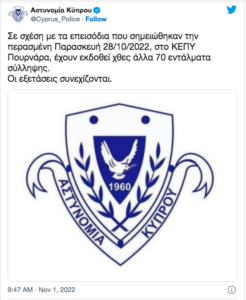 According to reports, the two groups that were fighting were Nigerian and Congolese, and that they threw rocks and other objects at each other.
Thick plumes of smoke were visible over parts of the Pournara reception facility, some 22 km west of the capital Nicosia.
Witnesses told Reuters people from the camp could be seen fleeing and running along a mayor road nearby with their belongings.
Meanwhile, Phileleftheros reported that police were given the photos of 160 people residing in quarantine, after they had been identified by the asylum service.
Pournara has been hosting well over its 1,000 person capacity as Cyprus struggles to cope with an influx of asylum seekers from Syria and from African countries.
Many travel to the southern part of the island through the buffer zone that separates it from the Turkish Cypriot breakaway state in the north.
Investigations continue.