Thousands of passengers were stranded at Paphos airport on Wednesday amidst a protest by ground staff which affected over 20 flights.
Some airlines had to transfer passengers to various hotels following flight cancellations while other flights have been diverted to Larnaca airport, a source told the Cyprus Mail.
Citing the work stoppage, Hermes airports urged people flying from and to Paphos to contact the corresponding airline for further instructions.
One of the affected passengers contacted the Cyprus Mail via email at around 6pm, saying her plane, along with many others, has been stuck on the tarmac.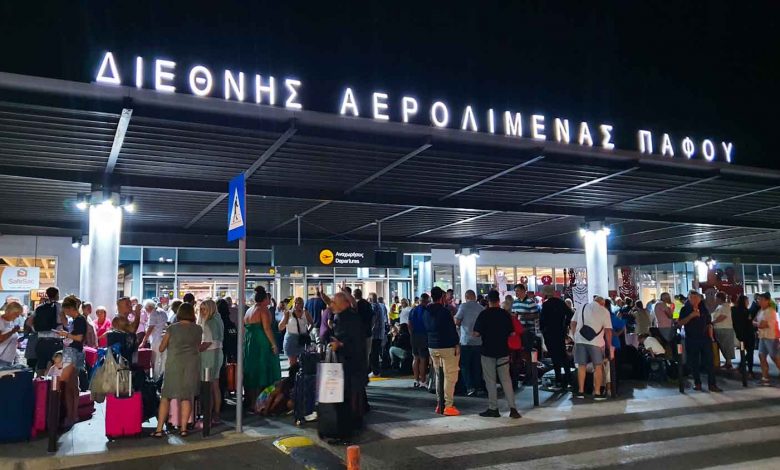 Ground workers had initially announced a two-hour work stoppage between 2 and 4pm.
However, the strike went on until about 7pm, affecting thousands of passengers on more than 20 flights.
Flights scheduled to depart from the airport during the strike were also affected, Hermes airports said. The company explained that some departure flights were cancelled due to the delays caused and flight time limitations of the cabin crew.
Meanwhile, a meeting took place on Wednesday afternoon between the transport ministry, trade unions and employers to resolve the situation.
The Paphos strike comes just a day after Larnaca airport workers also downed tools on Tuesday between 10am until 12 noon.
Their core grievance is that 156 staffers were handed redundancy letters on Tuesday morning, following a change of contracts between the relevant companies.
The move came following a meeting of the workers in the two companies (LGS and Swissport) after more competition was introduced to the ground handling services at the airport, Larnaca district secretary of trade union Peo Yiorgos Ioulianos said.
He added that originally the decision was to transfer employees from the two companies to positions at the new companies but that this did not happen as 111 employees from LGS and 45 employees from Swissport were informed of their redundancy, instead of being given positions at the new competitor.
Furthermore, the company has reportedly told the workers on Tuesday that it will proceed with salary reductions, the Sek union Paphos branch told the Cyprus News Agency during the work stoppage.
"It appears the new company is not going to apply the regulations which the transport ministry has signed nor the collective agreement," the secretary said.
After the meeting on Wednesday, Transport Minister Yiannis Karousos clarified that some 28 permanent employees "who have expressed interest to continue their employment will be hired under the same terms of employment and with a continuation of employment scheme."
As regards the Larnaca airport workers, discussions will continue with the aim of settling the issue by next Wednesday, the minister posted on social media.