Acting allows a London Cypriot the chance to experience other worlds finds PAUL LAMBIS
Stephanie Leonidas describes herself as "lucky." From sci-fi to biblical and everything in between, she has played it on screen. "It really is an actor's dream to constantly be taking on a role that is so different from the last one," Leonidas said. "Genre diversity creates better actors."
Leonidas is best known for her roles as Helena in the fantasy movie MirrorMask and as the lead character Irisa Nolan in the first and second seasons of the American science fiction TV series Defiance.
"Even though the show was about aliens and involved a lot of shooting and combat, there was a real human drama to it," she said. "With Irisa, I really enjoyed how much was going on inside of this girl who resembles a feral animal-like creature. That, I believe, is what drew me to it."
Born in Westminster, London to a Greek Cypriot father and English mother, Stephanie characterises her childhood as primarily Greek, mixing her regular school life with Greek school and the traditions and customs that surround her Greek Cypriot ancestry.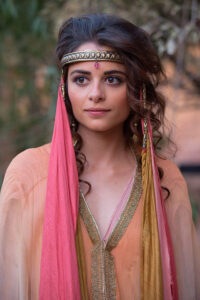 "There were so many Greek Cypriot influences. Even though my mother is English, we always had Greek food at home, following the traditions, surrounding ourselves with Greek friends, attending large Greek weddings and visiting Cyprus in the summer to celebrate all that is Cypriot."
When Leonidas was eight years old, she began performing in community theatre. A year later, she got an agent and started appearing in popular British and American television series such as Chalk, Holby City, Empire, White Chapel, Killing Jesus, and American Gothic, as well as independent and commercially released films like Yes, MirrorMask, The Feast of the Goat, and Tomorrow.
Her theatrical roles have included Adela in a production of Lorca's The House of Bernarda Alba at Coventry's Belgrade Theatre, and Dani in The Sugar Syndrome, performed at the Royal Court Theatre Upstairs in London in 2003, where she was praised for her first-rate performance by internationally acclaimed theatre critic Lizzie Loveridge.
"Every job is a defining moment," Leonidas told Living, "You value everything that you are given. They are all so unique, and they often take you to another part of the world. It is not only the filming. Your whole life literally changes."
Leonidas adds that musical theatre is another genre that she would really like to explore. "Musical theatre fosters a social awareness through exposure to the social issues, events and cultures that are portrayed in the scripts. I got my start in musical theatre, which is a fantastic opportunity to increase self-confidence and push yourself beyond your comfort zone."
Stephanie's performances have brought her recognition in the US and the UK, but she has a surprisingly humble and motivating attitude about it. Full of energy and excitement, her love of performing has evolved into something of a family tradition. "It runs in the family," she said.
Her younger siblings Georgina and Dimitri are well-known actors who have been in Hollywood blockbusters. "Our other sister, Helena, is a teacher, so she is undoubtedly the sensible one," she added jokingly.
In 2020, Stephanie, together with her husband fellow actor Robert Boulter, published a children's book about coping with Covid-19, seen through the eyes of two charming and "cheeky pups." The adventures of Presley and Bella… and the invisible Monster is a humorous, easy-to-read rhyming story that explains to young children why they cannot visit their friends. "It is a modern classic, and we were delighted to share the proceeds from the sale of the book with NHS charities."
With a successful filmography that boasts a plethora of sci-fi films, it is evident that Leonidas has a close affiliation with the genre. "I read a lot of science fiction as a child. I used to watch children's movies all the time, such as E.T. the Extra-Terrestrial and The Dark Crystal, and I have always wanted to jump into another world and live out my fantasies."