The Ministry of Energy, Commerce and Industry on Thursday announced that minister Natasa Pilides travelled to London on Wednesday in order to lead a mission representing Cyprus at a business forum, seeking to promote the island as an international hub for business and ultimately boost investment.
On Thursday, the minister also participated in another business forum, alongside a number of entities, groups and organisations of the Cypriot diaspora.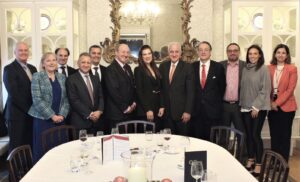 Moreover, as part of the visit, the Institute of Chartered Accountants of England and Wales hosted a working lunch yesterday for the Cypriot minister, in the presence of the High Commissioner of Cyprus to the UK Andreas Kakouris.
According to an announcement by the ministry, during the lunch, attendees discussed the recent developments in the Eastern Mediterranean region and the further deepening of the cooperation between the two parties.
During the business forum held on Wednesday, which was co-organised by the Ministry of Energy, Commerce and Industry, the Cyprus Chamber of Commerce and Industry (Keve), the High Commission of the Republic of Cyprus in the UK and the Institute of Chartered Accountants of England and Wales, Pilides had the chance to address a crowd consisting of business people and other professionals from the United Kingdom and Cyprus.
During her presentation, the Cypriot minister showcased and analysed the sectors of the Cypriot economy which, due to the green and digital transition, present the most favourable prospects for developing activities and strengthening partnerships.
What is more, Pilides also made reference to the various incentive schemes and measures that will be implemented as part of Cyprus' Recovery and Resilience plan.
Dubbed 'Cyprus Tomorrow', the plan will cover actions pertaining to the energy transition and the digital goals of Cyprus, which are respectively priced at 41 per cent and 23 per cent of the total budget amounting to €1.2 billion.
In addition, Pilides explained key aspects of Cyprus' new strategy for attracting businesses and skilled foreign talent, which includes both the visa for digital nomads and the launch of the Business Facilitation Unit, which resulted in more than 1,200 businesses expressing interest since it came into operation.