There are just three sub-species of orangutan, and the Sumatran is by far the most social. Almost exclusively arboreal, these highly intelligent primates rarely descend to the ground; instead, they form close-knit, treetop societies. Sadly, those trees are rapidly disappearing – especially in Sumatra, which has cut down almost 50 per cent of its tropical rainforest over the last 35 years…
Sumatra is absolutely huge. At almost 500,000 square kilometres (roughly 51 times the size of Cyprus), this is the sixth largest island in the world. It has a population to match – close on 60 million at the last count. And that number is swollen by visitors: over 250,000 tourists per year are attracted by the island's white-sand beaches, picturesque volcanic lakes, and exotic foods…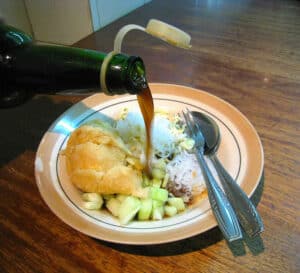 Among Sumatra's most iconic dishes, we get ikan bakar: freshly-caught fish that's barbequed to a crisp, and served alongside sautéed vegetables and steamed rice. Pempek is another oceanic offering: a fried fish cake that's made from Spanish mackerel, tapioca flour and spices, then drenched in a dark, spicy-sweet sauce called cuko, and enjoyed with noodles, rice or diced cucumber. And mie celor consists of thick egg noodles served in a broth of shrimp paste and coconut milk garnished with celery, scallion, shallot, shredded chicken and a hard-boiled egg.
There's also a lot of beef on the menu: rendang sapi padang is an ever-popular spicy beef and bamboo shoot stew. And more than a little buffalo too: satay padang uses local buffalo meat drenched in either a turmeric-based sauce or a chilli concoction.
But perhaps the island's most notable fare isn't food at all. It's a drink. Widely billed as the world's most expensive coffee, kopi luwak can retail for up to $100 a cup! It's not the beans that make this drink so unique, but the processing: each cup consists of partially digested coffee cherries, which have been eaten and defecated by the Asian palm civet. Apparently, the cherries ferment as they pass through the civets' intestines, lending the drink an earthy, musty flavour with hints of caramel and chocolate. It's a tang that's often been described as 'like drinking the jungle'.