As with most people, when I go out to dine I am initially drawn by the appearance of the place. Thinking an establishment has taken time, effort and care to impress with their design indicates the same attention and detail is reflected in the food. No matter how many times I fall for this and end up with disappointing food, I still get drawn in!
But recently in the centre of Larnaca I spotted an eatery called To Edesma tou Paradisou (Food of Paradise) written in Greek and the words 'Cyprus tavern' also written in Russian on a sign that had pictures of the food, and my immediate thought was that it was a typical tourist trap. There were colourful chairs and shutters and loads of umbrellas suspended high above the restaurant entrance. Something made me want to go in and try it out!
We were almost immediately greeted by the very friendly and welcoming Mr Antonis, who grabbed a couple of menus and, despite the pavement tables being empty and plentiful, told us to follow him to the garden. Being in the centre of town on an old road, I expected a small area just about big enough for a table. We were led out the back and it was like a totally different world! The theme of different coloured wooden chairs and shutters continued but, in this outdoor area with well-kept and lovely looking small trees, they seemed to fit in perfectly. It was cosy, well decorated and had a charming, old school vibe.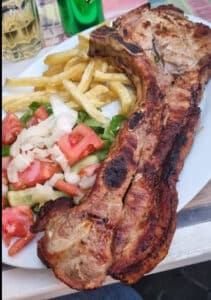 We were given the menus and left to it. And what a menu! 20 pages! But, to be fair, there were only about five dishes on each page because again, there were pictures of the food. At least we were certain of what to expect, and this menu had something for everyone. The prices overall were very reasonable and if the portions were as big as they looked in the pictures then, it's a bargain!
One thing that I definitely liked was the smell of fresh souvla being cooked. The smell always whets my appetite and it helped me narrow down my choices to something that is cooked over the charcoal. I decided to get the pork chop while my partner opted for the grilled sea bream on a bed of rice, which meant she'd be pinching some of my chips later on!
We were brought complimentary bread and dips alongside some grilled vegetables. Bread and dips are often served after ordering but, the grilled vegetables were an unexpected treat. We ended up waiting a little over 25 minutes for our food but when it was put down in front of us, I realised why. The pork chop was huge! My knife cut through it with ease, it was perfectly cooked, tender and juicy. I was very pleased with my choice! My partner's fish had crispy skin and was soft and flaky on the inside. With an added splash of fresh lemon, she assured me it was very tasty. The rice was a little underwhelming and, considering the size of my chop, I was more than happy to offload some chips!
I refused to let the chop beat me so I polished it off but was ready to burst! I had seen baklava on the menu for €1 and prior to my food arriving had thought about ordering it but it didn't seem like such a good idea now. When we asked for the bill, the waiter went inside and came out with none other than, a portion of baklava for us to share! It's rude to say no so, I soldiered on and we also really enjoyed the dessert.
I'm glad I took a chance on To Edesma tou Paradisou. It was a brilliant lunch and with the quality of the food, atmosphere of the garden, great hospitality and very reasonable prices, I will be going back.
VITAL STATISTICS
SPECIALTY Traditional Cypriot, grilled and international
WHERE To Edesma tou Paradisou, Lordou Vyronos, Larnaca
WHEN Daily 11am-11pm
CONTACT 24 664654
HOW MUCH Pork chop €12, grilled sea bream €15, meze €18