With cozy evenings in planned, CONSTANTINOS PSILLIDES suggests new movies for the whole family to watch 
Roald Dahl's Matilda the Musical 
Scheduled for release on Christmas Day, this is the first of the adaptations of Roald Dahl's works Netflix has in store, following the acquisition of rights to the author's complete works. Matilda is the first to come out, followed by two series adaptations of Charlie and the Chocolate Factory, written, produced and directed by Taika Waititi, who, judging by the number of projects he is tied to, must be making all the movies and series coming out in 2023.
Matilda tells the story of Matilda, a hyper-intelligent, brilliant little girl who discovers she has telekinetic powers. Matilda is caring, loving and devoted to her friends but has the misfortune of being born to a couple, the Wormwoods, who are cruel and abusive, dismissing their daughter's intelligence and actively discouraging her love for reading.
Matilda meets a kindred spirit in Miss Honey, a kind-hearted teacher at school who wants her to attend advanced classes but is thwarted by the evil, domineering and abusive Mrs Trunchbull, the school's headmistress.
Alisha Weir stars as Matilda, Lashana Lynch plays Miss Honey, while the indomitable Emma Thompson transforms herself into the hammer-throwing headmistress! With the background already set by the hit musical, Matilda is an excellent idea for a holiday watch! Speaking of musicals…
Spirited Apple 
Charles Dickens' A Christmas Carol must be the most adapted piece of literature ever written. The evergreen story of the cruel miser Scrooge turning his life around after being visited by three spirits is known to everyone alive during Christmas who owns a TV. But what can you do with the same old story? When Apple+ announced its new Spirited adaptation, I was unimpressed and somewhat disappointed.
Turns out a lot.
First off, Spirited is, for some unfathomable reason, a musical and judging by the swingin' 'Bringing back Christmas' video Apple+ released, quite an entertaining one! Second, this adaptation is a clear departure from the original story to the point that it can almost be considered an original one! Ryan Reynolds stars as Clint Briggs, a media mogul specialising in controversy and caring about no one, while Will Ferrel stars as the Ghost of Christmas Present, a spirit now devoted to changing people's lives. While orchestrating the usual redeeming arc for Clint, the plan goes awry, leading to uncharted territory for the Christmas spirits while Clint and Present strike a friendship that will make Present re-evaluate his life/death.
Guardians of the Galaxy (Holiday Special) 
A prelude to the MCU's Guardians of the Galaxy Vol. 3, which comes out later this year, the Holiday Special is director James Gunn's final farewell to the Marvel Universe, as he was hired to reshape DC.
The Disney+ movie can best be described as "saccharine action", as Gunn injects heavy doses of holiday cheer into a franchise already known for humour and quipping while staying true to the MCU trademark action CGI. A depressed Star-Lord (Chris Pratt) is upset over his loss of Gomorra (Zoe Saldana), not because she is dead but because the older version of her, the one before the Snap, has no memory of their time together. If that sentence didn't make sense to you, I don't blame you. Going into the MCU now is like being dropped into Episode 11 of a series in its 9th season. Nothing makes sense unless you have already watched hours upon hours of content. Suffice it to say, he is sad.
To cheer him up, his rag-tag group surprises him with an Earth tradition, Christmas! And as a gift, they kidnap Star Lord's favourite singer, Kevin Bacon. It's fun, it's light, and it's full of bright lights, precisely what the doctor ordered for a family Christmas night.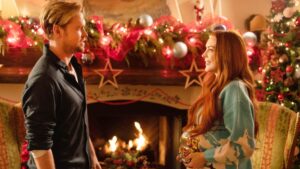 Falling for Christmas 
At this point, it is probably illegal for any festive season to come and not have at least one movie where stuck up Main Character ends up by accident in a sleepy small town during Christmas, where he/she meets the love of his/her life and discovers the true meaning of Christmas. This year, Lindsay Lohan proudly takes up the mantle on Netflix in her first role in a major movie in almost a decade.
This does not bode well for her.
Falling for Christmas is so formulaic discussing the plot is redundant. You have seen this movie a million times. There's nothing original or unexpected, and you can probably sketch out the story progression by watching the opening credits. This movie is so cliché I thought it just might be a meta-parody, making fun of this genre of movies.
It isn't.
But hey, if you love this kind of movie, Falling for Christmas is the perfect movie for you!