When The Beach Boys sang about Aruba, Jamaica, Bermuda and Bahama, they missed what may well be the most beautiful island of all: Curaçao. One of the Dutch Caribbean isles, Curaçao is famed for its pristine white-sand beaches, glass-clear seas, and the unique architecture of its capital, Willemstad. Variously ruled by the Dutch, the British, the Spanish, in the past, Curaçao was a centre for the slave trade. But today, it's a haven of exotic tranquillity – a little island that's a little off the beaten path and happy to remain so.
This is the home of the original Curaçao liqueur, a concoction made from the peels of the island's indigenous Laraha orange and a blend of local herbs and spices. Then there's keshi yena, the island's signature dish and a tribute to its multicultural past, which comprises a ball of baked Dutch cheese (usually Edam or Gouda), packed with spiced chicken or pork, and stuffed with olives, capers, onions and tomatoes.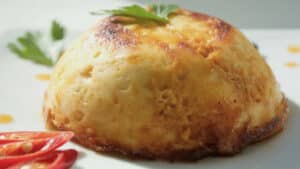 From the island's African roots come funchi and tutu, polenta-like savoury dishes made from cornmeal and black-eyed peas. And from South American gastronomy, we get arepas: corn-based patties stuffed with cheese, meat, corn, or avocado. From the Caribbean islands, there's stoba, a hearty stew usually made with goat meat and spiced with strong chilli. And as a nod to Dutch cuisine, you'll find a host of sweeter treats: oliebollen (deep-fried sweet dumplings covered in powdered sugar), poffertjes (small puffed pancakes covered in butter and sugar), and stroopwafels (two wafer-thin waffles layered with caramel).
There's a great deal of seafood as well: rauwe haring (salted, dried raw herring), fish tacos, and fresh shrimp are all local favourites. And two exceedingly odd land-based dishes. The first is kadushi, a soup made from local cacti, which is said to be exceedingly slimy but incredibly nutritious! And the second is stoba yoana, an iguana stew that became popular during the days of slavery when meat was scarce but the indigenous lizards were plenty. In fact, iguanas still roam the island in droves.