Larnaca and Famagusta hit the hardest
The met office on issued a yellow weather warning for rains and isolated thunderstorms starting on Sunday at 8am until Monday 8am. Meanwhile, Famagusta and Larnaca districts were scrambling to respond to calls for help as floods wrecked homes, roads and businesses.
In Larnaca, the roundabout at the airport was closed due to flooding, as was Makarios avenue in Meneou, from Vatiliotis centre until the Stop supermarket. The road near Panorio restaurant has also flooded, making it dangerous for the public.
"The rain started at around midnight and continued until 9am. I don't remember every seeing this much rain," Dromolaxia and Meneou mayor Kypros Andronikos said.
"At first glance, it appears three to four houses have flooded. The district office will be called first thing on Monday to visit the area, register any damages citizens have faced and ensure they are compensated," Andronikos noted.
"It's a sad situation but what can we do, it happens and we'll deal with it."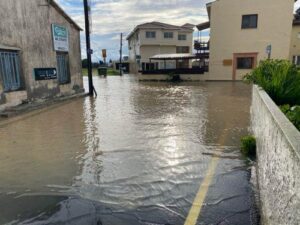 Helpless against the rain
According to the mayor, the quantity of rain was so much that drains and anti-flooding works could not absorb the water and drive it away from the community.
"We had large quantities of rainfall which created a lot of problems, particularly in the centre of Menou. The main road on Makarios avenue flooded."
Andronikos said he was at scene from 4:30am with municipal staff trying to help people in any way possible. "There wasn't much we could do, we brought two excavators to help rainwater escape and we hope we won't ever have this much rain and for this long again."
The mayor added the fire services responded to numerous instances but it was still hard. "The whole area has flooded not just this community and they respond where lives are at risk."
Civil defence aids rescue ops
In Larnaca the fire services received 43 calls, including rescuing an elderly woman who was trapped in her home. Other calls concerned rescuing drivers, towing vehicles, pumping water from houses, back yards and basements, as well as moving trees that were uprooted from strong winds.
An announcement by the civil defence said it was on the ready across the country to help in light of the severe weather.
Efforts began on Saturday morning until late into the night, to help citizens in the Paralimni, Protara and Ayia Napa areas, which were battered by rain. The civil defence has been working closely with the fire services, police and other authorities to help with water pumping in homes that flooded, a statement said.
In total, 28 members of the civil defence comprised of both permanent staff and volunteers, with 11 vehicles and eight pumps, sought to help in the Famagusta and Larnaca areas.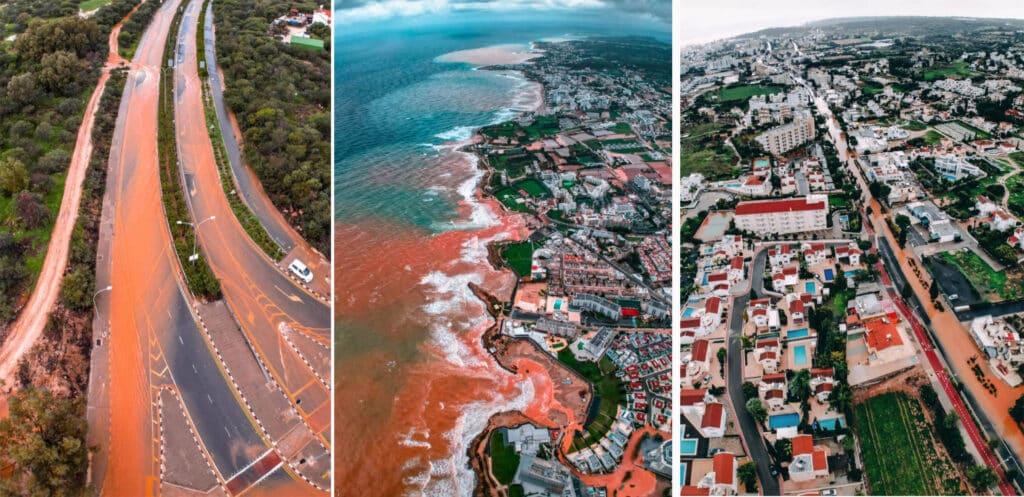 Dangerous roads
According to the 24-hour weather warning, mainly northern and eastern parts of the island will be affected. The total rainfall may exceed 55 millimeters in the span of a day.
In Famagusta, fire services responded to 122 incidents involving rescues, towing vehicles, opening drains and pumping water from hotel basements and houses. Since Saturday morning, there were 216 calls for help to the fire services.
Similar efforts were underway in Larnaca where the Dromolaxia – Meneou was hard hit.
According to police, a number of roads are closed while those that are open are slippery or have limited visibility.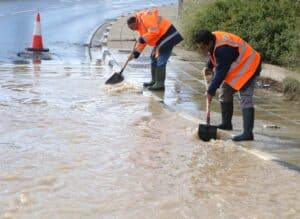 Police warned there is heavy fog in Vavatsinia, Odou and Lefkara.
In Morfou, the roads that are open but slippery are Pedoulas – Prodromou, Prodromou – Lemithou, Pedoula – Moutoulla, Pedoula – Pinewood – Kakopetria, Kakopetria – Karvouna, Astromeriti – Troodos.
The roads leading to Troodos are open to all vehicles. In Famagusta, the Protaras avenue towards Cape Greco was giving way in two areas, and police have placed cones for caution.
Police called on the public to be especially careful when driving due to water pooling on the roads making them slippery and dangerous. Drivers are advised to drive slowly, keep distances from other vehicles and have their vehicle headlights on.
Interior Minister Nicos Nouris visited Famagusta the previous day where rain and floods battered the area. In total, 16 crews from various services were active in Famagusta, rescuing 35 people who got trapped on the flooded roads and towing over 60 vehicles.