There are 11 reasons to visit Rialto Theatre in February as 11 new cultural productions are taking its stage. The month will bring a series of shows – music, film, theatre and interactive experiences – with a little bit of something for all tastes, ages and backgrounds.
Commencing the month's events is a concert with musicians of the Carel Kraayenhof Quartet who honour their musical idol Astor Piazzolla on the occasion of his hundredth birthday. With the performance 100 years of Piazzolla on February 3, the four tangueros present instrumental treasures and colourful personal stories of the musicians and their relationship with the Argentine composer they celebrate and his music.
To continue this celebration of world-renowned musicians, Rialto Theatre plans next a musical cinema experience screening the concert André Rieu in Dublin. The composer and his Johann Strauss Orchestra will delight audiences on February 4 with romantic melodies, popular classics, party tunes and beloved waltzes. André Rieu in Dublin is the maestro's first recorded concert in the Irish capital in more than 20 years.
Then the awarded Greek short films of the annual Drama Short Film Festival will travel to Limassol, Nicosia, Larnaca and Paphos and on February 6 and 7 they will reach Rialto. Eight films will be screened over the two days, all in Greek and with subtitles in English.
Then on February 9, Dionysus Theatre will present the Cypriot comedy Papafigos, based on Giovannino Guareschi's Don Camillo. Adapted for the stage and translated into the Cypriot dialect by Sotos Oritis, the play is set in a small village in Nicosia where community, family and political issues arise through unpredictable events and comic situations.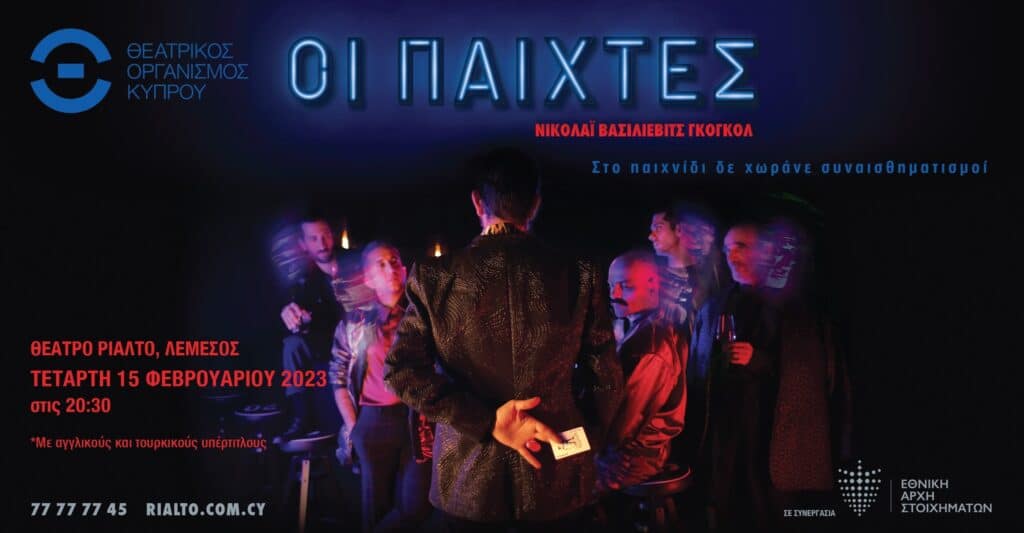 The following evening will fill the theatre with classical music as the Cyprus Symphony Orchestra presents its concert Orchestra4All 2. In it, conductor and composer Alkis Baltas creates a musical backdrop with excerpts from classical works for the novels Taxi Life and The Saxophone Player by Kostas Lympouris from his novel collection Others of Ours. The novels will be recited by well-known actor Irodotos Miltiadous, accompanied by the CySO under the direction of Baltas, featuring distinguished soloists Nicos Ioannou (double bass) and Yiannis Myralis (saxophone).
On February 15, Nikolai Gogol's play The Gamblers will travel from the THOC New Stage to Rialto Theatre. Translated into Greek, the comedy blurs the lines between honour and infamy, and sincerity and hypocrisy. Director Maria Varnakkidou enters into its satirical spirit, identifying truths that resonate to this day and highlighting the decay that lies at the heart of the human condition.
Back to music, a piano recital by acclaimed Cypriot pianist Yiannis Georgiou will present an exciting programme on February 17. Interpretations of works by the great masters Scarlatti, Debussy, Chopin and Rachmaninoff will make up the evening's repertoire. Then it will be time for another National Theatre Live broadcast presenting Much Ado About Nothing. Katherine Parkinson and John Heffernan lead the cast in William Shakespeare's rom-com of sun, sea and mistaken identity.
Taking visitors outside the theatre for a change is an interactive sound walk curated by Varnakkidou and Konstantina Andreou. Repeated again on February 19, the walk happens around and across Heroes' Square and is dedicated to those people who lived it, are currently living it and who will experience it in the future.
February 20 brings Charlotte Perkins Gilman's The Yellow Wallpaper to Rialto, a one-woman show in Greek consisting of entries in the journal of a young woman who appears to be suffering from postpartum depression. Gilman's text is a feminist manifesto against the oppression of women and a sharp critique of the patriarchal society of the late 19th century. The author boldly highlights issues such as women's mental health, the imposition of control over the female body, the oppression of women through married life and the exclusion of women from work and intellectual creation.
The final performance happening at Rialto Theatre in February is one that will put audiences in a carnival mood. Motown and Soul music put on a Carnival costume and dress up into Salsa music for a special Carnival night. Seven renowned talented musicians from Cyprus meet on stage to celebrate Limassol Carnival in their own unique musical way. The Motown goes Latin – Carnival at Rialto concert will include well-known songs from Motown and Soul music genres rearranged by Giorgos Morfitis into a Salsa and Samba dance frenzy.
February at Rialto
Tickets and information at www.rialto.com.cy