WHEN last Sunday a Politis opinion poll showed that the lead of Nik's chosen successor, Nikos the Second, had been cut to five percentage points, his trolls on social media were claiming it was fake and had been cooked up to help his rivals.
They went silent this week when another two polls put the difference between Nikos the Second and Averof at between four and five per cent. Mavroyiannis was not far behind, just one percentage point separating him from Averof. It is still a sizeable difference, which the goody-two-shoes from Paphos should maintain for one week, if he avoids taking part in any TV debates or interviews, which showcase his political emptiness.
Not that this emptiness has done his election prospects any harm. A lot of people seem to like his clean-cut blandness and insipid platitudes, which is more of a bad reflection on them than him, but that is for psychologists to explain. This is probably why Rik's poll indicates that he would win a second-round vote comfortably, with either candidate.
People from Prez Nik's entourage have been calling Disy voters, for several weeks now, urging them to vote for his chosen one in the second round. Nik is honouring his pubic pledge of acting presidential and not interfering in the elections, at least not in the first round.
AVEROF appears to have found the formula for increasing his support – promising cash to people if he is elected. On Monday he unveiled his proposal for income tax reform, by which a couple would pay income tax as a family rather than as separate individuals.
This would save them loads of moollah. He gave the example of a couple that separately paid 9 grand in income tax having this amount reduced by 50 per cent if they were taxed as a family. A couple with a lot of kids would pay nothing in income tax according to his proposal, which I must admit I did not quite understand.
Some 126,000 households would benefit from this reform and see their disposable income increase significantly, said Averof. I am surprised he did not get Archbishop Georgios to give his support to it, as it would not only cut the divorce rate it would encourage more people, who are living in sin to tie the knot and have lots of kids for the tax breaks.
If as a couple you pay a lot less income tax it is a very strong incentive to stay married, even if you hate the guts of your partner. Who would file for divorce if it would mean paying more tax on their income? Living with a person you can't stand the sight of will have financial benefits under an Averof presidency.
I HAVE to say that we members of the reviled neo-liberal fraternity of Kyproulla (NFLK), who considered Averof the spokesman of economic rationality in the populist madhouse, were rather disappointed to witness these Akelite tendencies he is exhibiting in the election campaign.
Apart from income tax discounts for married couples with lots of kids (incidentally, the reform would also address the problem of our low birth-rate) he has also pledged to of offer supplementary benefits of between one and two thousand euro per year to families living below the poverty line. He also has proposals for cheap housing.
Who would have thought that we would turn socialist under Averof. What irony that Mavroyiannis, the candidate of Akel, the party of state handouts and economic recklessness, has been calling for financial prudence, lambasting Averof's tax reform proposal as "a bomb placed at the foundations of public finances" and "populism of the worst kind."
He doth protest too much, probably because Akel has a proven track record at placing a bomb at the foundations of public finances, which the Disy candidate is trying to make his own.
NIKOS the Second, would also promise to place a bomb at the foundations of public finances if it guaranteed his election, but this is not in his electoral script so far. According to his script, which he repeated ad nauseam during the TV debate on the economy, we must be very careful with public finances.
Not that he showed such care for public finances when he took four months of overseas allowance, he was not entitled, because he was based in Cyprus, but that is something he refuses to speak about because it would bring down level of political debate as he likes to say when refusing to answer a question.
Maintaining the high level of public debate is part of his script. It is when he has to go off-script that he invariably makes a fool of himself. The Xerotiana Paphos website had a good laugh about his love of books, which he spoke about in an interview.
"I have a very good relations with books; at home I have about 5 to 6 thousand tomes of books; many of which are in boxes because I have no room in my house to put them," he said. Every, night before he went to sleep, he would read, he said but when he was asked what he read the previous night, he could not recall the name of the patriarch the book was about, but, as he said, it was given to him by a friend.
THE THOUSANDS of books in boxes, is part of Nikos' drive to pass himself as something of an intellectual. In his Wikipedia page, he says that "prior to entering politics, he was an academic and a career diplomat."
The audacity of claiming he was an academic is quite astonishing, considering an academic is someone with years of service at a university, not someone who worked as a teaching assistant for a year or two and got his job at the University of Cyprus by court decision.
There was an element of corruption in the way he got his job as a lecturer in 2009. Once he was accepted as lecturer in history, the internal auditor of the university pointed out that the procedure by which he was appointed violated the rules because the president of the committee that evaluated him had developed "close personal relations" with Nikos, as had another member of the committee.
Despite this, the Senate and Council of UCy offered him a place only for the council to revoke its decision two months later after establishing that he had been appointed without the majority of the selection committee backing his appointment, which was the requirement. Only five of the 14 members voted in his favour; a second vote was held and again there was no majority to back him.
His appointment was annulled and he took legal action against UCy. His recourse was rejected in 2012 and he filed an appeal in the supreme court, which was upheld in 2018 when he was foreign minister. His 2009 appointment was ruled legal, and he was offered a post, which could not take because a minister could not have a second job.
But he is an academic because he says so and he has 6000 books in boxes.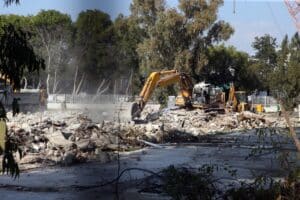 I WILL not bore you with Prez Nik's imperial visit to Larnaca on Friday, where he inaugurated the renovated Larnaca Museum. There was a picture of him unveiling the plaque that said he inaugurated the refurbished museum. We've actually lost count of the number of foundation stones he laid during the week.
The big event was last Monday where he laid the foundation stone of the new Cyprus museum on the site of the old Nicosia general hospital. The place apart from the small spot cleared for him to lay the foundation stone was like a bomb site with concrete and iron from the demolished hospital everywhere. Yet this was hidden from the cameras.
Can a foundation stone be laid in the rubble? Yes because Prez Nik wanted his name on it and he could not wait for the place to be cleared. He would not be president by the time that happened and his successor's name would have been put on the foundation stone, which would have been monumental injustice.
THE UNSG's special representative, Colin Stewart, got his baptism as a biased Turk-lover on Thursday, after a report in a Turkish Cypriot newspaper claiming he had told a group of diplomats in New York that the "all that the Greek Cypriot do is complain, condemn and accuse."
The failure of Unficyp to deny that Stewart had said the things attributed to him by the newspaper (all the spokesman said was "we reject all allegations of bias; they are wrong and unfounded.") caused Nik to step in. If he actually said these things, "the least one can say is that we are not talking a about a representative of the UN, but a representative of those who violate international law," he said.
Stewart met the perm sec of the foreign ministry on Friday and the latter issued a statement saying the UN man had rejected the comments attributed to him. He should be warned that this is not over. A baptism as a pro-Turk, by no lesser person than the prez, is not something that can be erased by any denial, it is for life.
OUR tips on who not to vote for in the presidential elections have been put off for next Sunday, the day of the vote, because of technical reasons.