An ongoing exhibition looks at the people behind the products and their love for the craft that creates them. ELENI PHILIPPOU finds out more
 The life of a craftsman. Sometimes it's up, sometimes it's down. But what does it take to make something out of nothing? Wanting to explore this and highlight the varied stories of makers who live in Germany and Cyprus, Georgios N Paparoditis spent a year interviewing and photographing them to create an exhibition.
The Art of Making exhibition, on at Goethe-Institut Cyprus until February 25, presents photographs and interviews of and with craftspeople in the two countries. It features eight artists in Germany and 12 in Cyprus, each photo accompanied by a text from the interview.
Half-German and half-Cypriot, Georgios is a photographer, carpenter and architect who recently moved back to the island after being heavily involved in Germany's craft community, and keen to explore the Cypriot one too. A year in the works, he travelled the island meeting craftspeople and now his exhibition offers a glimpse into what it means to making a living from your hands.
The exhibition features woodturners, flute makers, organ builders, chair weavers, ceramists and craftspeople of all sorts. "I wasn't trying to push some kind of diversity in craft," Georgios said. "I was mostly trying to get the most interesting and different stories that I could. I wanted lots of background stories and to show how many ways a life can lead into craft, for how many reasons people can choose this profession and what makes it special to each of them."
Each interviewee was asked the same four questions, which now are displayed alongside their photos at Goethe. They include the decision to practice the craft professionally, working conditions and what makes a material special for the maker. Asking the last question was important to Georgios to showcase the different personalities called to craft.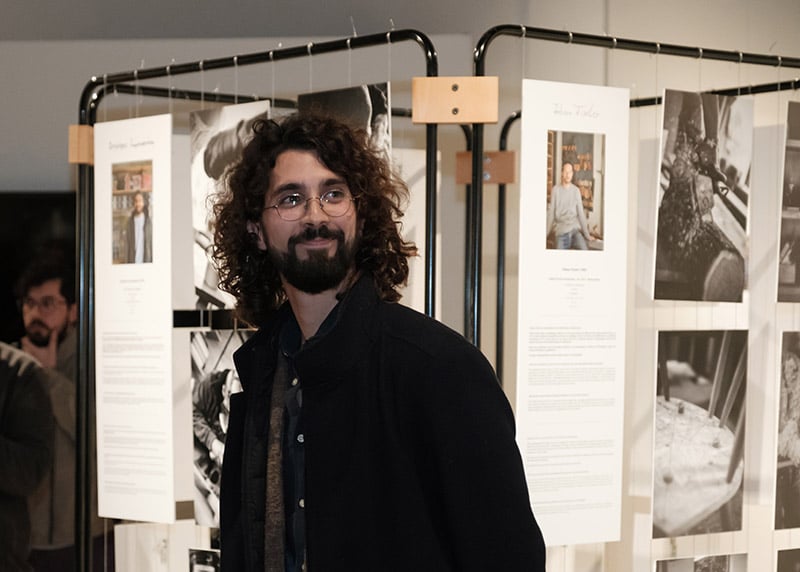 Georgios knows this too by experience, having practiced different professions. He started as an architect and during his degree encountered other more hands-on fields. He spent a semester with an architectural photographer and another with a furniture maker before working in architecture offices after graduation.
He got a part-time job as an architectural model maker and then as a furniture maker. "I realised that the fun part about the studies of architecture," he explained, "was the hands-on stuff for me, the drawing and the model making and the crafting. Very little of that happened in the offices that I worked in, and I worked in a few of them, and very little of that happens nowadays. It's mostly computer work or fighting around with either contractors or with clients."
Eventually, Georgios took the decision to switch to craft full time and undertook a degree in furniture making in Germany. Today he practices the craft professionally and still works as an architectural photographer. His outfit during our interview gave him away. Overalls and a sharpened pencil in the pocket are the classic attire for a furniture maker.
When he started The Art of Making in November 2021, Georgios did the interviews in Germany first, where he was well-acquainted with the local crafts community. In Cyprus, he knew few people but one person introduced him to another five and soon he had to cherry-pick the artists for the exhibition.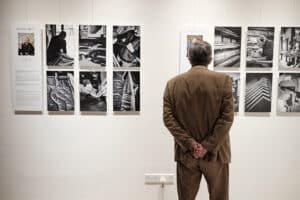 The differences between the two communities were clear from the start: support from the government and appreciation from the public which he didn't find to be the case in Cyprus. In Germany also there is also an active craftspeople community whereas as Georgios discovered in Cyprus craftspeople tend to walk alone. Yet some similarities arose too.
"The most common thread that I found is the love for the profession," said Georgios, "because no one of these people is crazy rich or is getting rich by what they're doing or either getting fame. They're not rock stars. So, the only thing crafts people get out of their job is the love for the profession."
The struggle to stay afloat and keep up with an industry that keeps technologically replacing their jobs was universal. "There is a difference between an industrially made table and a crafted table. I know this because I make it. And I know that it's true of ceramics and of anything, really. If you make it by hand, there's a difference to somebody knocking out the numbers and mass producing something. It takes time to make a pot, a table or a plate and the awareness of that is really gone, I think, because it's literally one click away for you to order the table."
To showcase the process of making something by hand, the exhibition also has a display of unfinished products that visitors can touch and explore.
The guided tours Georgios is holding offer a further look into the lives of the craft people, anecdotes from the interview process and a one-to-one with the artist. Two more remain before the exhibition ends, on February 10 at 6pm and February 25 at 11.30am, in either Greek, German or English depending on the group's needs. Later in 2023, the Art of Making will travel to Freiburg in Germany to continue its journey.
The Art of Making
Exhibition by Georgios N. Paparoditis including photographs and interviews of craftspeople in Germany and Cyprus. Until February 25. Goethe-Institut Cyprus, Nicosia. Wednesday-Friday: 2pm-7pm, Saturday: 11.30am-2pm. Tours: February 10 (6pm), February 25 (11.30am). In English, Greek or German. Tel: 22-674606