Trainers are Big Business the world over. But it's character, not cost, that matters in the island's small but dediated community finds ALIX NORMAN
 "Show me your sneakers, and I'll tell you who you are," says Marios Agathangelou. So I do.
But my simple Asics ("independent, sporty, prefers comfort," says Marios, a kindly and accurate assessment) are no match for the shoes he's wearing. Today he's sporting a pair of 2018 Nike Air Max 1/97 Sean Wotherspoon trainers valued at roughly €1,600 – just one of his 60-odd pairs of sneakers.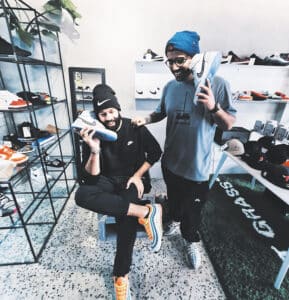 Marios is a sneakerhead, someone who collects and trades sneakers, and is highly knowledgeable about their history. "A true sneakerhead doesn't just own a few pairs, or have a top 10 wishlist, or read online articles," reveals the 35-year-old. "They really love sneakers: they'll have a good collection; they'll respect their shoes – often keeping them boxfresh for years; and new pairs go at the end of their bed so they'll see them when they wake in the morning!"
As one of Cyprus' original sneakerheads, Marios' love for sneakers began at age seven; his collection soon after. These days he travels the world – buying stock for his Limassol-based shop and hunting out limited editions for people who share his passion.
"Back when I first started collecting, you couldn't Google the latest releases or order off the internet," he explains. "So I'd read any shoe magazines or adverts I could find, and beg travelling relatives to bring back the pairs I wanted. Then, as I built my collection, friends started asking me to source shoes for them. And then friends of friends. When that became like a full-time job, I packed in my pharmaceutical studies and took up business management so I could turn my passion into a shop…"
Over the years, Marios has gone from a simple lover of sneakers to the founder of Cyprus' premier sneaker Instagram account. And now, aged 35, he's the owner of Sneakerdogg, a Limassol emporium dedicated to everything sneaker, where locals can shop, chat and share in the sneakerhead vibe that's sweeping the island.
"In the past five years, sneaker culture has really taken off in Cyprus," Marios explains. "It took a while, but now it's really booming, partly because this is a small island: you see someone wearing a cool pair of sneakers and you think 'yeah, I'd like those too…'. It's why Air Max 97 is so big in Italy; why London is all about Air Max 90s. Every place has its preference, because sneakers are a way of expressing yourself and your culture. And, every few years, preferences change – right now, Nike has the upper hand. Before that it was Adidas, Yeezy, Reebok…"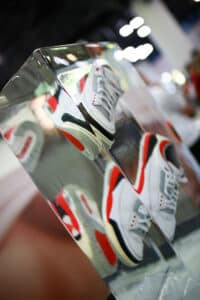 While sneakerhead culture began in the late 70s with the Adidas Samba (a hit with English football fans), it wasn't until Michael Jordan signed a $2.5 million endorsement with Nike in 1984 that the culture went mainstream. Those first Air Jordan sneakers (designed by Peter Moore) were released to the public for $65 on April 1, 1985. Today, a brand new pair can go for upwards of $30,000! Adidas followed suit in 1986 when Run DMC released the hit song 'My Adidas' and signed a $1.6 million contract with the company. And, within a few years, sneakers had become the footwear of choice for sports stars, singers and celebrities the world over.
"Today, sneakers are no longer just for athletes," says Marios. "As athleisure wear has taken off, sneakers have become a way of showing who you are, of revealing your character or your tribe."
I'm pretty sure my Asics announce that approaching middle-age has me favouring comfort over style! But Marios is a real sneakerhead: always kind about others' footwear, never a snob. And at least I know my untrendy footwear is the genuine article; more fashionable brands often have an issue with authenticity, explains Marios…
Show him a photo of any make and model, and he'll give you everything from the year of release to varying colourways, the designer, materials and place of sale. And he's often called upon for his authentication skills: "There are now," he explains, "incredible copies coming out. They even crop up on eBay and Klekt – when you're buying from a photo, you're never 100 per cent sure the item is real. It's horrible when someone comes into Sneakerdogg and shows me their bought-online sneakers: I look at the leather, the stitching, the colours. And I know they're fakes. It breaks my heart."
Like Marios, Nicolas Koursaris also loves all things sneaker. A huge fan of the history and storytelling behind each shoe, Nicolas wears many hats: he's the assistant coach for the Omonia men's basketball team, a lawyer, the owner of 'Show Me Your Kicks' (a Nicosia-based sneaker shop), and the founder of the Cyprus Sneaker Convention…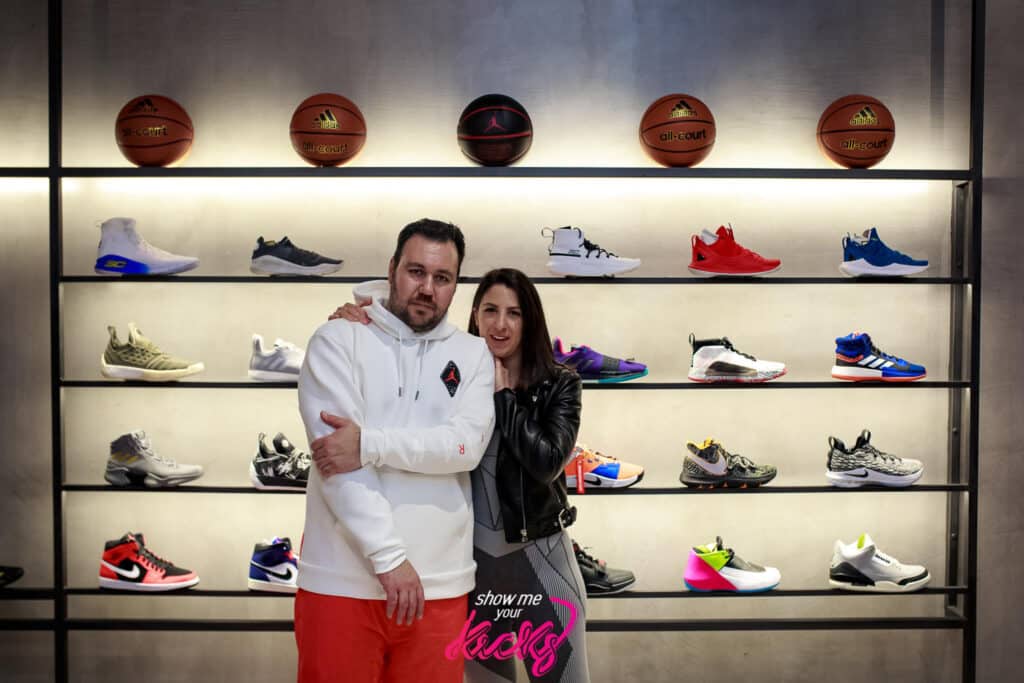 "Back in 2016, I decided to rally everyone who was into sneakers and start a sneakerhead community on the island," he explains. "So I called people who appreciate the history and provenance of sneakers – Andrew Frank, Drew Astro, Nicholas Charalambous, DJ MG, DJ Phat Cat and of course, Marios – and we all got together in one place to display our collections."
That first convention has since grown into a twice-yearly event. Held at the State Fair, the December Cyprus Sneaker Convention featured over 25 resellers, a car exhibition, a 3×3 basketball tournament, dance battles, music, a bar and food vendors!
"We had hundreds of visitors of all ages," says Nicolas. "The local sneakerhead culture has skyrocketed of late, driven hugely by the Netflix series The Last Dance, and by tiktok – we get a lot of women coming into the shop looking for specific shoes they've seen on social media. Recently we had loads of requests for the obsidian Air Jordan shoe we carried back in 2020 – turns out a tiktok influencer had made it a trend; the shoe we once sold for €200 is now changing hands for up to €600!"
Sneakers, it transpires, are big business. Show Me Your Kicks carries pairs tagged at €1,000, while Sneakerdogg has sold a couple of Jordan/Dior collabs worth €30,000 each! My humble Asics pale in comparison. But then both Marios and Nicolas are adamant about one thing: price means very little; a true sneakerhead cares about the history, the design, and the story behind the shoe. Being a sneakerhead is about wearing your character with pride.