From the Byzantine era until today Kalopanayiotis has always attracted visitors in droves finds PAUL LAMBIS
There are numerous features that set Kalopanayiotis apart from other villages in Cyprus. Aside from its enviable location on the northern slopes of the Troodos mountains, it has charming, traditional architecture and a rich historical heritage. Kalopanayiotis imbues a peaceful harmony between humans and nature, which can be felt as soon as you arrive.
Kalopanayiotis, in the Nicosia District, was also one of the first communities in Cyprus to receive the Deputy Ministry of Tourism's Colourful Villages of Cyprus certification.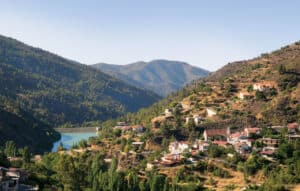 Mountain villages scattered across Cyprus' countryside are stuffed with magnificent manors or stone-built houses, narrow streets lined with terracotta flowerpots, stone fountains, picturesque squares, beautiful churches and old monasteries that contribute to their unique setting.
"It is important to understand that each rural village in Cyprus provides a unique experience for both locals and visitors, and there are some distinct advantages to each, depending on the kind of visit planned," president of the Nicosia Tourism Board Theodoros Kringou said. "The village of Kalopanayiotis allows visitors to embark on their own journey, whether they are an adventurist, cultural enthusiast, religious sightseer, food explorer, or all of the above."
A refreshing excursion along the banks of the Setrachos river will lead you to a remarkable 16th century Venetian bridge where the ever flowing healing waters of the sulphur springs reveal an ancient era once frequented by kings from the kingdom of Soli, of which the entire village was once a part. "The sulphurous waters have been used throughout antiquity and are renowned for their therapeutic properties," Kringou added.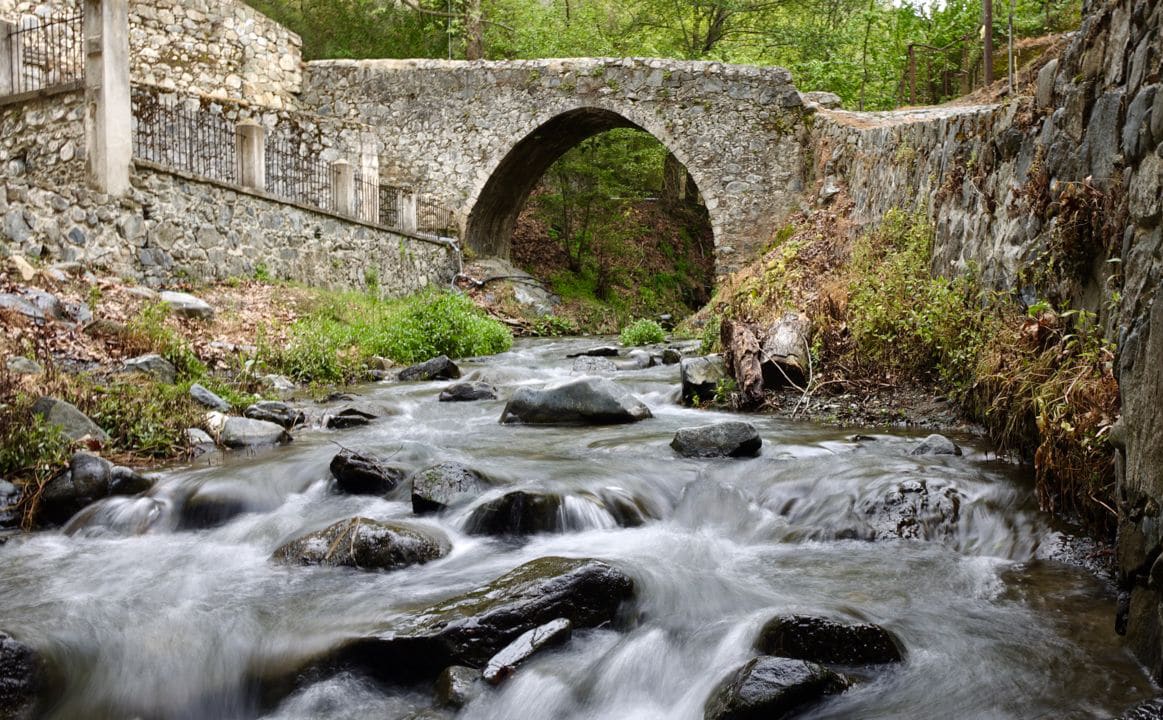 The magnificent and picturesque bridge that stands among towering plane trees is believed to have been included on the missionary journey across Cyprus by the Apostles Paul and Barnabas, who visited the area and baptised Saint Herakleidios, among the first bishops of Cyprus.
According to Kringou, the region's numerous trails are designed to accommodate those who wish to explore the area on foot, mountain bike or even quad bike, and through which they are bound to encounter a plethora of breath-taking sites such as dams, riverside parks, picnic sites and watermills among the stunning fir forests.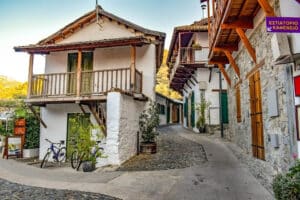 A trip to Kalopanayiotis would be incomplete without a visit to the House of Lavrentios, a former residence that was recently restored and converted into a conference and cultural centre. "The centre, which is housed in one of the former home's rooms on the ground floor, belonged to Lavrentios, the bishop of Kyrenia who was executed by the Ottoman Turks in 1821.
"The original aesthetic of the building was preserved through the restoration and is an example of Kalopanayiotis' distinctive character," Kringou added.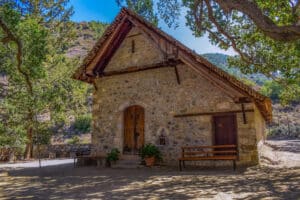 Religious visitors will find many chapels and churches in the area, but the main attraction is the Ayios Ioannis Lampadistis Monastery, which was added to Unesco's world heritage list in 1985 along with eight other chapels on the Troodos mountains. "The monastery with its well preserved frescos, icons and wood-carved doors is one of the most interesting byzantine sites of Cyprus, and this, along with the six other 13th-17th century chapels, rightly justify Kalopanayiotis being referred to as 'the byzantine destination of Cyprus'," Kringou said.
"The nearby Byzantine Museum displays ecclesiastical relics from the monastery and other village churches that have survived the centuries."
Kalopanayiotis may have a reputation as a Byzantine destination, but when it comes to gastronomy, it certainly does not disappoint. A weekend trip to this unique part of Cyprus is highly recommended because tastebuds can be treated to everything from traditional cuisine – made from locally sourced ingredients – at one of the more intimate local taverns, international flavours blended with old-style Cypriot cooking or bountiful buffet lunches from one of the larger restaurants, to quaint, stone-built cafés ideal for slow-drinking coffee sessions near a wood-burning fireplace.