Ten years ago almost to the day, international lenders made Cyprus an offer it couldn't refuse – close your second largest commercial bank and seize almost half of uninsured deposits in your biggest bank. In return, we'll bail you out. If not, you'll go broke and possibly get booted from the euro.
Cyprus took the deal.
In hindsight, it should've gone for the previous offer – a 6.9 per cent tax on all banks on deposits under €100,000, and 9.9 per cent above that.
But amid the panic surrounding over a week of the banks being closed and cash withdrawal limits put on ATMs, parliament rejected that plan, and the rest is history, as they say.
Meanwhile the newly elected President Nicos Anastasiades tried to put up some resistance, but European Central Bank officials turned the screws, telling him they'd cut ELA [Emergency Liquidity Assistance] funding for Laiki Bank if he didn't agree. That would send Laiki into bankruptcy, and cost Cyprus €30 billion.
In the end, and following a last-gasp overture to Moscow that went nowhere, Cyprus ran out of options and had to fold. Laiki was shuttered and uninsured deposits in Bank of Cyprus were raided. In return Nicosia received a bailout of €10 billion over three years from the euro zone and the International Monetary Fund.
Officials who were in the thick of things recounted their experience during those heady days.
"At the time, we [in government] had said we wanted to avoid a haircut – and that was genuine," Michalis Sarris, the man in the hot seat, tells the Sunday Mail.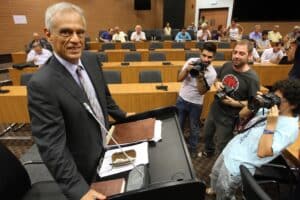 Sarris was doing his second stint as finance minister, which lasted just over a month – from February 28 to April 2, 2013.
On his exit from the government – which got a lot of play in the media – Sarris brushes aside the notion of scapegoating, as suggested by some.
"I decided to leave myself, not having achieved my objective," he offers, referring to the first agreement with the troika of lenders for a 9.9 per cent levy on all bank deposits.
Regarding the circumstances of Sarris' appointment, it's understood that originally Harris Georgiades was slated for the finance ministry.
But amid the existential crisis, influential people in government thought it better to appoint someone with prior experience, someone with the bona fides – contacts with the Europeans and so forth. Anastasiades took their advice, giving Sarris the job and moving Georgiades to the labour ministry instead. Ironically, weeks later and following Sarris' resignation, Georgiades would end up at the finance ministry.
On how things got to the bail-in option, Sarris recalls how "at some point it became apparent that certain powerful European countries -Germany, Austria – would not follow the Greece or Ireland templates for a bailout."
The Greek template involved the infamous Private Sector Involvement (PSI), whereas in Ireland taxpayers had been made to foot the bill.
"They [Europeans] decided they wanted something different in the case of Cyprus."
A number of factors played a part in this departure from the bailout norm.
"One aspect had to do with the fact that a great deal of deposits in Cyprus were held by foreigners," Sarris says, evidently alluding to Russian money. "But that wasn't all – it was also Cypriot banks' bad move in overinvesting in Greek government bonds."
A memorable episode in the haircut saga was Sarris' flash trip to Moscow in the days between the first and second Eurogroup decisions. That came after it became apparent from the stance of political party leaders in Cyprus that the first Eurogroup deal wouldn't go through parliament.
"We didn't ask the Russian Federation for a loan," clarifies Sarris. "We wanted to explore possible Russian interest in investing in our natural gas or buying into Laiki Bank."
Earlier, the Russians had ruled out giving Cyprus another bridge loan – like the €2.5 billion loan handed to the Christofias administration. That was because Moscow was unhappy with Cyprus' repayment track record, so Nicosia had lost some credibility there.
In Moscow, essentially the Cypriot delegation sounded out the Russians if the latter would pour money in Cyprus' fledgling offshore natural gas sector. In return, Russian energy companies would be given priority in terms of gas exploration and extraction rights – a tricky gambit, as normally an open bidding competition must take place for awarding exploration concessions.
"We didn't even make it to first base," says Sarris.
It turns out the Russians at the time had zero confidence in Cyprus' offshore hydrocarbons potential, believing the Cypriots would not "extract one cubic metre of gas".
Option 2 was investing in Laiki. The Cypriots thought it might be worth floating this to the Russians, as back in 2012 Russia's VDB Bank had actually done a due diligence on buying out Laiki.
But VDB later backed out, having assessed that Laiki was over-exposed to Greek debt.
The ex-finance minister concedes that both these ideas were a long shot.
"Yes, a low-probability move, but we had to try."
Returning from Moscow empty-handed, Nicosia had even less leverage with its European counterparts – and so almost inevitably it had to agree to the closure of Laiki and the raiding of uninsured deposits in Bank of Cyprus.
But for Sarris, Cyprus managed to avoid the worst, because at one point the Eurogroup wanted to shutter both banks – Laiki and Bank of Cyprus.
Asked for an anecdote from those stressful days, Sarris recalls how he and other officials would often have discussions lasting until 4 or 5 in the morning.
Looking back now, and zooming out for the big picture, he thinks that the EU may have overreacted in its treatment of Cyprus.
"Back then everyone was gripped by deficit phobia," he remarks. "Unsustainable debt was the big no-no, so lending to Cyprus had to be kept at a minimum lest we were unable to repay. Contrast that with the debt levels some countries are running today after the [coronavirus] pandemic, far surpassing the national debts tolerable back in 2013. Now, inflation phobia has displaced deficit phobia."
To get a sense of the country's financial predicament in March 2013, we reached out to the person with likely the clearest picture of just how dire the situation was – state treasurer Rea Georgiou.
In a recent interview with the Cyprus Mail, Harris Georgiades recounted an exchange he had with Georgiou shortly after he took office as finance minister in April of that year:
"The accountant-general of the republic, Mrs Rea Georgiou, took me aside literally minutes after I was sworn in, she showed me a chart and she told me: 'At the end of April, when we pay the payroll for the month, we'll run out of money'. It wasn't exactly a reassurance when she also told me that I should not worry – if the President wants to fly to Brussels for emergency talks, we will be able to buy a ticket for him!"
Georgiou recalls that conversation. Though not involved with the negotiations with the troika, she and colleagues had for months, and on a day-by-day basis, been tracking the state's diminishing cash reserves with a sense of foreboding.
"Cash flow was the biggest concern. And it wasn't just the government payroll that we couldn't afford past one month. I remember that a major installment on a foreign loan was coming up for repayment in the May to June timeframe, and of course Cyprus couldn't borrow from money markets as its sovereign rating was graded junk," she says.
The pressure began to ease up in April, when the first tranche of the international bailout arrived in the government's account.
On the subject of the bailout, Georgiou says that Cyprus will fully repay it in 2030 or 2031. Whereas the country has already paid back the IMF for their €1 billion contribution, it has yet to pay back the entire sum loaned by the European Stability Mechanism.