One local creator is inspired by both nature and long-standing designers such as Dior finds NIKI CHARALAMBOUS
Local fashion designer Jacob Yiakoumi attributes his early success in the fashion industry to his Cypriot heritage: "my mother, who once worked as a seamstress, was instrumental in assisting me in making the switch from tissue paper to real fabric. When I was 12 she handed me my first pattern to work with."
Yiakoumi maintained that because he is from a country where sewing machines were commonplace in homes until recent times, he was able to pick up "tricks and techniques from almost anyone."
While balancing his daily workload between designing and customers, Yiakoumi is focused on the upcoming wedding season. "Cyprus' wedding industry is thriving, serving both locals and tourists who dream of the idyllic Mediterranean wedding," he said.
Yiakoumi has a reputation in Cyprus for creating exquisite fashion while paying close attention to his tailoring techniques, the materials he chooses, and his extraordinary embroidery skills. "The end of April will see the online launch of a small, exclusive collection, and I couldn't be more thrilled about it," he told the Cyprus Mail. "Beyond the local market, putting your work online gives you the chance to connect with a large number of new clients."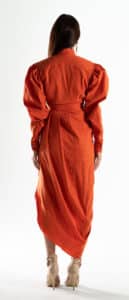 Yiakoumi and his twin sister were born in the late 1980s, a time when mass-produced, synthetic, and low-quality clothing were beginning to replace costly, long-lasting fashion. He recalls as a child setting up a makeshift tailor shop for his sister's dolls and creating clothes for them out of tissue paper and duct tape. Later, when the tissue paper transformed to material, he started turning to nature for inspiration, crediting his ideas and designs to his natural surroundings. "I was attracted to nature's boundless creativity and beauty and spent my twenties exploring it and hugging trees (literally). Unfortunately, even in the most remote locations, evidence of human interference could be seen."
According to Yiakoumi, each item of clothing we own becomes a part of our lives and has an impact on our emotions and personalities. "Our clothes were more enduring, of higher quality, and produced with less waste when they were made in Cyprus by local tailor shops and designers.
"By the time I finished my studies, there were only a few tailors left, and they were already approaching retirement, so I chose to concentrate on making custom-made garments, which justified my constant obsession with uniqueness.
"My goal was to design clothes that are produced sustainably, are comfortable to wear, and have little to no negative effects on the environment. More significantly, the clothing must endure long enough to integrate itself deeply into our memories," he added.
As part of his creative process, he starts off by taking long walks in nature observing colour combinations, patterns and shapes, thereafter drafting designs that he can use at a later stage. "That's where timelessness comes in; it doesn't matter if I collected the idea last year, I am still able to create a dress today using that inspiration," Yiakoumi said.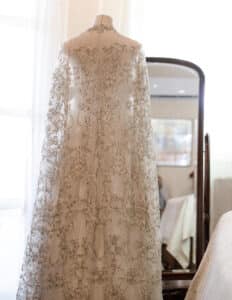 He maintains that he had the good fortune to fall in love with fashion at a young age, in large part because of his mother seeing promise in him and encouraging him to work in the industry. "My studies started long before I joined university," he assured me. "My first internship was at a menswear tailoring store in my hometown of Larnaca when I was 14."
Yiakoumi worked for several bridal boutiques, clothing factories, and sewing workshops, and it was only after receiving his diploma in fashion design from Frederick University that he decided to pursue his dream of establishing his own atelier in Limassol.
When asked which prominent international fashion designers have impacted and inspired his work, he cites Christian Dior as his idol. "Dior shifted the whole fashion industry from the military era to Belle Époque, encouraging the world to dream again." Similarly, Jacob is also living out dreams by creating the perfect wedding dresses for brides and exquisite attire for their entourages.
"My upcoming collection will consist of limited items because I don't believe in mass production but instead in creating unique pieces that can last a lifetime." It is a collection that experiments with various materials and cuts, going all out in terms of shapes and colours.
Whether he draws influence from hugging trees or revered fashion icons like Christian Dior, Yiakoumi hopes that the next generation will be inspired by his artistry and incredible talents so that the Cypriot legacy that has long been a part of the local fashion industry will endure for many years to come.