Cypriots are lacking in civic consciousness and awareness 
By Demetra Kallitsi
Of all European citizens, Cypriots are the least likely to be active in public processes. In a 2015 EU survey, just 2.1 per cent of Cypriots stated that they had been involved in volunteer work, attended community meetings or initiatives, signed petitions, or otherwise participated in public processes. Not much seems to have changed since then.
Work on active citizenship, implemented by the Cypriot NGO AKTI Project and Research Centre earlier this year, identified reduced civic appetite and a very limited knowledge base in adolescents and young adults in Cyprus regarding active citizenship in general, and specifically on environmental issues. In other words, the majority of Cypriot youth feel that environmental policies are either none of their business or that there is not much they can do about them.
Yet, neither of these is true. In a historic move, on 28th July 2022, the United Nations General Assembly declared access to a healthy environment a human right (United Nations Environment Programme, July 2022). So, environmental sustainability is not only our business, but also part of our basic freedoms, just like access to education, and freedom of expression.
The UN resolution aims to empower citizens to hold their governments accountable for environmentally destructive policies, under the premise of human rights violation (UN News, July 2022). So, why does Cypriot youth feel so disempowered and reluctant to act against destructive environmental policies? Why don't we see more active participation in the social, economic, educational issues that affect citizens' lives?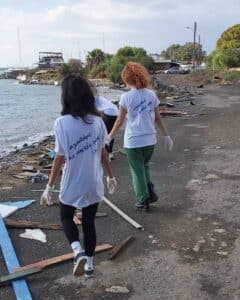 This could be attributed to insufficient exposure to the concept of civic rights and responsibilities at school and family levels. During one of the active citizenship trainings for youth (between the ages of 18 to 40) implemented by AKTI earlier this year, participants also identified lack of information and awareness as the main barriers preventing them from actively engaging in civic life. They also highlighted cultivating a civically responsive mindset as a necessity.
This was validated through AKTI's identification of a startling misconception among participants about the meaning of volunteerism, which was misinterpreted as charitable contributions. Inclusive and accessible educational resources adapted across all ages and learning abilities are vital for changing mindsets and adopting more civically conscious behaviours.  How can we expect a robust and cohesive civic mechanism, if we fail to grasp even the basic notion of 'What is active citizenship?'
AKTI's latest initiative is a project called 'AdvocaCY' benefiting from a grant under the Active Citizens Fund Cyprus programme, funded by Iceland, Liechtenstein and Norway, through the EEA and Norway Grants 2014-2021. AdvocaCY aims to build networks of active citizens advocating for the respect of environmental rights, and inter-communal cooperation to address pressing environmental challenges, experienced across the island.
More specifically, our work within the framework of the AdvocaCY project aims to promote civic and environmental activism through educational and awareness raising activities, including school presentations; trainings for youth, CSOs and informal groups; social media campaigns; policy workshops; and co-creation 'cafes', across the divide.
AdvocaCY is implemented through a solution-driven and participatory approach, which starts with the acknowledgement that we are all part of the problem, and the solution. To put it simply, maybe it is time we ask ourselves: 'What can I do for change?'
As Dylan Thomas put it in his 1937 poem, 'Do not go gentle into that good night, rage, rage against the dying of the light.'
Demetra Kallitsi holds an MA in Fine Arts and a BA in Visual Arts. Her work at AKTI focuses on research and the management of EU, local and inter-communal projects, while she also leads AKTI's dissemination and communication activities
Learn more about AKTI on their website and social media pages (Facebook: @akti.cy , Instagram: akti_ngo)