Founder of Meaningful Synergies, Branka van der Linden, describes her company as a high-impact organisation that supports entrepreneurship in all its forms.
Branka van der Linden, Founder of Meaningful Synergies, is a highly accomplished individual who has dedicated her career to supporting entrepreneurship in all its forms. Her company is a high-impact organisation that offers holistic business consulting, events, and training, providing entrepreneurs and organisations with the advice, skill development, and resource optimisation they need to succeed. She was born in Serbia and lives permanently in Cyprus.
As a lifelong learner with expertise in social media, public relations, human resources, innovation, and background in legal and business administration sectors, as well as AML compliance, Branka is well-equipped to provide guidance and support to startups and companies alike.
Her passion for mentoring, facilitation and empowering others is evident in her work since 2017, attending and organising international events related to startups and innovation to create a better world for all.
At Meaningful Synergies, Branka and her team prioritise creating successful companies and happy founders, executives, employees, and of course customers, recognising the positive correlation between happiness and success. This approach through signature training programs, creative tools and Points of You methodology, reflects the company's mission to empower zeal and zest in others. By listening to and understanding the needs of their clients, they develop long-term relationships that contribute to creating positive impact.
You have received multiple honours and awards for your work and initiatives. Tell us about these.
"I am honoured to have received several awards for my work, including 'Women Leaders to Look Up to in 2021' by Passion Vista a distinguished international leisure and business publication and 'Business Services Woman of the Year 2022' from the Chamber of Commerce and Industry Cyprus.
"During the challenging period of Covid-19, I co-authored two books, Boss Up or Get Bossed Around and Play the Game, the latter radically changing how one sees business. Through these works, I could share my personal story and offer insights to what motivated me to enter the world of training, facilitation, and mentoring, and helped my business success.
"Many people are unaware of the distinction between a mentor and a coach. As a mentor, I strive to spread myself out as sails on a boat to help others move forward rather than merely blowing wind in their sails. These achievements and experiences have shaped my approach to business and continue to drive my passion for mentorship and leadership."
What is the key to business success?
"We all measure success differently, and our perspectives change as we get older. For me, success is not having any regrets about any of your decisions. When you work with respect, walk your talk, and put integrity at the core of your business, this is where you will find success. A clear conscience is paramount.
"Additionally, a business's ability to innovate, adapt, and leverage emotional intelligence is crucial for growth. It resembles chess; take calculated risks and strategise for goals. My advice is to think on paper – putting it down and making it happen."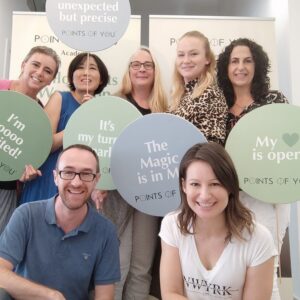 As a woman with a pioneering role, how have you played a key part in bringing about change?
"Being authentic enables one to influence others. I focus on my capabilities, competence, and self-assurance rather than letting my gender define my actions, successes, or motivation. Recognising the historical expectations placed on women, I collaborate with organisations such as BPW (Business Professional Women) and numerous international programs aimed at transforming the narrative around female leadership. Together, we work towards empowering women to confidently claim their rightful place in society with determination and resilience."
How does an increase in the number of women in the workforce benefit businesses and organisations?
"The advantages of increased gender diversity in the workforce are well-documented, with numerous case studies and research emphasising its positive effect on businesses and organisations. Enhanced employee engagement and improved customer satisfaction are often linked to the presence of female leaders. Research from McKinsey & Company and other reputable sources demonstrates that women frequently excel in specific leadership roles.
"Innovation flourishes in diverse teams where differing perspectives challenge established like-minded opinions, norms and promote healthy competition. The feminine leadership styles commonly displayed by women make them invaluable pioneers in today's business landscape, because they use empathy and compassion to lead the way."
How would you describe the gender dimension in Cypriot society?
"Although males lead the majority of international corporations, things in Cyprus are changing. Maintaining optimism is essential as we observe more women in parliament, female leaders juggling work and family life, and a steadily closing gender gap. Increased visibility of women in the workforce is evident, yet there is still ample room for progress to achieve true equity. In pursuing equality, it is essential to prioritise equal opportunities over merely focusing on equal representation."
Are there any women who inspire you and why?
"Among the many captivating role models and female leaders, award-winning American journalist, author, and accomplished speaker Celeste Headlee truly inspires me. One of her insightful TED talks, focusing on active listening, empathy, and open-mindedness to nurture meaningful connections and enhance communication, has left a lasting impression. Despite challenges, her steadfast optimism fortifies my belief system, especially regarding my children."