It was one of those lazy days with nothing much really to do. Feeling like we didn't want to waste any more time we got up and headed out, and somehow found ourselves in Pyla. I've not really explored there much so I wanted to get out and have a wander. Pyla is one of four villages located in the UN buffer zone and is famous for being one of the few villages that has a balance of both Greek and Turkish Cypriots in the same community. It was really interesting walking around seeing the influences of both cultures.
Our walk culminated in a visit to the village square. Obviously, we had built up an appetite by that time and Platia bar restaurant caught my eye.
The inside was much bigger than I had imaged from outside. I was quite impressed. I didn't expect to find such a modern, well thought out bar. The wooden tables were shining, the walls were covered with eclectic features that ranged from mirrors to beer trays, nostalgic memorabilia to an old bicycle hanging way up high. A quick glance over at the bar told me all I needed to know about how serious they are about offering a wide variety of drinks! In addition, an old school pinball machine, pool table and screens for showing sports helped me make up my mind that I definitely wanted to give this place a go!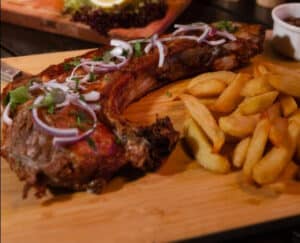 After picking our spot we were brought menus and I was fully expecting bog standard, pub grub food. However, the menu had other ideas! Rib-eye steak, grilled kalamari, shish kebab, duck breast and prawns were items I hadn't expected to see! After being tempted by all these, I was admittedly boring and went for the giant pork chop. My partner went for the classier, rib-eye steak. It was lucky that we ordered when we did because as we were waiting for our food, the place started filling up. It looked as though this village bar was quite the hotspot!
The food came out and it was a good job that I was hungry because the size of the pork chop in front of me was massive! Even the presentation of the food impressed me. Again, being at a bar, I'd just expect the food to be served up on a plain white plate. Our dishes were brought out on wooden boards that just made it feel classier.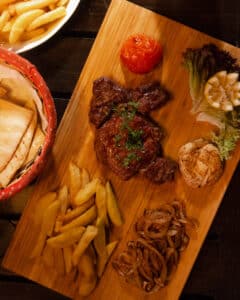 My pork chop was so good! With all the other options that were available, perhaps it wasn't the most inspired choice but I was glad I had made it. It was so well cooked! I sometimes worry about ordering steak if not at a steakhouse but I have it on very good authority that this steak was cooked exactly how it had been requested and was tender and flavoursome. Needless to say, I powered through that pork chop and thoroughly enjoyed every mouthful.
After we had finished, we were visited by the very friendly owner. He told us he opened the bar in 2019, so everything is still quite new, especially as all restaurants were practically shut for a year!
Platia bar restaurant was a brilliant find. I'm very pleased that we took that walk and ended up there. The atmosphere, quality of the food, friendly service and reasonable prices means that I may well be visiting Pyla more frequently!
VITAL STATISTICS
SPECIALTY International
WHERE Platia, 1st Leoforou, 80, Pyla
WHEN Monday-Saturday 9am to midnight. Sunday 9am to 11pm
CONTACT 99 209999
HOW MUCH €25 for rib eye steak, €14 for jumbo pork chop