Green party leader says EU biodiversity strategy is unachievable for the island
The EU's goal for Cyprus to plant three million new trees by 2030 – about 1,000 saplings a day – is proving impossible to meet says Green party leader Charalambos Theopemptou.
"Even reaching a million trees by 2030 is impossible, as we would have to plant 300 trees per day, which we obviously don't do," he said.
In May 2020, the European Commission released its biodiversity strategy, which, among other goals, included planting a total of at least three billion new trees by 2030 to help tackle climate change and create jobs.
According to the European Commissioner for the Environment, Oceans and Fisheries Virginijus Sinkevičius, planting these additional trees across the bloc will increase the area of forest and tree coverage, increase the resilience of forests and their role in reversing biodiversity loss while mitigating climate change and helping adaptation to global warming.
As a member of the bloc, Cyprus too needs to adhere to the EU regulations, adapting them to its climate and size, or around three million new trees.
Theopemptou has long advocated for a greener Cyprus, often citing the island's EU obligations for tree planting to address climate change in parliament.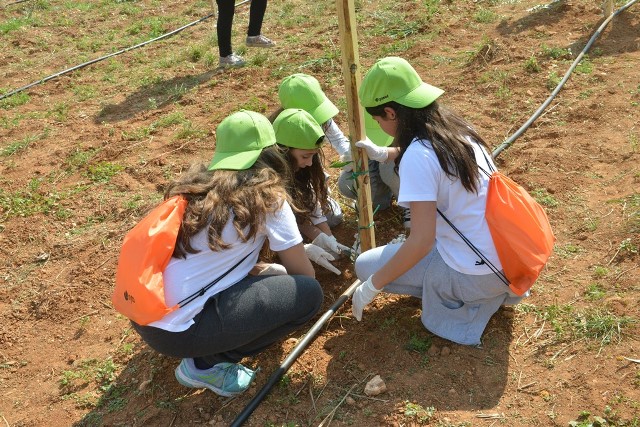 Last November, he asked then Agriculture Minister Costas Kadis about the EU initiative's progress.
According to Kadis, considering Cyprus' geographical position and dimension, planting between two and five million trees around the country by 2030 would constitute a realistic goal.
He added that the ministry in 2019 approved a scheme for the free donation of tree saplings to organised environmental groups in Cyprus and, from 2019 to 2020, donated a total of 370,000 tree seedlings as part of a scheme aimed at both interested NGOs and individuals.
Kadis said that the number of trees planted throughout the island by the state in 2020 amounted to 60,600, decreasing to 46,500 in 2021 and to 30,000 in 2022.
Separately, a total of 11,300 trees were planted in the area affected by the Arakapas fire of July 2021. In the same year, the forestry department also planted around 8,000 on Cyprus' mountainous areas.
"The goal of planting between three and five million trees in Cyprus by 2030 is a noble and commendable one," Theopemptou told the Sunday Mail.
"Whether we can actually achieve this target is, however, different. And, because, we haven't done that much in regard to tree planting, I fear this would be an unachievable task."
Theopemptou argued that, as current numbers stand and in order to achieve the three-million mark by 2030, the lowest possible EU goal as far as tree planting is concerned, as many as 1,000 trees per day would need to be planted for the next seven years.
The Green Party leader, however, denied that the issue is related to the available space in the country.
"We do have the space. The problem is that there is currently a lot of resistance from different parties when it comes to planting trees," he said.
"A lot of the land available in Cyprus belongs to governmental entities. And they do not allow people to plant trees there freely.
"Now, planting trees along the country's roads would be an ideal solution. But that solution itself presents numerous challenges, bureaucratic and logistic."
Theopemptou argued that municipalities and especially villages are not always inclined to plant trees within their boundaries as that would require the need to look after them consistently over the years.
"Even if villages receive saplings free of charge, the condition would be for municipalities to undertake their maintenance for the first three years, which is a deterrent for many."
The Green Party leader, however, praised the many environmental NGOs and organisations for undertaking the task of planting trees individually.
"These people actually do a great job. But the problem remains: how are we going to reach the number set by the EU for 2030?"
Throughout the final two years of the previous administration, ruling party Disy attempted to promote several tree planting initiatives as a way of contributing towards the EU 2030 Climate Target Plan.
Most notably, last year Disy's Demos Georgiades was at the helm of a state-sponsored initiative that strived to plant one million trees within three years "to sow the seeds of hope for a better and united Cyprus", as it was presented when unveiled.
A year later, there is no trace left of the initiative, as Georgiades confirmed, and the recent change in government also brought a reset of all previous policies and projects.
The question, however, remains. Is the ambitious goal of planting at least three million trees in Cyprus by 2030 even remotely realistic?
"We are also asking the government the same question," environmental department officer Nicoleta Kythreotou told the Sunday Mail.
"On our behalf, we have the responsibility of maintaining the absorption of CO2 to acceptable levels and, if possible, increase the current ones as well," she said.
"That is the obligation we have as the environmental department as far as combating climate change is concerned."
Kythreotou said that ultimately, it is up to the forestry department to decide as far as state-sponsored tree planting is concerned.
"Do we want and need more trees planted in Cyprus? Yes, of course we do. We are in favour of all measures that would contribute to a greener Cyprus.
"That said, it is not up to us to decide how many, when and where they will be planted. That decision needs to be taken by someone else, sooner rather than later."