The Dasoudi area of Limassol got its own water refill station this week, the fourth water station installed as part of the Refill Cyprus project.
Launched by the volunteer environmental organisation Let's Make Cyprus Green, the project aims to reduce plastic bottle waste by making it easier for people to reuse and refill their water bottles while on the go.
The project has been recognised by the European Ocean Coalition (EU4Ocean) as the "Best Youth Initiative" for Ocean Conservation in 2022.
The NGO has successfully installed four water stations on popular beach walking paths through voluntary efforts and sponsorships, and also has approval to install ten more in different municipalities across the island.
According to a press release, approximately 12,500 bottles were saved within 12 months from the installment of the first water station.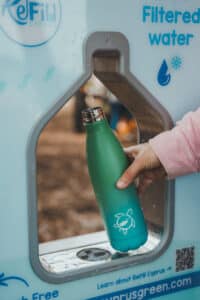 "As well as improving access to free, filtered drinking water in public spaces, the Refill Cyprus campaign seeks to raise awareness of the environmental problems caused by plastic pollution and the need to switch to reusable containers and water filters wherever possible," the statement said.
The latest addition to the project, made possible through sponsorships, is a water station on the coastal walking path of Dasoudi, next to Famagusta Nautical Club.
The sole sponsor of the water station is Exness, with Yermasoyia municipality contributing water and electricity, Makedonas sponsoring cleaning and maintenance, and Karma providing three water filter replacements.
"Plastic pollution is a growing issue worldwide, with humans buying a million plastic bottles every minute," the NGO said, adding that between eight and ten billion kilos of plastic waste end up in the ocean yearly, posing a threat to marine life.
"By reducing consumption through the use of reusable bottles, water stations, and water filters, Refill Cyprus is targeting the source of the plastic bottle problem," it added.
"Aside from helping the environment, these are all better options for your health, and you will save money by not continuously purchasing bottled water".
The water station was inaugurated at an event attended by all sponsors including Yermasoyia Mayor Kyriakos Xydias, who expressed his enthusiasm for the project.
Participants received reusable water bottles as gifts and were encouraged to fill them at the water station.
Let's Make Cyprus Green founder Eleni Kazelas concluded the event by saying, "We hope you enjoyed the event, and we urge you all to reduce, reuse, and refill here on out".