In the pipeline for years, there is no targeted policy to help those most in need of mental health support
Despite numerous assurances that mental health is a top priority for the state, a government strategy aimed at preventing suicides has been dragging on for years. When will it be ready? Soon, the health ministry repeatedly says.
In the meantime, there is currently no targeted state helpline to deal with suicides and experts are increasingly worried as the infrastructure on the island for mental health is already stretched.
And even when people have been treated at a psychiatric facility such as the one in Athalassa some will go on to commit suicide. Though this can be avoided by having effective support plans post discharge that can ensure people stay on their medication when appropriate and have a suitable support network, this seems largely absent in Cyprus, associate professor of clinical health psychology at the University of Nicosia, Marios Adonis said.
"The procedures to ensure that the environment they will return to is safe, ideal or suitable, appears to be lacking."
There is also the impact of Covid, and recovering from it. "Suicidal ideation has increased in the past year because people have had to return back to reality," general-secretary of the psychiatrist's association Dr Louiza Veresie explained.
"People suffering from depression could stay at home during lockdowns, feel safe in their own space and had no social pressure." However, they have been thrust back to an unlearned reality and this has been harder for some people to deal with than others, she added. While this is only one part of a very large picture on Covid's impact on mental health, a scientific brief by the World Health Organisation reveals "exhaustion (in healthcare workers), loneliness and positive Covid-19 diagnosis increased risk for suicidal thoughts."
Data indicates there is a higher risk of suicidal behaviours among young people.
In Cyprus, there has been a 342 per cent increase in suicides from 2004 until 2020. From seven recorded deaths in 2004, the figure jumped to 31 in 2020, though there was a decrease in the last five years of the dataset, going from 40 in 2015 to 31 in 2020.
In total, 560 deaths over the period were attributed to suicide, of which 21 were teenagers aged 15-19. Consistent with global trends, the number of men who committed suicide was higher (452) than that of women (108).
Suicides peaked the year of the financial crisis in 2013, when 45 were recorded.
Looking back, Veresie said "we started discussing the suicide prevention strategy a year or two before Covid hit and then things froze. I really don't know why."
Veresie is one of many parties involved in the government efforts to develop a nationwide suicide prevention strategy. Though the health ministry remains tight-lipped about what that entails, a number of committee members told the Cyprus Mail it includes establishing a long-term plan focusing on vulnerable groups and improving the way in which statistics are registered.
The health ministry rejects that it has been discussing this since the pre-Covid era, arguing instead that discussions began in 2020.
Whether it has been three or five years, the fact of the matter remains that there is still no state-coordinated protocol in place. Much of the available support lies in the hands of voluntary initiatives and makeshift efforts by well-meaning stakeholders. In fact, the issue of where people could turn to when in need of help was brought up by the Cyprus Mail five years ago, though it appears not much has changed.
"No one wants to commit suicide in the name of death. They want to end pain and suffering," Adonis said.
The Cyprus Samaritans, a NGO on the island since 1997, has its own helpline (80007773) offering a listening ear for people, including those contemplating suicide. Staffed entirely by volunteers, it is available between 4pm and midnight every day.
"People feel lonely, they don't know where to turn," deputy leader of the organisation Cherry Dobbins said.
She notes the number of calls has increased but this could also be attributed to a stronger social media presence the Cyprus Samaritans has embarked on.
According to Dobbins, around 80 per cent of callers are Greek speakers – going against the idea that the Cyprus Samaritans is primarily popular with British residents, due to the charity's links to the UK.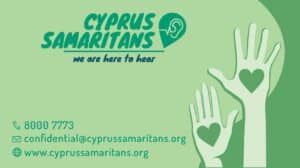 The NGO says it has repeatedly sought to be part of the government's efforts to offer help, and has told the health ministry it would be happy to share its services with the state. "We haven't heard back from anyone."
A health ministry spokesperson said the committee tasked with preparing the strategy "is now proceeding to refine the text, incorporating the actions to be implemented either in the long or short term."
He added the document has been finalised and will be sent to the health minister and relevant stakeholders within "a short period of time."
Attending committee meetings on behalf of the psychologist's association, Stephanie Christophorou said the strategy needed to be ready as soon as possible but stressed the importance of thoroughness as there are many stakeholders involved including psychologists, psychiatrists, statisticians and police officers.
As it stands, data on suicides does not come with much information on the patient's history, which would be beneficial in trying to establish common patterns and enable further research that could guide suicide prevention, she added. This is one point the strategy aims to rectify.
Additionally, it seeks to improve screening processes and prepare protocols for particular groups ranging from teenagers, prisoners, the elderly and people who have a history of mental health issues.
Adonis added that it is important to create happy societies as a general prevention mechanism. This can be done through reinforcing activities beneficial to mental health.
"Research has shown that it doesn't cause any harm to ask anyone if they are contemplating taking their life. Many people are afraid of asking in case it triggers someone but it doesn't," Dobbins stressed.
"In fact, it could go a long way in helping."
The Samaritans say they are open to listening to people for anything ranging from losing their wallet to feeling their world has collapsed.
"We're not here to advise or judge. We're here to listen."