Having finished a few tedious errands one morning we were really not in the mood to go home and prepare lunch so, not really needing much of an excuse, we decided to head aimlessly towards the town centre to find somewhere to eat. On our way, my partner suddenly shouted "What's that!?" Not exactly what anyone driving finds particularly helpful but a quick glance in the direction she was pointing identified a restaurant that, somehow, neither of us had spotted before! I turned off to have a look and we decided to give it a try.
On a corner, along Makarios Avenue going towards Phinikoudes sits a Middle Eastern restaurant called Sawa. Apparently, it has been there quite a while and is also well known for its hookah!
We approached a wall with Sawa written in big letters and a small entrance, clearly not the main one. The restaurant is huge! Bar one table, it was empty, which isn't a problem but it just meant that there wasn't much atmosphere; perhaps it would have been better to have gone in the evening.
We sat on a table that was next to a column, decorated to look like a tree and yes, I was momentarily fooled by it! I was sat facing the lovely waterfall that is located at the far end of the restaurant. Suddenly, the lack of atmosphere was replaced by the calming sound of the running water so actually, we were lucky there was no one there otherwise we may not have been able to hear the soothing sound of the fountain. The menus were already laid on the table, encased in a large wooden like folder.
The menu offers meze adjusted depending on how many people it is ordered for. We decided to go through and select our own dishes. There is a huge variety of dips, all of which are very reasonably priced. We chose moutabbal (smoky aubergine dip), mouhammara (roasted red pepper, pomegranate molasses and nuts) and hummus. Alongside this, we ordered spicy potatoes, falafel, kebbi maklya (lamb mince koupes), fatoush (salad with pommegrate molasses and crispy fried bread pieces), bazinjan makle (cooked aubergines with tahini) and farrouj mashwi (boneless, grilled chicken thighs).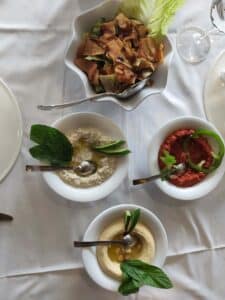 The salad and dips came out pretty quickly. With the dips, we were brought warm Lebanese bread. The salad was really fresh, I loved the crunchy bread pieces and the dressing had a slight sweet taste to it! The dips were very flavoursome. I found myself urging the other dishes to come out so that I didn't fill up on just bread and dips!
The falafel and kebbi came out together with a small pot of tahini which accompanied the falafel perfectly. For the kebbi, I preferred to cut it open and squeeze lemon in it. The falafel had a lovely blend of spices in them and a good kick of garlic! The spicy potatoes were really crisp. They weren't really that spicy, it was more that they had been garnished with some chilli which was great because, if one person loves the heat and the other doesn't, you can regulate how much chilli you want! From looking at them, the aubergines appeared ever so slightly on the greasy side but being covered with a tasty tahini, they didn't taste how they looked.
I was really looking forward to the chicken. It came to the table and was covered with Lebanese bread that was lightly coated in a sort of tomato paste with some coriander. There were four large thighs! The skin on them was crispy and it was just melt in the mouth goodness! We had clearly over ordered and were offered what was left to take home. We managed to get another meal out of it which made the whole experience even more value for money than we had originally thought! We both left happy, full and with the feeling that this is definitely somewhere we'll be coming back to with friends. Next time, I might even get some hookah and possibly even catch a belly dancing show they told us about!
VITAL STATISTICS
SPECIALTY Middle Eastern
WHERE Sawa, Makarios Ave C39, Larnaca
WHEN Daily 11.45am-00.30am
CONTACT 24 666066
HOW MUCH dips €2-3, falafel (4 pieces) €3, kebbi (4 pieces) €5, farrouj mashwi €9