ELENI PHILIPPOU gets involved in Cyanotypes, images in striking shades of blue, and finds she is not the only one in Cyprus intrigued by them
Sunlight, flowers and iron salts. This is not a recipe for some sort of ritual but the tools needed for a type of photography printing that does not require a camera. It is not the pin-hole camera as many assume but a blue-tinted art inspired by nature. The cyanotype process has existed for centuries and one of its many beauties is that it is a completely tech-free approach to photography. The other is the captivating shades of blue it always produces, shades of cyan.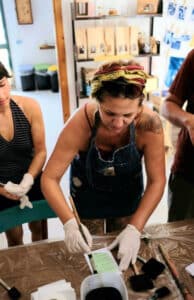 Cyanotype photography consists of placing objects, typically flowers and plants, on paper coated with iron salts and exposing it to sunlight. After just a few minutes of exposure, the paper is rinsed with water to reveal the captivating print in white and Prussian blue.
Cyanotypes were invented by Sir John Herschel as he experimented with sun prints, who in 1842 used a paper coated with an iron salt solution to create the first ever cyanotype. He used the technique to make copies of his notes and diagrams but it was botanist and photographer Anna Atkins who produced the first photographic illustrated book a year later.
She used cyanotypes to accurately depict the structure of plants and in 1843, she published Photographs of British Algae: Cyanotype Impressions. Over the years, cyanotypes became the way architects and technicians would reproduce their drawings until photocopy machines arrived and this use is where the term 'blueprint' came from.
To this day, artists around the world use the technique to print images, whether using plants or other objects. Anything with a flat surface area can be used for a print. A button, a cassette, a tomato, a lace handkerchief, a stencil, a feather, the list is endless.
The process is easy if you get all parameters right: a thick enough paper that won't dissolve in the water, the correct exposure time, the right amount of chemicals to blend and so on. After watching dozens of tutorials online about how the process goes I still wasn't sure so when I stumbled across a free cyanotype workshop as part of the Heartland of Legends activities, I was thrilled. I quickly discovered a small community of cyanotype enthusiasts and headed out to Flasou village to attend Katerina Prokopiou's workshop on a chilly March day.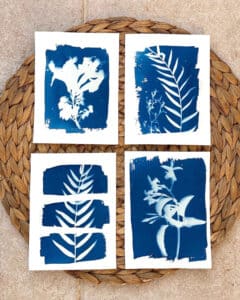 Along with five other women, Katerina introduced us to the world of cyanotypes, showed us examples of her prints and quickly got us involved. We prepped our papers and walked around the village to collect flowers – this part of the process has become my favourite, a slow walk observing nature, the veins of the leaves and the images they might produce. I made my first cyanotype back then and the following day I ordered the printing solutions to experiment some more. It wasn't long since I filled my living room with blue prints, framing some while others I turned into greetings cards.
"What I love about this process is the simplicity and the endless experimentation it gives," Katerina said. It was almost a decade ago when she came across the technique and now, she is taking it to all parts of Cyprus.
"I first discovered cyanotype art seven years ago when I was running a guest house in parallel to my graphic design work," she explains. "One of my guests was a talented British photographer named Liz Nicol who was on an artist residency in Cyprus and was also giving a course on Cyanotype for the University of Nicosia. I was intrigued when I saw her preparing literally in my backyard for an exhibition. Witnessing her creative process and the magic of this unique form of art sparked my fascination."
Now, Katerina runs workshops around the island aiming to use cyanotype art as a means of community engagement and empowerment. "I created a workshop project that brings cyanotype art to rural areas, remote schools, refugee empowerment projects, festivals, and summer camps. Through this project, I have witnessed the power of art to connect people and convey important social and environmental messages."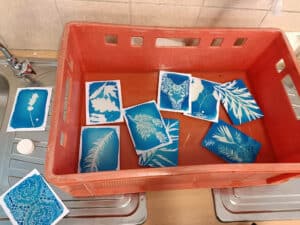 She is not alone on the island. Michelle Voge, a mum and an artist, makes cyanotype creations from her garden in the Limassol area. "It combines my love for nature and creating art, so I was hooked immediately," she said. Her latest project has been turning her prints into cyanotype earrings which she will present at the Hello Summer Handmade in Cyprus market in Nicosia on May 13.
"I enjoy the way the process draws out a deeper appreciation for the beauty of the nature around me. I also love the element of discovery and surprise. There are so many factors that can affect the outcome… the type of paper, exposure time, the strength of the sun, and so on. There is always an element of surprise when I see the results."
Artists all over the world continue experimenting and festivals abroad, such as the International Festival on Experimental Photography in Barcelona, keep the technique alive and developing. Locally, there is an interest building as with just a few materials, patience and inspiration, remarkable prints are born. All out of the blue.