Taste of Cyprus: Hearty meals that are quick to whip up
Leek and Feta Pie
Phyllo pastry tends to be quite intimidating if you have not used it before. I love using it as it is actually very easy to use and is extremely versatile. This pie has a base of phyllo that makes it light. As it is a quiche-like pie, you can substitute the leek and feta filling with your favourite quiche filling.
The secret of phyllo pastry is to work fast so that it does not dry out. To prevent this, place a slightly dampened tea cloth on top of the phyllo as you are working with it. We will be using eight sheets in this recipe, so roll up the left-over pastry and put it back in the freezer. If it does become dry and brittle keep it anyway and use it as you would the crumble on an apple crumble. Simply put it into a bowl and crush it into smaller pieces and drizzle melted butter and a little sugar to coat it and place on top of your pie.
You can find phyllo in the freezer section of the supermarket. The number of sheets per 500g will be shown on the box, therefore helping you with your quantities. The phyllo for sweets is thinner than for savoury. Defrost in the fridge overnight.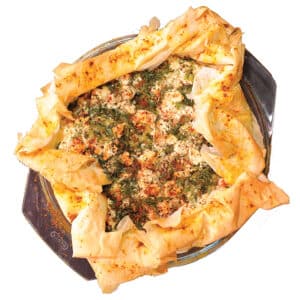 4 small leeks (thinly sliced)
½ cup olive oil
500g Feta cheese
250ml cream
3 eggs
125g butter
8 sheets phyllo pastry
1 cup dill (shaved)
Black pepper
Fry leeks in olive oil and allow to cool.
Brush an ovenproof dish with butter and layer phyllo pastry, buttering each piece liberally with a brush.
Place leeks onto the phyllo pastry.
Beat eggs and add cream together until blended.
Crumble Feta over the leeks, then pour the egg and cream mixture on top.
Sprinkle dill and pepper over the filling.
Bake in a pre-heated oven at 160C for 45 minutes.
Beans and Bastourma
This hearty one-pot recipe is quick and easy to make, and all the ingredients are readily available. You will notice that I have been lazy here and used tinned butter beans! Great for a main course, but also fun served casually with hot bread with a full-bodied red wine.
Bastourma is traditionally an Armenian product which is camel meat that is coated with a mixture of cumin, coriander, chili, salt, and pureed garlic, it is then hung and sundried. The flavours are so intense that you do not eat it plain, but rather use it shaved in an omelette or in a stew as we have done. In Cyprus bastourma is made in sausage form using pork and all the same spices. As it has a high fat content, you will notice that in the recipe I have suggested sautéing the two sausages, bastourma and loukaniko (traditional Cypriot wine cured sausage with 'schino' the local variant of the juniper berry) first, without any extra oil. They will produce their own oils that you then use to fry the rest of the ingredients in, getting maximum flavour.
200g Loukanika (wine cured pork sausage with juniper berries), sliced
200g Bastourma (smoked pork sausage with chilli and garlic), sliced
2 large red onions (thickly sliced)
1 green pepper (sliced)
1 ripe tomato (grated)
3 rounded tablespoons tomato paste
2 cups white wine
1 cup water
5 bay leaves
1 teaspoon sugar
Chilli (dried or fresh) to taste
12 black olives
1 tin butter beans (drained)
Cracked black pepper
Sauté sausages in a non-stick pan (they will produce a little oil).
Add onions and brown.
Add all remaining ingredients and simmer until the flavours have infused and the sauce has thickened.
Roddy Damalis is the author of two books, MY CY is a photographic journey through Cyprus, with stories, commentary, culinary tips, and anecdotes that let you in on the mind behind the recipes, and MY LITTLE PLATES a guide to 100 adored recipes inspired by our beautiful island served over two decades at the beloved Ta Piatakia restaurant in Limassol. Roddy is a restaurateur, celebrity chef, food guru and consultant. He stole both local and international hearts with his infamous and highly acclaimed restaurant Ta Piatakia in downtown Limassol and now operates My View, an exclusive private dining venue in his home. For more information and to purchase the books visit www.roddydamalis.com