A familiar figure in local campaigns, for one model it is all about balance – in work and in beauty finds NIKI CHARALAMBOUS
Toulia Angeli is living her dream in Cyprus, working as a graphic designer and pursuing her passion as a professional fashion model, having appeared in both national and international magazines. "I attribute my modelling career to my parents, who, unlike most traditional parents in Cyprus, encouraged me to pursue it."
Toulia highlights the benefits of being a high fashion model and how this challenging career decision brought out the best in her, from being a shy, introverted girl to earning the confidence to pose in front of the camera.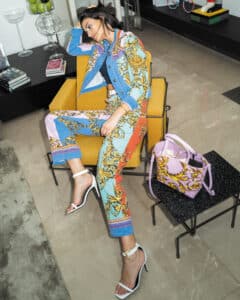 Born in Paphos in 1994 to a family of six children, Toulia has always been interested in drawing, painting, and fashion. "By the time I was 16, I knew I had to pursue a career in fashion and the arts, though I wasn't sure what that would be," she said.
The one thing that impressed many around her was that as she transitioned from childhood to adolescence, Toulia's natural beauty became more evident. Her parents saw the potential in their daughter's beauty and guided her towards the world of modelling and fashion.
"I was hesitant at first because I was always very shy and introverted and could never have imagined a career as a model," she told the Cyprus Mail. "When I was 19, I joined a modelling agency in Limassol after a lot of encouragement and support from my parents and began learning the skills that would give me poise and confidence, and more importantly, to learn to believe in myself."
But at the same time, she studied graphic design at Tepak in Limassol, later heading to Portsmouth in the United Kingdom to follow a master's in multimedia design. After returning to Cyprus she worked in marketing, later becoming freelance so she was able to apply her own style and aesthetic to the jobs she took on.
Toulia's modelling career took off at the same time as her graphic design work, developing her own brand. "I chose to focus on my two worlds, and I am happy with the way things have worked out because I get to do both of the things that I love the most," she said.
Her approach to modelling clearly evolved over the years, and the confidence she gained from the many photo shoots, runways, catalogue, commercial, film, and fashion modelling projects, as well as her professional approach to modelling, has made Toulia highly sought after in Cyprus.
Although Toulia claims she did not get a big break in international modelling, she has been published in magazines including Elle Italia, Harper's Bazaar España, Madame Figaro France and Madame Figaro España. "It has always been my dream to be featured in international fashion magazines, and I hope that in the near future I will also have the opportunity to model internationally."
When it comes to the fashion industry in Cyprus, and modelling in particular, Toulia believes the sector is restricted by its small size and inherent lack of opportunities and appeal. "We definitely have some great talent in Cyprus who have helped the industry grow, and there has been more international interest in recent years, which is encouraging, but more needs to be done to establish Cyprus as a fashion brand.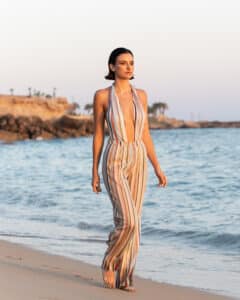 "I do not believe Cyprus is highly competitive, particularly when it comes to modelling. It makes me extremely happy when other models and people in general perform well, but one must put oneself out there, especially through social media, which plays such an important role."
According to Toulia, social media is an important element of her career as a graphic designer too, especially when it comes to attracting clients, photographers, and designers. "Aspiring models can now display their portfolios, and agencies can use it to recruit talent. It was a lot harder when I first started," she added.
Although Toulia has taken part in a variety of high-level events and projects ranging from experimental photoshoots to campaigns and runways, it is the latter she enjoys most because "the adrenaline you feel before walking the catwalk is incredible."
Vivienne Westwood, Yves Saint Laurent, Issey Miyake, and Isabel Marant are among her favourite international designers since their styles, she says, are similar to her own. "I would describe my style as boyish, modern yet classical, with a punk twist."
Angeli also admires famous supermodels Anja Rubik, Mica Argaaraz, and Vittoria Ceretti, who she describes as "strong, powerful women with incredible natural beauty."
When it comes to beauty, however, Toulia emphasises that it includes not only the exterior appearance but also the interior beauty of the soul. "Inner beauty is rooted in the belief that true beauty comes from within, and that a person's character and personality are more important than their physical appearance," she said. "Cultivating inner beauty through qualities such as kindness, empathy and compassion can lead to a more fulfilling and meaningful life, one in which you feel engaged, connected to a purpose, and capable of connecting your gifts and passions with your highest values, and this makes me very happy."