University society seeks to help local students settle in and inform those from elsewhere about life on the island finds PAUL LAMBIS
Aside from making long-term acquaintances, university societies are frequently regarded as places for cross-cultural contact. These societies or student organisations are important parts of the university experience because they help students find their place in a foreign environment.
Cultural associations, on the other hand, such as the Cypriot Society at the University of Bath (CySoc), strive to build a welcoming and inclusive society to celebrate and promote Cypriot culture and heritage.
"CySoc was founded in 2007 to provide a social space for Cypriot students, while also promoting our culture and values within the university community," chairperson Anna-Marina Stéphanie Drège said. "Our aim is to provide a home away from home while also supporting and empowering Cypriots and members of society by providing guidance and advice on academic, social and cultural matters."
According to the third-year BSc Politics and International Relations student, promoting Cypriot culture is not only an internal practice. "CySoc aims to also promote the island's culture and heritage to non-Cypriots," she said.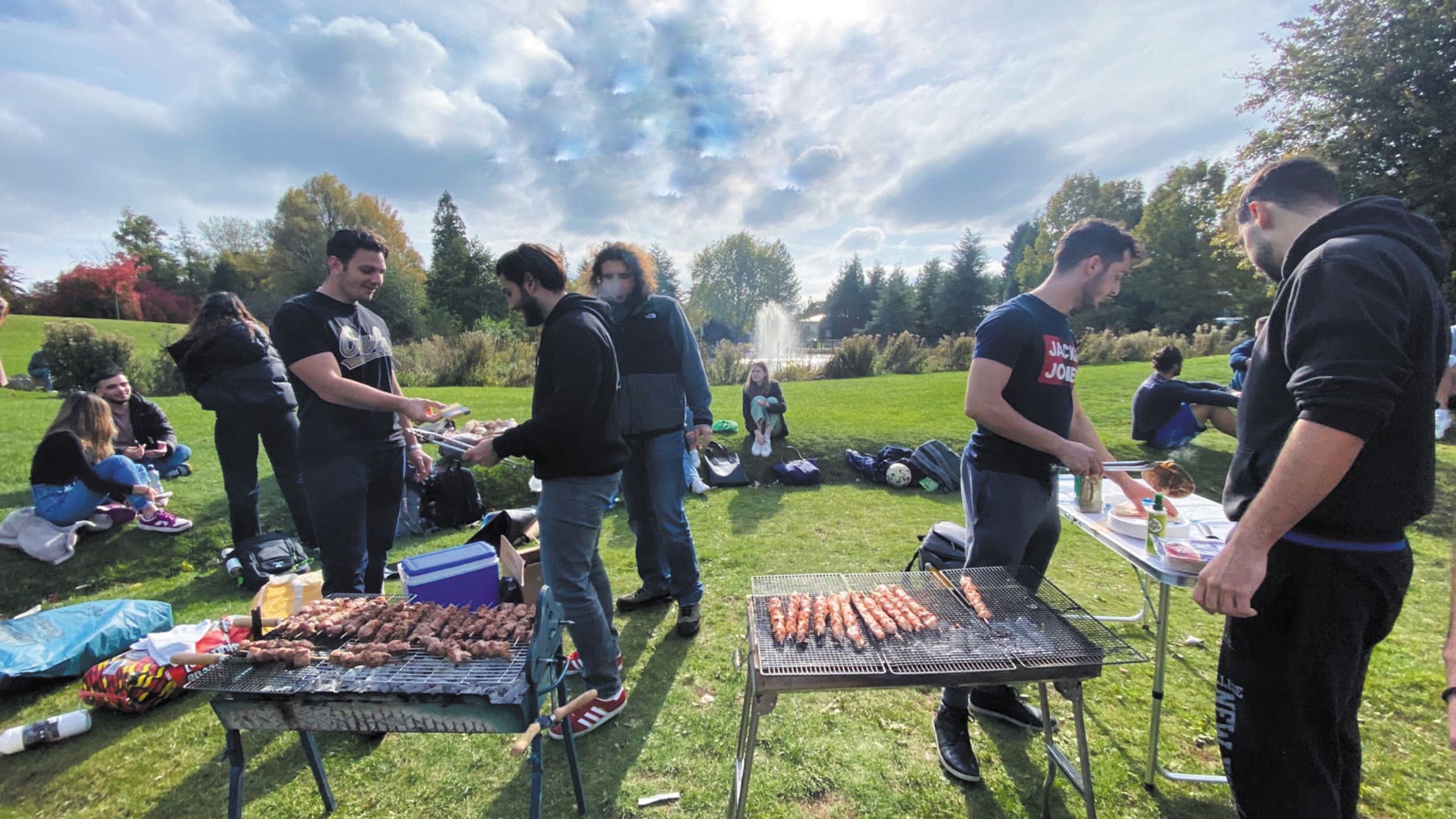 The society organises social activities aimed at highlighting Cyprus' rich and diverse cultural landscape, often in collaboration with their Greek counterparts, that showcase Hellenic identity. "Although we are a separate society, we work closely with the Hellenic Society to organise a variety of events such as clubbing nights, BBQs on campus or in a city park, attending cultural fairs at the university, and, of course, frappé stands," she said.
"It is worth noting that many international students have participated in our social events, allowing us the opportunity to promote Cyprus' gastronomy to the wider community."
From traditional loukoumia and coffee to souvla by the lake on campus, "the society maintains a friendly and inclusive environment where members can feel comfortable and welcome.
"An ethnic society is extremely important for students because it promotes cross-cultural awareness, inclusivity, and collaboration. Understanding diverse cultures makes people more sensitive to social practices and traditions," Drège said.
Aside from the Hellenic Society, CySoc also plans events with Hellenic associations outside of campus who share the same cultural background, thereby reaching out to the wider Cypriots and Greeks in the area.
However, since the United Kingdom is renowned for its cultural diversity, making its colleges and universities ideal places for innovation, growth and success, the Cypriot Society participates in larger events organised by other ethnic societies, paving the way for deeper learning and understanding and providing "truly enriching experiences."
These are organised by European and Middle Eastern societies known as European Nights, which provide a platform for all students to come together for a celebratory night of European diversity," Drège said. "Bonding over similarities and differences can help you to become a global citizen, abandoning prejudices or an ethnocentric world view – something that is becoming increasingly valuable.
"People are more aware than ever before of the distinctions between Cyprus and Greece, as well as the unique cultural similarities and differences between the two nations."
As CySoc keeps broadening its outreach and encouraging cultural awareness and understanding across a wider spectrum of the student body, the society claims to be as politically neutral as possible, but they do raise awareness of the Cyprus problem from time to time.
"Other than sharing factual informational posts about the Cyprus problem from Cypriot communities such as the National Federation of Cypriots in the UK and the National Federation of Cypriot Students in the UK (Efek), we do not engage in political issues extensively.," Drège said.
The University of Bath is undoubtedly a cultural melting pot that welcomes various students from all over the world. With nearly 20,000 students enrolled at the university, the Cypriot Society has successfully found its place in this credible institution, fostering a strong community spirit among its members and allowing them to come together and offer mutual support to one another, while celebrating their cultural identity abroad.