Paphos is full of hotels but few have the charm and local Cyprus flavour of the Almyra finds PAUL LAMBIS
There's a new level of sophistication that emerges when entering the glass doors of the Almyra Hotel in Paphos. The sleek, chic interior sets the scene for a picture-perfect Instagram shot that may be the envy of social media observers wishing to escape to a Mediterranean delight.
With commanding views of the Paphos coastline and the imposing mediaeval fort guarding the ancient harbour, this modern haven, with all the trimmings fit for fashion-forward couples and fun-loving families, is all about carefree Mediterranean living with a contemporary twist.
The Almyra Hotel is the only hotel in Cyprus listed by Design Hotels, a hand-picked collection of hotels with a passion for culturally rooted hospitality and cutting-edge design and architecture. "It is a wholly unique creative expression steeped in the history, culture and nature of its surroundings," hotel manager Jochen Niemann said.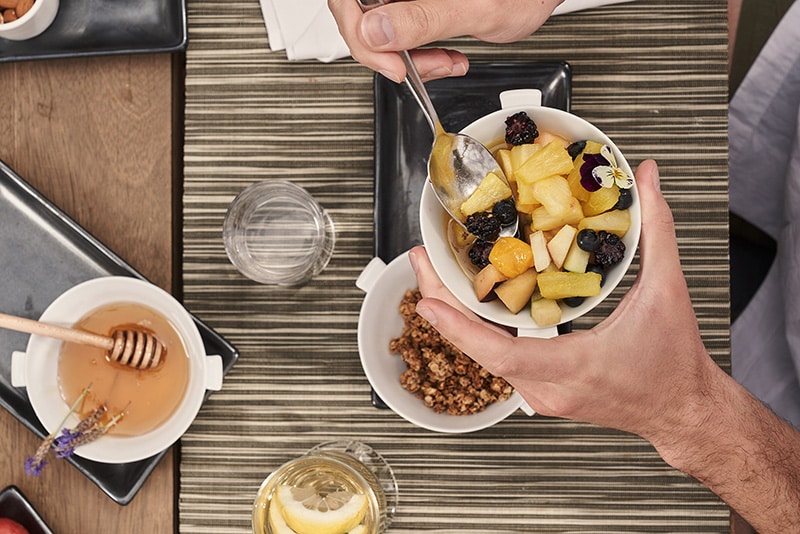 Almyra, "the taste of the sea," is located within walking distance of Paphos' main beach. "Every moment is seasoned to one's liking. From the aroma of the all-encompassing and omnipresent Mediterranean and cuisine-fusion dining to sleek accommodation and first-class treatments offered at the luxury spa, Almyra Hotel is truly an oasis.
"Our aim is to exceed expectations in terms of hospitality, customer service, comfort, and cuisine," Niemann added.
Niemann is no stranger in the hospitality industry, having developed a reputation for excellence. Originally from Germany, he has worked in hotels around the globe, but the allure of Cyprus drew him because it was the ideal place to work in the profession while raising a family in a safe environment.
"Meeting people from all walks of life – each with their own story – is extremely enriching, and I am thrilled to be in an environment such as the Almyra Hotel where our guests can have a wonderful and meaningful experience," he told the Cyprus Mail.
The Almyra Hotel, part of Thanos Hotels and Resorts, occupies eight acres of landscaped gardens in the heart of Paphos' seafront promenade and is the perfect location for a quiet romantic getaway or a memorable Cyprus family adventure. "It's a rare hotel that can accommodate adults-only, families with children, and even locals looking for the ideal getaway with their canine companions," Niemann said.
"With the addition of a state-of-the-art dog park and a suite of amenities, including grooming, Almyra has officially declared itself dog friendly."
So, if a hotel goes above and beyond for canine companions, how far would it go for guests? First impressions are certainly lasting impressions, and the reception team is on hand to provide an efficient check-in that does not require the guest to stand at the counter, but rather encourages the guest to take a seat and enjoy a drink while a member of its team inputs your details into a mobile tablet with a few questions covering anything from food allergies to personal requirements.
The hotel offers a wide range of rooms and suites, as well as the ability to design a space from dozens of interconnecting choices. The 188 suites with sea or garden views are both big and stylish, with modern Mediterranean features.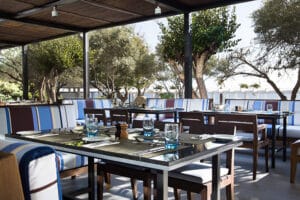 And if you, like me, are into the whole experience for the cuisine, the Almyra Hotel offers a wide choice with dining options ranging from laid-back lunches to full-scale feasting. "We have a wonderful selection of restaurants including our renowned seafront taverna Ouzeri, which offers authentic Cypriot and Greek specialties in abundance, to Notios, a one-of-a-kind establishment that offers delicious al fresco meals prepared with a combination of Japanese purity and sensuous Mediterranean flavours," Niemann said.
The Almyra Hotel's gardens provide an environment that ensures seclusion at all times. Unlike most Paphos hotels, guests do not feel overcrowded, and the layout of its facilities ensures space and comfort throughout a stay.
When it comes to wellness, the Almyra Hotel is the ultimate in holistic hedonism, with expansive pools and sun decks, sleek saunas and steam rooms, specialised treatments, private rooftop classes, and personal training.
As a frequent visitor to this hotel, both as a guest and day tripper, I have noticed that the Almyra Hotel is very focused on raising awareness of Cypriot culture and regularly hosts events and exhibitions showcasing local talent. "As part of our philosophy, we aim to support local artists by displaying their works, whether in one of our flexible spaces or in the lobby area, where visitors can acquire a taste of Cypriot authenticity first-hand," Niemann explained.