In Cyprus, gambling is a pastime as popular as visiting your doctor or buying a Mercedes. And with the opening of Melco's City of Dreams Mediterranean, which incorporates Europe's largest multi-theme resort, the whole 'casino island' idea is really taking off. But no matter how hard it tries, the island can't hold a candle to Macau…
Asia's gambling capital, Macau (or Macao) is a special administrative region of China; a collection of islands in the Pearl River Delta of the South China Seas. Boasting one of the world's highest per capita incomes, it's among the most densely populated places on the planet: roughly 680,000 people in this tiny, 33-square kilometre region!
Most of these are involved in the gambling and gaming industry, a sector that generates a cool €20 billion per year – a figure believed to be seven times higher than Las Vegas' annual revenue!
And, everyone's eating (casino buffets are free, right?), and eating well in Macau. Before the gambling industry took off, this collection of islands was colonised by Portugal, and the country's influence remains strong in the rich cuisine.
Over the years, Portuguese recipes have been adapted to include local ingredients, such as fresh seafood, turmeric, coconut milk and adzuki beans. And now this delightful fusion has produced dishes such as Portuguese seafood rice (a stewed soup-like rice with mussels and giant prawns), serradura (which translates as 'sawdust', but is actually a layered biscuit and cream pudding served chilled), and prawn tartar (sweet prawns marinated in lemon juice and olive oil, and usually served with the local rice).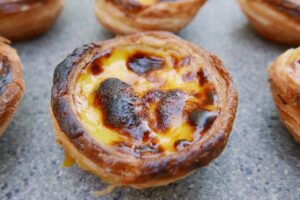 Perhaps the islands' most iconic fusion creation is the Portuguese egg tart: a flaky pastry shell stuffed with a rich, sweet egg custard filling and lightly caramelised on top. Originally known as the pastéis de nata, this delectable confection was first made in the 13th century: apparently the monks of Lisbon needed to use up the yolks left over after the egg whites had been used to starch their laundry! The recipe then made its way to China with the Portuguese colonisers where, in the last century, the burnt topping was added to make a uniquely Macanese version.
Of course it's not all colonial fare. Amongst the more Oriental offerings we get the pork chop bun – a well-known street snack that consists of a tender pork chop in a roll that's crunchy on the outside, chewy on the inside. There's also the Macau egg roll, a crisp, sweet pastry made with egg, cabbage, and pork. And the cheap and cheerful almond cookies and pork jerky, a street food combination that's popular across the region, and a perfect jackpot of flavours!