In recent years, most banks have gone through some form of Digital Transformation. Bank of Cyprus has been a leader in providing innovative digital services to its customers
"As technological breakthroughs move from hype to widespread adoption, customers expect this technology to be applied in their banking experience"
"At Bank of Cyprus, we are undoubtedly advancing rapidly. Since 2017, when our digital transformation programme was initiated, we have made huge progress. To understand and appreciate how much our Digital Banking footprint has evolved in recent years, one must mentally compare their interactions with the bank in 2017 and 2023.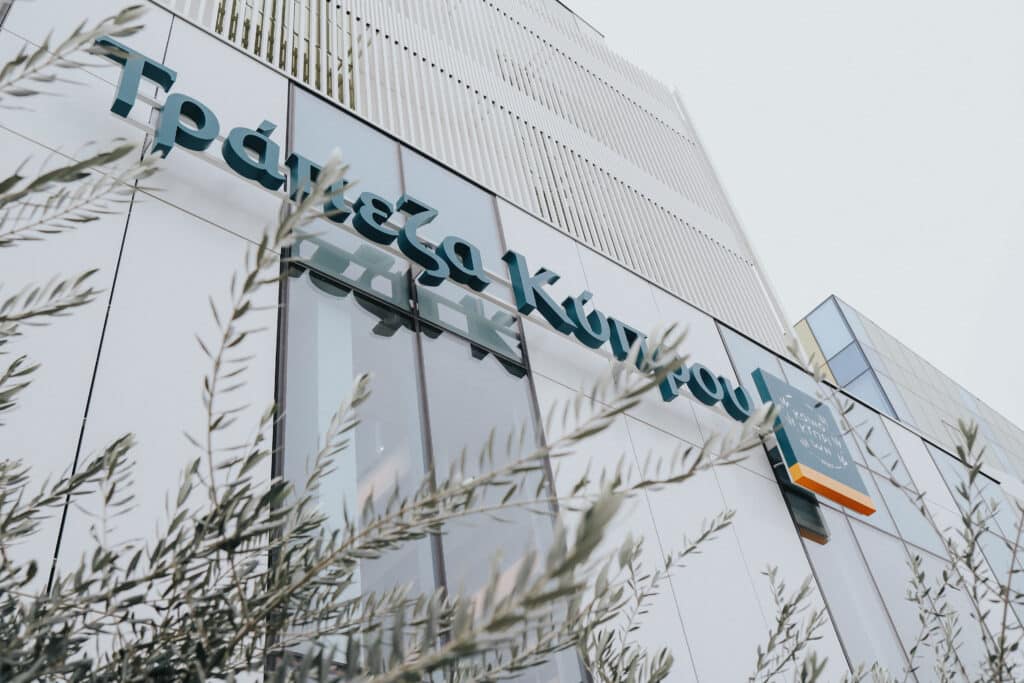 "It is not easy because we were experiencing change incrementally. But imagine a person waking up from a six-year coma; they would find it very strange that people wave their wrist or show their mobile to pay for groceries when in fact they are using their smartwatch or phone wallet to make the payment; they would wonder how quickly you can send someone money without knowing their bank account number when in fact they are simply using QuickPay; they would also be surprised to hear that many people have not visited a bank branch for months or years, using online banking services to manage their accounts, transfer funds, pay bills and even take up a new loan from their computers or smartphones.
"The innovations we have introduced are numerous: QuickPay, electronic wallets, mobile check deposit, MoneyFit, digital signatures, QuickLoans, Digital Customer Onboarding and many more. It would not be an exaggeration to say that our products and services have let other public and private stakeholders follow the same path.
"However, are we moving fast enough though? According to the report titled: "The Retail Payments Landscape in Cyprus" of the Central Bank of Cyprus, Cypriots still rely heavily on cash payments. During 2021, 72% of the total retail payments were made with cash. The average inhabitant in the EU used cashless payment instruments 1.6 times more often than the average inhabitant in Cyprus. Cheques are also still widely used in Cyprus. These are just two examples that show that there is still plenty of room for improvement and further adoption of the available digital channels."
Is Digital Transformation a journey or a destination?
"A journey. Yet, clearly not to the unknown. At Bank of Cyprus, we have set a well-defined course, which we follow consistently. The compass of this course is always showing the customer. All our efforts and projects arise from our customers' needs and are designed in such way as to address them most effectively.
"As technological breakthroughs move from hype to widespread adoption, customers expect this technology to be applied in their banking experience. I can even say it becomes a commodity, until the next breakthrough comes along. For example, in the past, ATMs were a great disruption of the banking sector, whilst today almost everyone has a digital wallet. Customers now demand the same experience they get from their favourite social media app in their daily interactions with their bank, the government, their school, and everything else we can imagine. User experience is a critical element for any product if it is to be considered as successful.
"As an example of how technology moves from hype to mainstream, when Chatbots first came out, most of us had a horrible experience, such as talking to an airline's chatbot about a flight cancelation. 99 out of 100 people would prefer to interact with a real agent even if that meant waiting in queue for a long time. Now let us project the same scenario in three years (perhaps earlier) considering recent breakthrough technologies and the use of Artificial Intelligence tools like ChatGPT.
"I would dare to predict that 99 out of 100 people will be demanding to talk to a chatbot for many types of interactions rather than an agent simply because the technology has matured so much that for certain scenarios it provides a better customer experience than talking to an agent. For clarity, I do not predict real human interaction will be replaced for all use cases. So, we continue the never-ending journey to meet our customer needs."
What is the most important factor to accelerate?
"I do not think there is a single magic recipe for accelerating but talent is probably the most important ingredient. Companies need to recruit, train and leverage talent in a transformative way. It is not enough for an organisation to recruit the top university graduates and assign them to "business as usual" tasks. The culture and the environment of an organisation must facilitate the talent to generate and execute transformative ideas.
"At Bank of Cyprus, we recognised early enough the need to attract the best in the market. The demand for talent exceeds supply and with adoption of remote work, we must compete not just locally but globally to attract top talent. By offering career opportunities and an innovative and progressive culture, we manage to attract new talent and pair it with the existing experience. The results speak for their own.
"There are of course other catalysts of acceleration like investments in technology and infrastructure. But digital adoption must also consider the emerging risks. Faster, but not hastily. Cybersecurity investments is a typical example. At Bank of Cyprus, we do not perceive digital transformation as a drag race but rather as the 24 hours of Le Mans."
Isn't strategy also important?
"Absolutely! A Japanese proverb says, "Vision without action is a daydream. Action without vision is a nightmare". The ability to foresee how and when specific technologies will transition from hype to mainstream and identify applicable use cases that help the end customer is critical. For example, blockchain technology led to the adoption of cryptocurrencies.
"Banks, including Bank of Cyprus, were proven wise not to follow down that path, as we have witnessed the collapse of cryptocurrencies and crypto exchanges, volatility, and even the adoption of criminal activities. On the other hand, many good things came from the same technology as Smart Contracts. Our strategy includes adopting the right technology at the right time.
"Digital Transformation Strategy is not all about technology. It also involves changes to your operating model, business model and processes. Jinius, the first digital economy platform in Cyprus is a great example strategy and action at play. A first-of-its-kind platform that connects businesses and individuals in a such way that they can transact in real-time, efficiently, safely, smarter, and faster. To achieve this, we had to think about technology, operating model, business model and most importantly customer experience. We had to plan it, and then execute. As we did!
"When talking about strategy, it is also imperative for the government to maintain its leading role in driving this transition. By taking advantage of the country's recovery and resilience plan, the government plays a critical role in promoting the adoption of new technologies and digital practices by investing in infrastructure, providing incentives for innovation, and creating policies that support the growth of digital industries."
QuickHub – A bank branch at your fingertips
The new service, available on the Bank of Cyprus digital channels (Internet Banking, BoC Mobile App) connects basic banking transactions to the digital world, offering a smooth digital experience.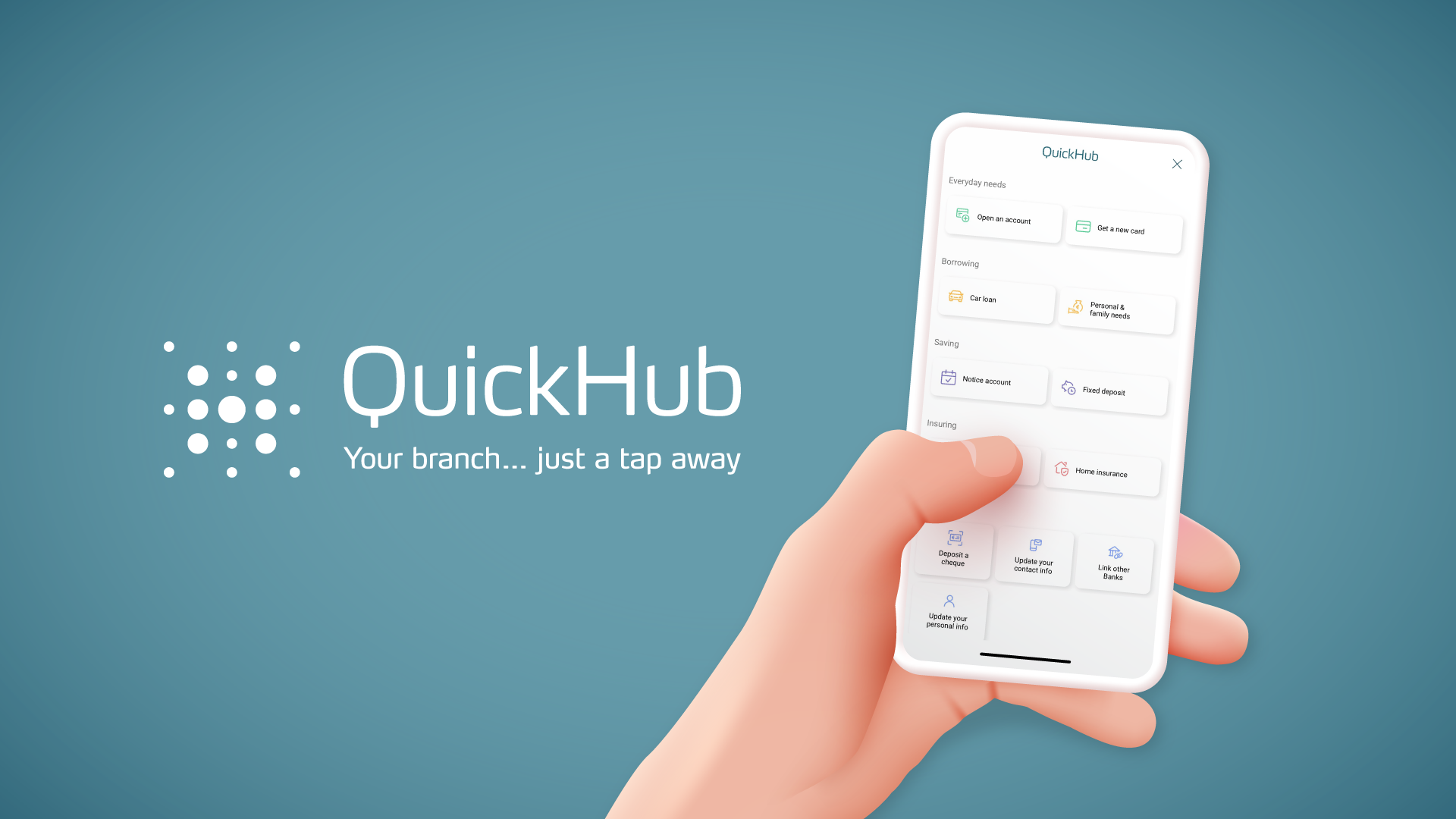 Direct access to products and services
The new, easy-to-use service amounts to a digital bank branch that is literally at your fingertips. Customers can use QuickHub to get direct access to products and services – like opening an account, getting a new card, applying for a personal loan, car leases, cheque deposits or even car and home insurance. Become a new customer through Digital Onboarding.
Long gone is the time when you needed to visit a bank branch to become a Bank of Cyprus customer. And it goes without saying that you can do that by using the digital services now available. It is a straightforward process – customers can download the BoC Mobile App and select to register. Once they follow the required steps, and receive their new card, they can connect to 1bank.
QuickLoans on your mobile or computer
Available through Internet Banking, QuickLoans is the latest addition to the BoC Mobile App toolkit. Bank of Cyprus affords customers the ability to take out a loan quickly and without having to wait in line in a bank branch. Since January 2023, this revolutionary tool is available to all bank customers, who can now apply for and secure loans of up to €15,000 – and do so quickly and easily using their computer or mobile phone. The process is simple and fast. For amounts of €3,000 or less, the repayment period is three years, and seven years for amounts over €3,000. The interest rate is variable throughout the duration of the loan, and no fees are charged in case of early repayment.
Customers can just as easily apply for and secure a QuickCar loan for amounts from €2,500 to €15,000. Here they can choose between a fixed and variable interest rate. Other QuickLoan options are the QuickOverdraft, credit cards (Classic Visa Credit, Classic Mastercard Credit and Aegean Mastercard) where customers can apply for loans of €500 to €5,000.
Got a cheque? Take a picture of it, and we'll cash it
The new 'Cheque Deposit' service, offered to customers by Bank of Cyprus via the BoC Mobile App, is constantly evolving. It allows both existing and new bank customers to deposit cheques into their account securely and swiftly. All customers have to do is take a picture of the cheque, and then follow the straightforward steps on their mobile to deposit it. The service has gained a great deal of traction with people, as it is fast and easy to use, and involves no charges.
Now, the value of a cheque that can be electronically deposited in this way has gone up to €2,000 from €1,000 previously. The amount becomes available in the customer's account by the next working day, instead of within two working days as is the case when depositing a cheque at a branch. This service is geared at the bank's individual customers and applies to Bank of Cyprus cheques issued in euro. Bank of Cyprus is the only bank offering this service in Cyprus and Greece, earning it the gold award at the 2022 Digital Finance Awards.
Insure your home and your car
The ease with which you can purchase an insurance policy from the reliable Genikes Insurance, using the BoC Mobile App, is one more novel feature which Bank of Cyprus offers its customers. Now customers can use their mobile phone to arrange for their car or home insurance. And all this comes with the guarantee and the seal of Genikes Insurance and their comprehensive insurance policies.
All the above make QuickLoans a unique multi-tool available to customers, who can now tap into an array of innovative products and services. Its ease of use and practicality allow customers to save both time and resources, while at the same time further facilitating day-to-day bank transactions.
FACT BOX: BOCY Customer Digital Engagement
Digital transactions ratio: 94%
Digitally engaged customers: 82%
Average mobile logins per month: 24
Active users of Internet/mobile banking: 412.000
Companies registered on Jinius: c.1.500
December 2022