The establishment of the American University of Beirut – Mediterraneo in Paphos is fully in line with Cyprus' policy to become a regional and international educational, technological and research hub, President Nikos Christodoulides said on Wednesday.
The president was speaking at the ceremony for laying the foundation stone of the new American university located at the old carob mill building complex.
"Higher education in Cyprus is making tremendous progress over the past few years.
"Today's event testifies to our commitment to promote academic excellence, as well as our willingness to support regional synergies and cooperation," Christodoulides said, noting that the opening of the university creates new avenues for knowledge, innovation and research.
The American University of Beirut has a rich legacy spanning over 157 years, it has influenced the lives of thousands of students and contributed to the prosperity of Lebanon and nearby countries, including Cyprus, the president said.
He added that the establishment of the Cyprus campus in Paphos can contribute both to the education sector in Cyprus, but also to further reinforcing the strong bridge between Cyprus and Lebanon, by fostering deeper collaboration and friendship between academic communities.
This "is fully in line with our policy to establish Cyprus as a regional and international educational, technological and research hub," Christodoulides said.
In the context of the implementation of the governance programme, Cyprus aims to promote the island as an international, high-quality academic destination, he explained.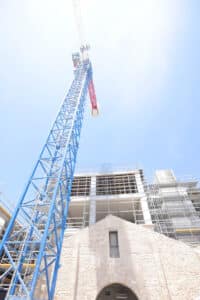 Cyprus is also pursuing intergovernmental agreements for the mutual recognition of academic qualifications, with the aim of internationalising higher education, while systematically using the scientific potential of Cyprus universities for the formulation of development policies.  Moreover, partnerships and synergies between local universities are promoted aiming to link research activities to the diverse challenges facing Cyprus.
Christodoulides acknowledged the "significant work" done by President Anastasiades – who was also present at the ceremony – and thanked those involved including the chairman of the board of trustees of AUB, Dr Philip Khoury, the president of AUB Dr Fadlo Khuri and the other eminent members of the university administration.
"May this higher education Institution be a beacon of knowledge, fostering a brighter future of our youth, our countries, and our region," the president declared.
For his part, mayor of Paphos Phedonas Phedonos, said the AUB which will operate as of September, strengthens efforts of the state and local authorities to develop higher education.
The projects progressed at a very fast pace, the mayor said, adding that it is expected that as of October the first phase of the project will be completed.
The university will operate temporarily for a few months out of facilities of the Paphos Innovation Centre granted by the municipality and the first students will be welcomed there. Soon after students will move into the new university facilities, Phedonas said, which are to be expanded.